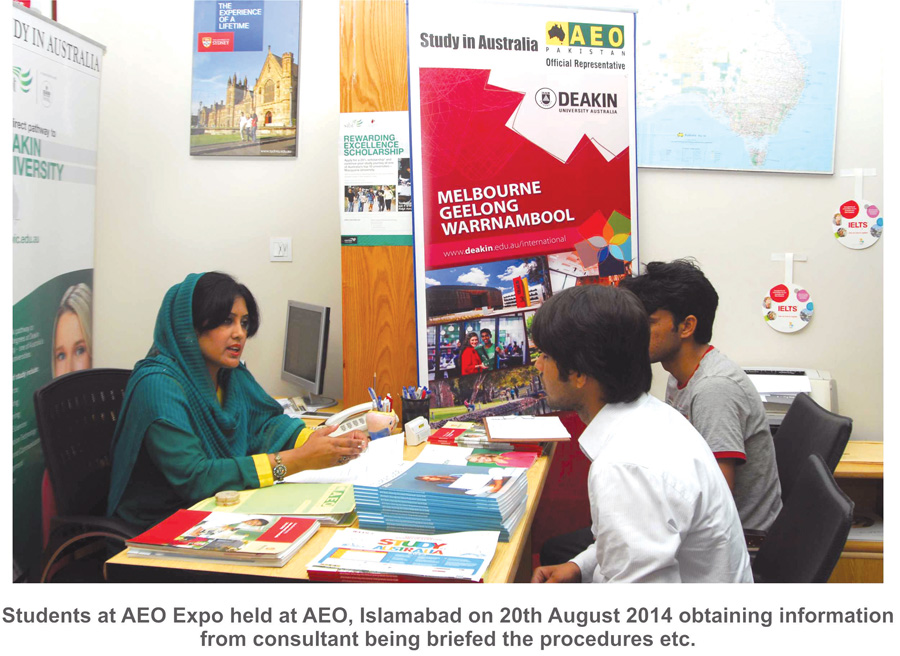 ---
ISLAMABAD: A large number of students poured into the AEO Pakistan office on Wednesday to learn more about studying opportunities in universities in Australia and other Western universities. 

The AEO and its specialists held the expo to facilitate and introduce the Pakistani students to Australian universities' selection and admission procedures.

Representatives of around 40 Australian universities and 10 universities in the UK, US and Canada entertained the students.

Holding leaflets and guidebooks, students glided from table-to-table to get information about higher education prospects and opportunities abroad.

AEO Pakistan holds expos nationwide twice-a-year to provide an opportunity to Pakistani students to seek comprehensive advice about studying in Australia.

This year, education expos were held in six major cities of Pakistan, with more than 15 top-ranked Australian institutions participating.

Speaking to The Express Tribune, AEO Resident Director Saad Mahmood said that the trend of Pakistani students opting to study in Australia was on the rise.

While drawing a comparison, Mahmood said that 10 years ago, the number of Pakistani students traveling to Australia was around 1,000, but this year, the number has risen to around 5,000.

He said the ratio of Pakistani students traveling to Australia was 70 per cent male and 30 per cent female, but the number of females was increasing steadily. He said most students were opting for business, engineering and IT degrees.

"A world of amazing opportunities waits Pakistani students," he said, in an indirect reference to the prospective students.

Australian High Commissioner Peter Heyward stated in his message, "I commend AEO Pakistan for holding this series of expos and encourage you to take advantage of the opportunity provided to consult with academic advisers and discuss your options."

The next expo will be held in Karachi and Multan on August 23 and in Faisalabad and Peshawar on August 24.

Published in The Express Tribune, August 21st, 2014.
COMMENTS
Comments are moderated and generally will be posted if they are on-topic and not abusive.
For more information, please see our Comments FAQ