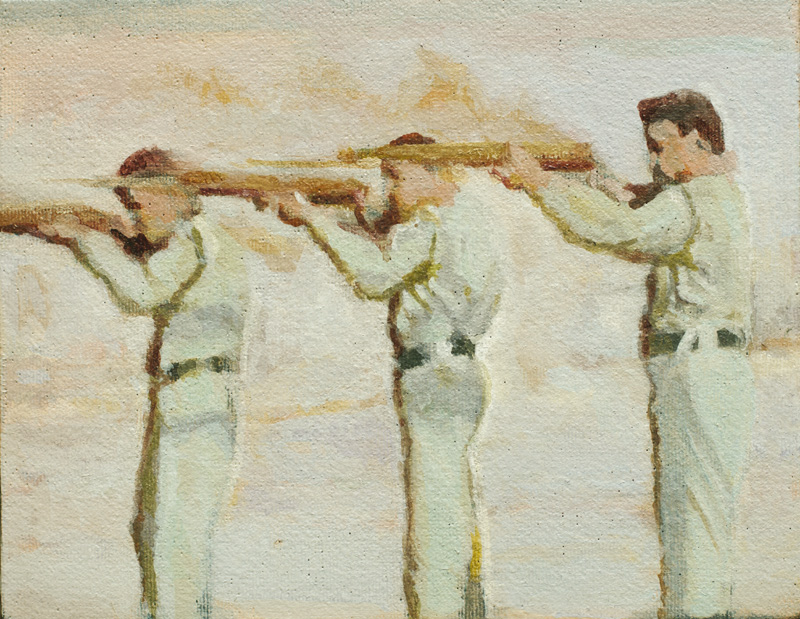 ---
KARACHI:



Defying chiaroscuro, which is the use of contrasts between light and dark to develop a picture and bring out the definitions of an image, is what Inaam Zafar has aimed to achieve in his recent works on display at the Sanat Initiative.




The exhibition titled '[dih-still.ed]' opened on Wednesday for public viewing. Zafar spoke to The Express Tribune during a private viewing of his works arranged by the Sanat Initiative on Tuesday, ahead of the official opening of the exhibition.


Routine Rasp

Using oil on canvas, he painted blurry images using stills of a film, titled 'The Blood of Husain' of 1981. The movie had an anti-military stance and was banned when General (retd) Ziaul Haq got wind of it. It was eventually aired on Channel 4 of British TV and a few video stores harboured an under-the-counter bootleg videotape across Pakistan. The film has secured four international accolades.

"Chiaroscuro is a basic, fundamental principle taught to artists," said Zafar. "We use light, dark and middle tones and then bring out the highlights. Interestingly, LCD screens defy this concept and this is what intrigued me."


Akin to what follows

Originally trained as a photorealistic painter, Zafar embarked upon a totally opposite journey. "There is no point of a painting that looks exactly like a photograph."

In the painting 'The trial separation', it appeared as if there was an animal in the background. "You see, this is what a still can never do," he said. "You can see a dog in there when I painted a man. Paintings enhance imagination and analysis; something photos can hardly accomplish."




He made a deliberate attempt at painting murky images with the help of dusty greys and muted earth tones. His paintings are not representative. "They do not narrate the story of the film and I made a deliberate attempt at making them obscure and unrecognisable."

He wanted his viewers to give their own meaning to each work and uncertainty helps him achieve that, he said. "The audience will be divided into two sections: those who have seen the movie and those who have not."

The artworks

An image of a monkey in military uniform, titled 'Beguile' was there. "I do not intend to insult the military," said Zafar. "It is not the uniform of Pakistan Army. It is just an emblem of power and the film was all about power."


Beguile

"Art is a subtle medium," he said. "It does not shout like documentaries." He painted his images using still scenes on the TV screen without printing them out. According to him, he had to do that because the printer would read the colours in its light and distort them; something that he wanted to do himself with the original.

"I don't want people to recognise these images as those from the film," he said. "I want to evoke emotion and feeling in them so that they give their own meaning to each work. After all, film is acting. It's never real."

'[dih-still.ed]' and the film

The artist has played a clever pun on the title of the exhibition. It can be read as 'distilled' or 'de-stilled', referring to the stills of the film being painted on canvas, said the artist.

"I cannot compare the film to contemporary Pakistani movies because it belongs to an entirely different league," said Zafar. "It's not mainstream and has a sort of a cult following."

"You see, Jamil Dehlavi made the film," chipped in Abid Merchant, the curator of the gallery. "He went into exile after Zia banned his film. I was very happy to see that Zafar's palette is so unique. I am a movie buff myself and I loved his work."


Interlude

Interestingly, Zafar achieved quite what he wanted. According to Merchant, he saw the film about a decade ago and, except for a select few, he could not recall any of the images as part of the movie by looking at them.

Pointing towards 'Akin to what follows', visitor Shahmir Niazi said that it was his favourite. "It's very interesting as it's not clear whether the plane is landing or taking off." The exhibition is set to run till September 11.

Published in The Express Tribune, August 21st, 2014.

 
COMMENTS
Comments are moderated and generally will be posted if they are on-topic and not abusive.
For more information, please see our Comments FAQ