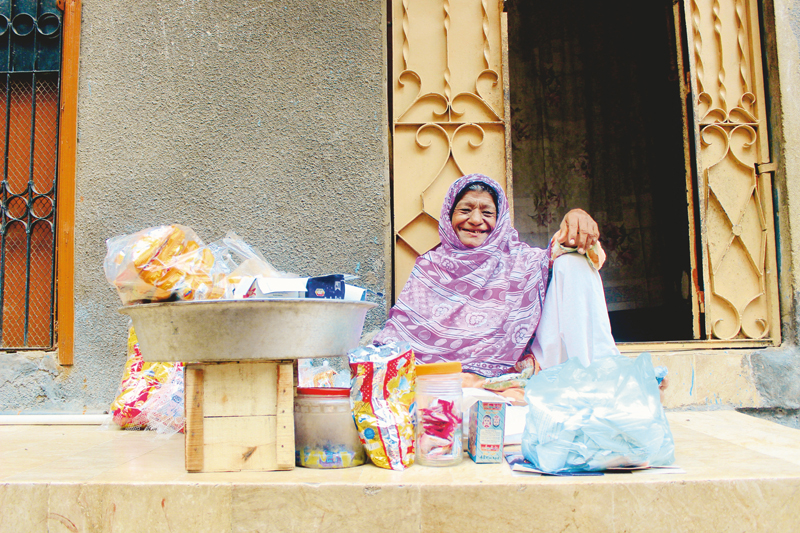 ---
It is hard enough being a man in Lyari, Karachi — one of the oldest and most contentious neighbourhoods of the sprawling metropolis. It is a different story altogether if you are a woman trying to make it on your own in this area which is rife with gang wars, violence and poverty.

But if you spend enough time in the winding lanes of this misunderstood neighbourhood, you will find women with extraordinary courage and willpower, rising above stereotypes and taking charge of their own destiny. While some of them are supporting their families from the confines of their homes others are leaving their comfort zones to face life head-on. In either case, each of their stories is an insight into the beauty of the human condition of survival. Their capacity for gratitude is a reminder that being content is a choice.

Nur Bibi, 75

My brothers tell me all the time to stop working at this age and rest. But I tell them that I will earn and provide for myself. I will not run to my brothers. I believe in being self-sufficient.

Nur Bibi or Nuratun, as she is commonly referred to in her neighbourhood, has always been single. And it has made her fiercely independent, she claims. Nearly 40 years ago, she set up a small shop outside her house where she sells chips, cookies, candies and paan to earn a living. Even though she was the first of her kind, many women have since followed suit and set up their own shops in the area.

Yasmin, 57





Yasmin, a single mother of three, sits outside on her roof stitching her neighbour's clothes for which she will earn around Rs200. PHOTOS: SARA KHATRI




I raised my children alone and worked hard to provide them with an education. That is my biggest achievement. My ideology is never to be dependent on anyone — not even on my children.

A husband who provides for you and takes care of the family was a luxury Yasmin never knew since her husband never bought a penny home. Hence, she set up her own business and started selling homemade ice cream to support her children. The business grew over time and Yasmin transformed two of the rooms in her house into a production space and hired an employee to supply the ice cream to stores across the city. After 15 years, however, the business had to be shut down in 2006 due to rising costs and worn-out machinery. To supplement the income, Yasmin also started a pickle business, which found a market in Dubai. Together, the earnings from both ventures helped put her children through school. Having fulfilled her duties as a parent where all her children are now independent, Yasmin keeps herself busy these days by stitching clothes for people in the neighbourhood.

Anila Nabbi Buksh, 35





Anila Nabbi Buksh, sits on her roof to escape the long hours during a power breakdown. She is surrounded by her four children, each fighting for space closest to her while she works on her colourful, embroidered pens that are sold for Rs200 each. PHOTOS: SARA KHATRI




There's a song by Shehzad Roy, in which he says "uth baandh kamar kya darta hai, phir dekh khuda kya karta hai." (Get up, brace yourself and proceed without fear. Then see how God helps you). These lyrics are etched in my mind as it is the truth.

When 22-year-old Anila got married to a strict, conservative and highly reserved man, she made peace with a life of subservience. Seven years later, an accidental encounter with the principal at her children's school changed her mind in the most unexpected ways. The school which believes in educating mothers along with their children taught Anila the important lesson of self-respect and equality. This brave step came with risks but it worked in Anila's favour; her husband appreciated her newfound confidence and their relationship evolved into one based on mutual respect. She also began contributing to the household income by selling brightly coloured, embroidered pens, proving that a woman can do anything as well as a man, if she sets her mind to it.

Gulnissa, 39





Gulnissa leans against the wall of her house as she narrates her story. PHOTOS: SARA KHATRI




If anyone is going through a tough time, I tell them to have patience and pray to God. Screaming, whining, complaining or fighting won't get you anywhere. Do good and the same will happen to you.

Having to play the role of both parents did not come as a surprise to Gulnissa, who was abandoned by her own father at a young age. After her husband's repeated disappearances — for years at a stretch — she decided to step up to the challenge for her five children. She worked in people's houses, sold homemade food items, stitched and embroidered clothes but never gave up. Today, she proudly claims that she did everything she could to provide for her children.

Maha, 35





Maha parks her van as she brings children back from their respective summer schools to the designated pick-up spot.  PHOTOS: SARA KHATRI




My father used to beat up my mother in front of me. I couldn't tolerate it so I stood up and screamed. I was the first one out of my 12 siblings to stand up to him. I decided that I would not live my life in fear.

Three years ago, when Maha's alcoholic husband left her, she did not waste time dwelling upon life's injustices. Instead, she did the following: file for a divorce, get custody of her three children and learn how to drive. Soon enough she saved up enough to buy a used van and began working as a school bus driver for The Kiran School in Lyari. Today, the job makes her enough money to pay for her children's education and provide for her family.

Shahzadi, 49





Shahzadi deals with a customer who has come to her seeking help, while other women in the room patiently wait for their turn.  PHOTOS: SARA KHATRI




I do this for God and God helps me. As long as I can, I want to help others and be self-sufficient.

Shahzadi, who has been working as a spiritual healer for the past 18 years, does not charge a fixed fee for her services, leaving it to the clients to pay as they please. She claims that the work often takes an emotional toll on her and is hard to manage with her familial responsibilities but Shahzadi says she will continue her work until people need her.

Fatimah Bai Jatarn, 52





Fatimah Bai Jatarn organises the merchandise she has been collecting to sell on her next business trip. PHOTOS: SARA KHATRI




It was always my dream to get a new house from my own earnings. And I did it. It gives me a lot of happiness to just look at it — it is a living proof of my hard work and dedication.

The ability to see a vacuum of resources as an opportunity is perhaps an entrepreneur's greatest strength. And Fatima Bai Jatarn had plenty of that. She set up her business by travelling from Karachi to inner Sindh regularly to sell clothes to women who cannot leave their villages and brings back hand-printed ajraks to sell in the city. Jatarn claims she has never had any problems despite having to travel long distances for work and being surrounded mostly by men. While most seasoned businessmen shy away from payments in installments, Jatarn has used that as her edge over other suppliers. And her strategy seems to have worked. Currently, she is planning to expand her business to India and has already made a few trips across the border.

Aan Bibi, 65





Aan Bibi relaxes in her sister's apartment as she takes a trip down memory lane and reflects on her life. PHOTOS: SARA KHATRI




Women should first become strong and independent before they start thinking about marriage. It's better to be alone than to be married and live a life of misery.

It was Aan Bibi's dream to see her eldest daughter in a doctor's prestigious crisp white coat. For years, she sold homemade sweetmeats, stitched and crocheted to breathe life into that dream. But as fate would have it, she lost her firstborn to an accident. Meanwhile, she also struggled with her son who refused to acknowledge her efforts as a parent and turned to his father who had abandoned them years ago. Despite all the challenges, Aan Bibi braved on. Now she wants other young women to learn from her experiences and advises them to learn to support themselves before starting a family.

Taj Bibi





Taaj Bibi sits in the middle with her sisters, Maa bibi (left) and Aan bibi (right), as she sells fried items at Baataan Chowk, named after their mother, Baataan, who initiated this venture almost 50 years ago. The wall writing behind reads, 'Roti, kapra aur makaan, maang raha hai har insaan, ulfat roshni sub ko kaam, maang raha hai har insaan.' (Food, clothes and shelter is the need of the hour for every man, but love and enlightenment is equally important) PHOTOS: SARA KHATRI




Regardless of whether you have a brother or a son who can support you, your own earnings are your own. Nothing is more satisfying than that. If you earn yourself, it's a comfortable life because you are not answerable to anyone.

Taj Bibi and her two sisters have been working together for nearly 40 years now. Ever since they were children, they accompanied their mother, Baataan, to work who was the driving force behind this venture. The trio would come to the food stall each day and sit there from early morning till late into the evening, taking turns cooking. The food items on their menu including cholay, samosay, pakoray, machli ke chawal (rice with fish) and jalebi are famous in the area and have come to be known as 'Taaj bibi ke Baataan.' The sisters claim that it is a good line of work and has kept them comfortable over the years. Now, their only dream is to go for umrah.

Laal Bibi, 50





Laal Bibi cooks in a little corner of her house. She cooks food in large quantities, which is later sold for breakfast and dinner. PHOTOS: SARA KHATRI




Life is very difficult for single, divorced and widowed women but the key is to not lose hope. Keep trying, focus on your children and give them an education. That is the most important thing.

When Laal Bibi was married off to a gambler with an alcohol and drug-abuse problem, she had no option but to look out for herself. She stayed up long nights and started a food business from the confines of her house. She would cook in large quantities at night and sell it during the day. In her spare time, she also began working as a home-based masseuse for babies, a skill passed on to her by her grandmother. The journey has been tough but when she looks at her 10 children, whom she has supported singlehandedly, she feels that her efforts have not gone in vain.

To deny that being a woman in Pakistan is a tough call would be akin to burying your head in the sand. But to be surrounded by women across the country who no longer resign themselves to their circumstances but brave on with their morale and heads raised high, makes the fight a tad bit easier.

Sara Khatri is an aspiring clinical psychologist and who is passionate about photography. 

Published in The Express Tribune, Sunday Magazine, August 24th,  2014.