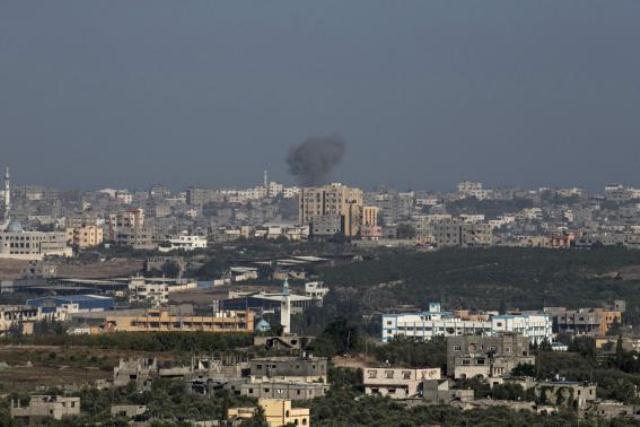 ---
JERUSALEM/ GAZA: Hamas militants in the Gaza Strip fired rockets at Israel for a second day on Wednesday after fighting resumed with the collapse of truce talks and an Israeli air strike that killed three people in Gaza.

Charging that Israel had "opened a gateway to hell", Hamas's armed wing vowed to target Israel's Ben-Gurion International Airport with rocket fire, possibly to retaliate for what Hamas was quoted by Israeli media as saying was an Israeli attempt to assassinate its top militant leader, Mohammed Deif, in a Gaza City strike.

It was not clear whether Deif, who has survived previous Israeli attacks, had survived the strike that killed a woman and a two-year-old girl who media reports said may have been his wife and daughter.

Deif has topped Israel's wanted lists for years, as mastermind of deadly suicide bombings more than a decade ago. He is currently believed to be a behind-the-scenes leader of Hamas's campaign against Israel.

Palestinian health officials said the strike on a house in Gaza City killed three people but did not provide any details about the third victim.

The Israeli military would not specify any of the targets of some 30 attacks across Gaza it said was in response to rocket fire aimed at Israel.

Another air strike launched later on Wednesday morning killed seven members of a family in central Gaza, among them a woman and three children, Palestinian health officials said. There was no immediate comment from the Israeli military.

In addition to the deaths, more than 50 people were wounded in the air strikes across Gaza, ordered after rockets were fired at Israel. Hamas initially denied firing any rockets, then claimed responsibility for shooting dozens as far as the Tel Aviv and Jerusalem areas.

There were no reported casualties but falling shrapnel damaged a car in Tel Aviv, and a building was damaged in southern Israel. Some of the rockets were shot down by Israel's Iron Dome interceptor.

The violence shattered a 10-day period of calm since a first truce brokered by Egypt, about a month after the conflict flared on July 8.

Accusing Gaza militants of breaking the truce with rocket fire eight hours before it was to have expired, Israel recalled its negotiators from truce talks in Cairo on Tuesday, leaving the fate of the Egyptian-brokered efforts to secure a lasting peace hanging in the balance.

Palestinian negotiators walked out of the talks later, blaming Israel for their failure. "Israel thwarted the contacts that could have brought peace," chief Palestinian negotiator Azzam al Ahmed said.

Rejecting the charge, Mark Regev, a spokesperson for Prime Minister Benjamin Netanyahu, said Gaza rocketfire "made continuation of talks impossible".

"The Cairo process was built on a total and complete cessation of all hostilities and so when rockets were fired from Gaza, not only was it a clear violation of the ceasefire but it also destroyed the premise upon which the talks were based," Regev told Reuters.

Regev had earlier called a rocket strike at Israel's city of Beersheba on Tuesday "a grave and direct violation of the ceasefire". A military spokesperson said that, in response to the salvoes, "terror targets across the Gaza Strip" were attacked.

Netanyahu ordered the immediate return of Israeli delegates to the indirect talks in Cairo on ending the Gaza war and charting the territory's future.

40 rockets fired

Gaza's dominant militant group Hamas said it fired at least 40 rockets at Israel after that deadly hit, targeting Jerusalem and the Tel Aviv area including Ben-Gurion Airport. An Israeli security official said there was no disruption of activity at the airport.

Suggesting Israel was expecting further violence, its military instructed Israeli civilians to open bomb shelters as far as 80 km from Gaza, or beyond the Tel Aviv area.

Municipalities in the Tel Aviv area were reopening shelters they had shut when fighting subsided two weeks ago, reports said.

United Nations Secretary General Ban Ki-moon issued a statement condemning the breach of the ceasefire, adding he was "gravely disappointed by the return to hostilities" and urging the sides not to allow matters to escalate.

Egyptian mediators have been struggling to end the five-week-old Gaza conflict and seal a deal that would open the way for reconstruction aid to flow into the territory of 1.8 million people, where thousands of homes have been destroyed.

The Palestinians want Egypt and Israel to lift their blockades of the economically crippled Gaza Strip that predated the Israeli offensive.

Israel, like Egypt, views Hamas as a security threat and wants guarantees that any removal of border restrictions will not result in militant groups obtaining weapons.

A senior Palestinian official in Gaza said sticking points to an agreement have been Hamas's demands to build a seaport and an airport, which Israel wants to discuss only at a later stage.

Israel has called for the disarming of militant groups in the enclave. Hamas has said that laying down its weapons is not an option.

Israel and Hamas did not meet face-to-face in Cairo, where Egyptian mediators shuttled between the parties in separate rooms. Israel regards Hamas, which advocates its destruction, as a terrorist group.

The Palestinian Health Ministry says some 2,026 people, mostly civilians, have been killed in the small, densely populated coastal territory since fighting started on July 8.

Sixty-four Israeli soldiers and three civilians in Israel have also been killed during the offensive, which the state launched with the stated aim of halting militant fire.
COMMENTS (6)
Comments are moderated and generally will be posted if they are on-topic and not abusive.
For more information, please see our Comments FAQ