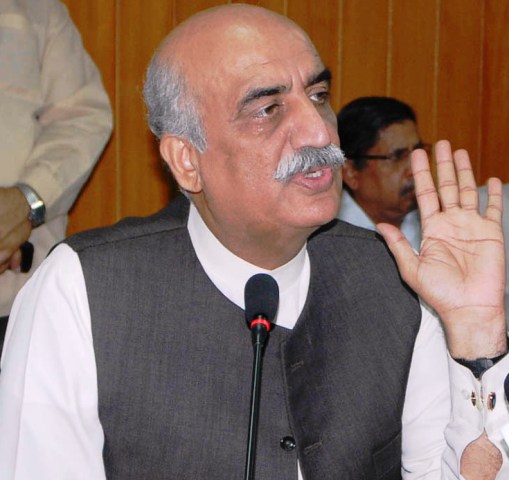 ---
ISLAMABAD:



After failing to bring Pakistan Tehreek-e-Insaf chairman Imran Khan and Pakistan Awami Tehreek leader Dr Tahirul Qadri to the negotiating table, opposition leaders have distanced themselves from the showdown.




On Tuesday, instead of attending the National Assembly session, leaders of parliamentary parties gathered in the chamber of the Leader of the Opposition Khursheed Shah. The opposition leader reportedly told the meeting that even though he had served as a guarantor for PTI's and PAT's marches, the PTI leadership 'ridicules' him.




"We are not with the government nor are we going to suggest anything but during today's meeting we vowed to protect the Constitution, democracy and parliament," said Shah. All participants of the meeting expressed concerns over the conduct of the PTI and PAT chiefs. They decided to convey to the government that they will no longer serve as guarantors for both parties. Shah said he tried to meet Imran and Qadri until 3am on Monday night but was unable to.

The parliamentary leaders also decided to not interfere in the government's attempts to tackle the two long marches in the capital. Opposition parties will not urge the PTI and PAT to enter into negotiations, but will remain available for any mediation.

Participants at the meeting included Pashtoonkhwa Milli Awami Party chief Mehmood Khan Achakzai, former interior minister and Qaumi Watan Party chief Aftab Ahmad Sherpao, Jamaat-e-Islami's Liaquat Baloch, JIU-F chief Maulana Fazlur Rehman, Hasil Khan Bizenjo and Awami National Party senior leader Ghulam Ahmed Bilour. The second tier leaders of all these parties discussed the current political situation during Tuesday's National Assembly session. One PTI MNA reportedly attended Tuesday's assembly session, but left the session without saying a word. It is unclear whether he was sent to the session by party leadership or attended of his own accord.

Addressing the media, Shah said all political parties are united for democracy. "All opposition parties support dialogue with Imran Khan and Dr Qadri," he said.

Clarifying that the government let the two parties hold their protests in Islamabad on the guarantee given by the PTI and PAT chiefs to Interior Minister Chaudhry Nisar that they will not cross into the Red Zone, Shah said that if the PTI enters the Red Zone, it will be a "regrettable" act. While Defence Minister Khawaja Asif said Imran had promised not to enter the Red Zone, Shah backed his claim, saying he had served as guarantor for this agreement.

The government, a day earlier had formed two five-member committees to negotiate with PTI and PAT. However, things turned when both Imran Khan and Tahirul Qadri refused to hold talks with the committee. An addition government committee was formed to assist the opposition leaders committee including Minister for Housing and Works Akram Khan Durrani, Minister for Planning, Development and Reform Ahsan Iqbal, Minister for Railways Saad Rafique, Adviser to the Prime Minister Irfan Siddiqui and Minister for States and Frontier Regions Lt Gen Qadir Baloch.

Published in The Express Tribune, August 20th,2014.
COMMENTS (25)
Comments are moderated and generally will be posted if they are on-topic and not abusive.
For more information, please see our Comments FAQ