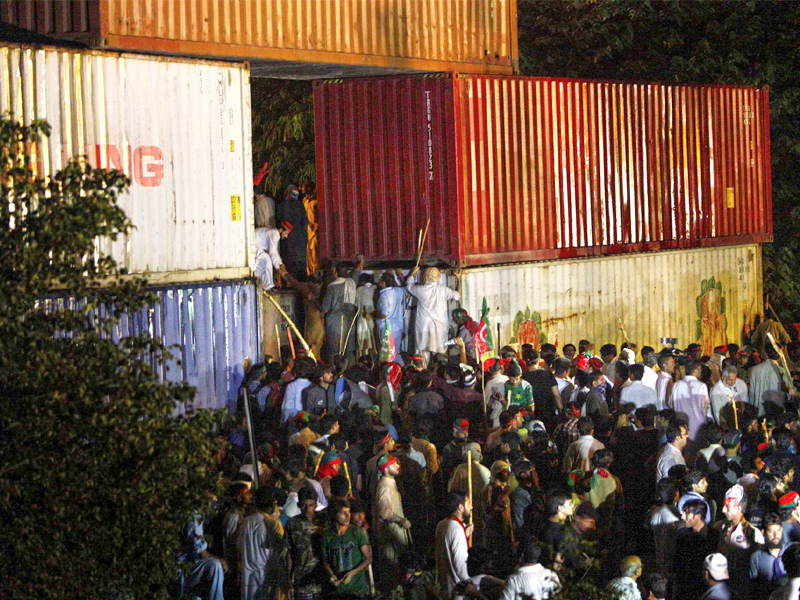 ---
ISLAMABAD:



As Pakistan Tehreek-e-Insaf (PTI) and Pakistan Awami Tehreek (PAT) marchers reached the front of Parliament House late Tuesday night, Imran Khan gave Prime Minister Nawaz Sharif till 8:00pm today (Wednesday) to step down from his office.




"We will march towards the prime minister house if Nawaz Sharif does not resign by 8:00pm Wednesday," the PTI chief told his supporters, as the Azadi march prepared to breach the federal capital's Red Zone and push on towards Parliament House.

By midnight, both PTI's Azadi march and PAT's Inqilab march had reached the front of Parliament House without any incident. The federal government, despite calling out army troops to provide security for sensitive installations, did not try to stop the marchers as they forced their way into the Red Zone.

Before venturing there, Imran made his party workers and supporters promise, among other things, that they would remain peaceful at all costs. He also cautioned his supporters against entering Constitution Avenue and the Diplomatic Enclave.

PAT chief Dr Qadri, meanwhile, advised his supporters to brace themselves ahead of the march. "Keep important people in the middle as you move peacefully… no one is allowed to approach any embassy or the Supreme Court," he said, setting clear limits for his activists.

Both the Azadi and Inqilab marches entered the Red Zone from Ataturk Road rather than the Constitution Avenue, the route adopted to minimise the risk of breaching the Diplomatic Enclave in case things spiralled out of control.

Qadri reiterated that he was not coercing anyone to go to the Red Zone and it was up to the people to breach the secured, cordoned-off area or to go home. "Do you want to go and protest in front of Parliament House?" he asked.

The crowd roared, 'Yes!' in response "If we don't avenge the blood of our martyred workers, would you like to return?" he asked. This time his supporters yelled, "No!"

The PTI chief similarly asked his supporters if they are ready to march into the Red Zone, which also prompted a loud 'yes' from the crowd. But as he reiterated his call for non-violence, he warned supporters that the government has punctuated the route to Red Zone with 'Gullu Butts'.

"Nawaz Sharif, if there is any violence, I will not spare you. If you try and hide in London, I will find you there and you will have no place to hide," he said, reminding the crowd to 'avenge him' if anything happened to him. He also urged the police not to accept orders from a 'corrupt prime minister'.

Imran criticised PM Nawaz for cordoning off the Red Zone, claiming that as Pakistanis, they have every right to go there. "We will turn the Red Zone into the Green Zone."

He says the idea to deploy police to stop his supporters is futile since they cannot be stopped. "Do you think that we will go there and come back? "The longer you [Nawaz] stay, the more difficult we will make your life." Imran also said his supporters and workers will not pay taxes until the prime minister resigns.

The government has decided to shut down cellular services in the area. Express News also reported that emergency was imposed in Pakistan Institute of Medical Sciences (PIMS) and polyclinic hospital.

'I have burnt all bridges'

In an exclusive interview with Express News anchor Shahzeb Khanzada, PTI chairman Imran Khan said he has burnt all his bridges and would not turn back from his demands.

Terming the parliament 'illegitimate', Imran said he would stage a peaceful protest in front of Parliament House. "I do not want people and the police to clash, which is why I will lead the march into the Red Zone myself."

Responding to a question about whether the PTI chief would accept the resignation of only Punjab Chief Minister Shahbaz Sharif, he echoed his constant demand that both Prime Minister Nawaz Sharif and Shahbaz would have to step down.

Calling Leader of the Opposition in the National Assembly Khursheed Shah Nawaz's 'private secretary', Imran said Shah is not playing the role of an opposition leader.

Published in The Express Tribune, August 20th, 2014.
COMMENTS (1)
Comments are moderated and generally will be posted if they are on-topic and not abusive.
For more information, please see our Comments FAQ