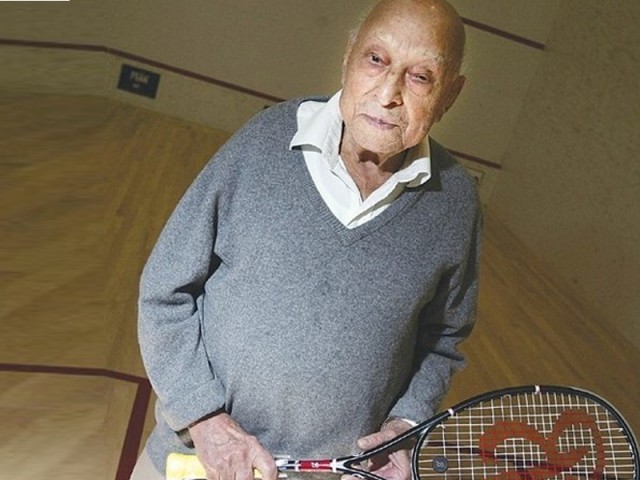 ---
KARACHI:



One of Pakistan's first international sports stars, Hashim Khan passed away due to congestive heart failure at the age of 100 on Monday night. The former squash player was at his home in Denver, United States of America, at the time. Over the last six months, his health had considerably deteriorated and friends and family were caring for him.




In 1951, Khan won the first of seven British Open titles when he defeated Egypt's Mahmoud El Karim 9-5, 9-0, 9-0. He was 37 years old at the time and his prize included a sum of £50.

"Hashim's death is a great loss to squash and Pakistan both because he was a superstar," Jahangir Khan told The Express Tribune. "It was Hashim who helped the world know Pakistan's name. He was the earliest superstar of Pakistan and it was him who started Pakistan's supremacy in squash which was then taken forward by others including me."

Khan also helped his brother Azam to learn the game; Azam went on to win four British Open titles and his cousin, Roshan, and nephew, Mohibullah, won one title each. Jahangir, Roshan's son, then won 10 titles, keeping the family's sporting prowess in the limelight.

Pakistan Squash Federation (PSF) President Air Chief Marshal Tahir Rafique Butt expressed deep sorrow and grief at Hashim's demise. He said Hashim's services and contribution to squash would never be forgotten and he would remain a beacon of light for young squash players of the country.

Former British Open champion Qamar Zaman, also Hashim's cousin, said he was considered 'Baba-e-Squash'. "Such players are born once in a few centuries," Qamar Zaman said, remarking, "Hashim won his first title at the age of 37 and I was already retired at the age of 38."

Zaman said Hashim was kind-hearted and treated people from all walks of life equally. "It is very unfortunate that the government and people of Pakistan do not value legends like Hashim, who often end up living in other countries," he said.

Published in The Express Tribune, August 20th, 2014.
COMMENTS
Comments are moderated and generally will be posted if they are on-topic and not abusive.
For more information, please see our Comments FAQ