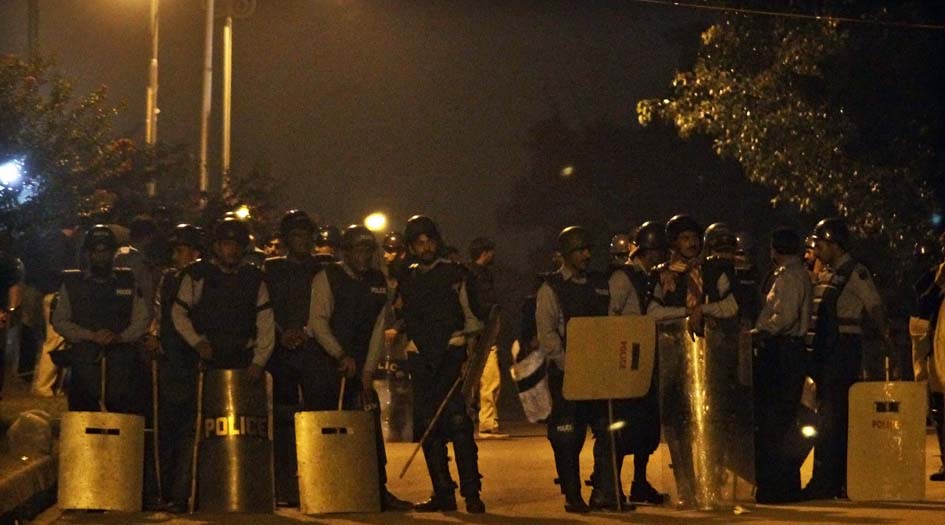 ---
ABBOTTABAD/PESHAWAR:



Jamaat-e-Islami Ameer Sirajul Haq has stated that his party is not in favour of martial law in the country and will continue its struggle for the protection of democratic institutions and the Constitution of Pakistan.




While speaking to a gathering at Cantonment Chowk, Abbottabad on Tuesday, Haq said he had played his role as mediator between the government and political leadership of Pakistan Tehreek-e-Insaf and Pakistan Awami Tehreek to end the crisis, but was not happy with the response from either side.




"Military interventions have left severely negative impacts on our country in the past," said Haq. "The PTI and PAT leaderships have brought out stick-wielding protesters to sit on Islamabad's roads. This will not resolve the problems faced by the common man."

Haq stressed that the protesting parties were doing no service to the nation and would create more of a mess. He said his party had struggled for democracy to be given a chance in this country since its inception, but politics has become confined only to a few families of industrialists and landlords, with the average Pakistani citizen having no stake in it.

"We do not want the revolution of Tahirul Qadri, nor the change of Imran Khan," said Haq, adding that conspiracies were being hatched against the sole atomic power of the Muslim world and that the only way to thwart them is to maintain unity between Islamic states.

Prof Ibrahim, Mian Aslam and Razaq Abbasi were prominent among those who spoke at the gathering. On the occasion, former Abbottabad naib nazim Junaid Tanoli also announced joining JI with dozens of his supporters.

JUI-F lashes out

The provincial leadership of Jamiat Ulema-e-Islam-Fazl (JUI-F) also directed severe criticism at the PTI chairman Imran Khan on Tuesday, terming him "an immature politician".

Addressing a news conference at the JUI-F provincial secretariat, the party's K-P ameer Maulana Gul Naseeb Khan said if PTI feels that the government has failed, they should hand over the provincial government to the opposition.

The statement came soon after the opposition benches in the K-P Assembly submitted a vote of no-confidence against the PTI leadership. Naseeb said they would develop a consensus with JI and Awami Jamhoori Ittehad Pakistan to convince them to also pass a vote of no-confidence.

He said it is wrong for PTI lawmakers to be on the roads instead of in Parliament, especially when the country is facing crucial circumstances. Naseeb criticised Imran Khan for not taking any other parties into confidence before announcing a movement for civil disobedience, saying they all wished for electoral reforms, but PTI and PAT had taken to the streets. The JUI-F lawmaker added that the country has been left paralysed economically and the livelihoods of many have been put on the line.

Published in The Express Tribune, August 20th,2014.