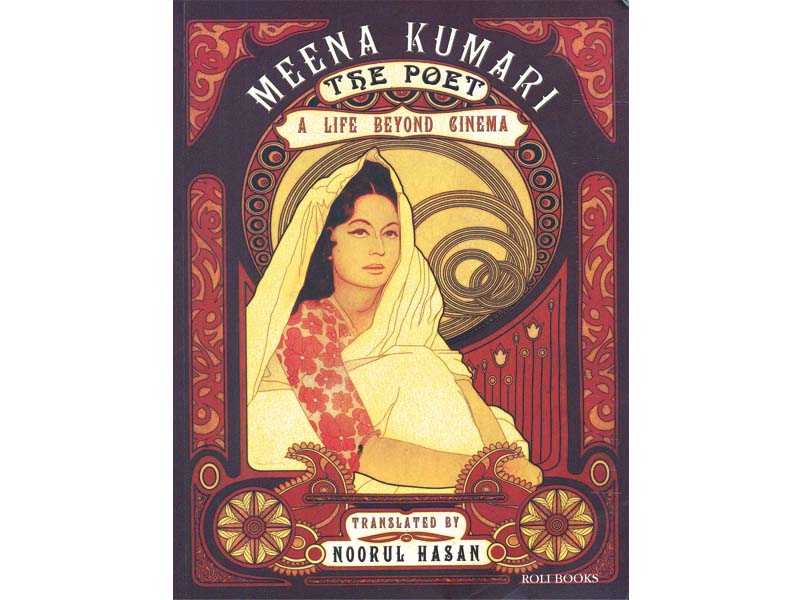 ---
KARACHI:



"You are clouds, came with the winds, lingered for a while, on the sky, burst and vanished into some remoteness/We are rocks, stuck in our places, knowing that those who go away shall never return." This is the English translation of Meena Kumari's Urdu poem titled Badal Aur Chat'tan, which vividly states the relationship she shared with her audience as an actor. This is a relationship that by its very nature suffers from a lack of permanence, as people come and go in the movie theatres, but the show goes on.






Although Kumari, who was dubbed the 'Tragedy Queen', has fans who admire her for more than just her stint as an actor, her poetry suggests that she felt she was dispensable beyond that. The theme of emptiness defines her poems in the book Meena Kumari The Poet: A Life Beyond Cinema; a sense of hollowness that is more self-indulgent than self-expressive prevails throughout the text, leaving little to cherish for a reader who is a poetry fan. Her fans, however, will find another reason to fall in love with her after reading this book.




Translated by Noorul Hasan, the compilation comprises around 50 poems translated in English placed along with their original Urdu versions. This takes away from the immersed experience of reading poetry as you are forced to read in a language that it was not originally expressed in.




Then, there is a sense of casualness and informality associated with Urdu words written in English text and someone who is used to reading both will find it difficult to consider it as a serious reading. It could work as a coffee table book, though.




Prior to the poetry section, there is an engaging chapter titled Poetry versus Cinema: Meena Kumari as a Critic of Popular Culture, which is written by Philip Bounds and Daisy Hasan. It sheds light on Kumari's journey of turning into a poet and how any account of her life cannot be complete without a correlation between her films and poems.




"Her readers are free to respond to her poems according to their own interests, beliefs and prejudices. Some will seek to relate them to a wider tradition of writing by Indian women. Others will be fascinated by their debt to what critics now tend to call 'Islamicate' literature. What we want to suggest here is that no account of Kumari's life and work can be entirely adequate unless it encompasses the relationship between poem and films," states an excerpt from the chapter.




It further elaborates about her journey as a poet, "Time and again, she portrayed characters whose intense romantic longing swelled to almost demonic proportions and brought nothing but suffering in their wake.  Irritated by the sense that the Indian public saw her simply as 'Tragedy Queen', Kumari began to write poetry in Urdu in an effort to evoke the subtler elements of her sensitive and questing sensibility."




Despite the shallowness of her ideas and juvenility of expression, the book is a peak into the real-life tragedies of a woman who made many cry with her performances on the reel. Gulzar's tribute to Kumari, also published in the same book, sums up everything we know about the on-screen and off-screen worlds of the artiste. "Meena... closed her eyes and went to sleep, bidding life adieu! Never once did she breathe thereafter. After a trying life, full of struggle and strife, wasn't it a remarkably stark and easy death!"


After giving us various masterpieces such as Sahib Bibi Aur Ghulam (1962), Phool Aur Pathar (1966) and Pakeezah (1972), Kumari passed away in 1977 after suffering from liver cirrhosis. It is haunting that her last words before her death were: "I don't want to die."

Pyar Ek Khwab Tha

Waqt ne cheen lia hausla-e-zabt'e-sitam

Ab to' her hadsaye-gham pe tarapta hai dil

Her nay'e zakhm pae bhi rooh bilakh uth'ti hai

Hon't agar han's bhji pare'n a'nkh chalak uth'ti hai

Zindagi ek bikharta hua dardana hai

Aisa lagta hai k ab khatm par afsana hai

Love was a Dream

Time has snatched away my fortitude

Now my heart agitates at each advent of grief

My soul bursts into tears at each fresh affliction

Smile on the lips is no detterent to tears in the eyes

Life is a scattered tale of grief

And my story is nearing its end

Published in The Express Tribune, August 20th, 2014.

Like Life & Style on Facebook, follow @ETLifeandStyle on Twitter for the latest in fashion, gossip and entertainment.
COMMENTS (3)
Comments are moderated and generally will be posted if they are on-topic and not abusive.
For more information, please see our Comments FAQ