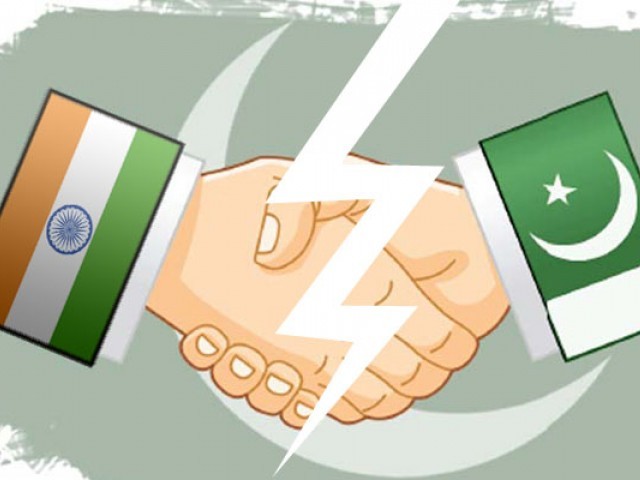 ---
NEW DELHI:
The move – denounced by both Pakistan and Kashmiri politicians – has raised doubts about the resumption of trade dialogue between the two countries.

Syed Akbaruddin, India's external affairs ministry spokesman, said Pakistan's High Commissioner Abdul Basit had been told that the move to meet the Kashmiri leaders would not be looked at kindly by India.

"It was underlined that the Pakistan high commissioner's meeting with these so-called leaders of the Hurriyat undermines the constructive diplomatic engagement initiated by Prime Minister Modi in May on his very first day in office," he said in a statement.

At a time when India took 'serious initiatives' to move bilateral ties forward, including towards the resumption of a regular dialogue process, the invitation to 'so-called Kashmiri leaders' raised questions about Pakistan's sincerity, he said.

The statement alleged that such a move showed Pakistan's 'negative' approaches and attempts to interfere in India's 'internal affairs' continued unabated.

"Therefore, under the present circumstances, it is felt that no useful purpose will be served by the Indian foreign secretary going to Islamabad next week.

The foreign secretary's visit to Islamabad for talks on August 25 stands cancelled," the ministry spokesman said.

Separately, Defence Minister Arun Jaitley also accused Pakistan of 'deliberate' LoC violations and said Pakistan and 'powers within'  did not want ties with India to be normal.

"Earlier, it was only on the Line of Control (LoC) but now it is also on the International Border," he told reporters. "It is obvious that Pakistan and the powers within don't want the ties between the two countries to be normal," Jaitley added.

Published in The Express Tribune, August 19th, 2014.
COMMENTS (47)
Comments are moderated and generally will be posted if they are on-topic and not abusive.
For more information, please see our Comments FAQ