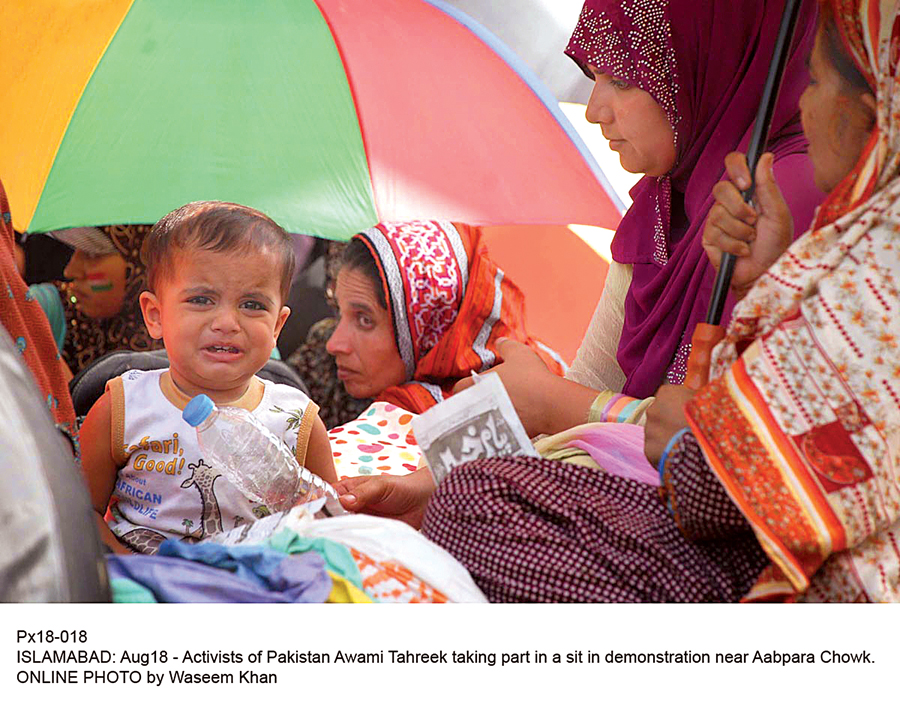 ---
ISLAMABAD:



One major difference between participants of the Pakistan Tehreek-i-Insaf (PTI) and Pakistan Awami Tehreek (PAT) sit-ins is the high number of women who have travelled from across Punjab mainly to attend Tahirul Qadri's rally.




Spending nights under the open sky and doing laundry from water containers, thousands of women participating in the PAT sit-in are also learning about politics and culture of different parts of the country through their daily interaction with fellow protesters.




Traditional local embroideries on veils concealing heads of women characterise cultural diversity that is present at Qadri's 'Inqilab march'. Thousands of women sit aimlessly on tattered mats all across Khayaban-e-Suhrawardy at Aabpara.

Sounds of crying children echo through the chatter of local dialects where the women rest. While they speak different languages, the common thing between them is their unflinching support for their leader, Qadri.




"I thought I was the only person suffering from poverty until I met women from other parts of the country here," said Khadija Ahmed, who came from Okara in South Punjab. "We all speak different languages but suffer from the same issues," she commented.

Samia, a 16-year-old school student from Jhelum, was reading a newspaper under a tree. "This gathering has educated me about the cultural diversity of Pakistan. It's very interesting to learn about women from other areas. Some come from rural background, while others have grown up in cities."




The segregated sit-in is extremely organised. Women are provided food on time and medical facilities are available round the clock. Sidra Batool, part of PAT's organising team, sits next to the barricade made with bamboo sticks surrounded by young girls. Wearing helmets and jackets, young girls frisk women for a security check. Once cleared, Batool lifts the stick filtering women to go through. "We have hours-long duties and have had sleepless nights, but its all for the national interest and our leaders," said Batool.

Some women also hail from Sindh. Saima Shehzad travelled for 72 hours from interior Sindh to Islamabad. Leaving two children behind, she nestles her six-month-old baby in her arms. "I have renamed her Rabia Inqilaabi. It's our passion and love for Pakistan and Dr Tahirul Qadri that keeps us going," she says.




Tasbeeya Shafique, who had come from Karachi, said talking to women from Punjab, Azad Jammu and Kashmir and even other countries is quite an experience for her. She said some participants had flown in from Canada and the UK. She said she felt more comfortable here than at home.

Sadia Younis clings on the grill just to catch a glimpse of Qadri, as he glides in his black jeep through the crowd. "I am here just to see him. We will stay here for as long as he asks us. We are not leaving him come what may."

Published in The Express Tribune, August 19th,2014.
COMMENTS
Comments are moderated and generally will be posted if they are on-topic and not abusive.
For more information, please see our Comments FAQ