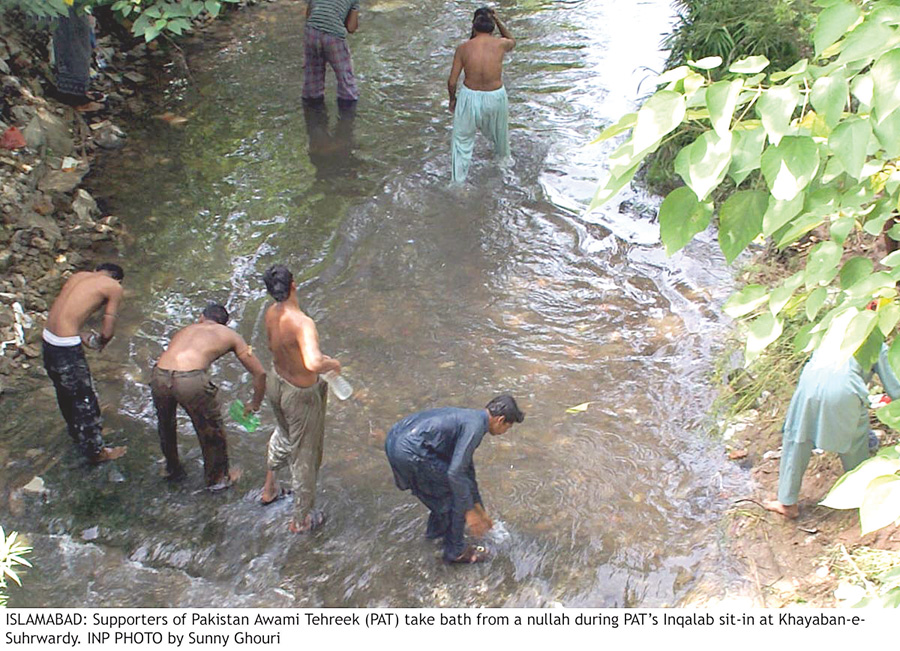 ---
ISLAMABAD: Health experts expressed concern over the 'Azadi' and 'Inqelab' marchers sitting under open skies since Friday night. They said the participants are at risk of contracting infectious diseases due to overcrowding and consumption of unhygienic food and water.

They are also at risk of falling victim to mosquito-borne diseases as they are sitting sleeping under trees, health experts told The Express Tribune.





Hygiene conditions are a cause of serious concern. PHOTOS: RIZWAN SHEHZAD/EXPRESS AND INP




They were of the view that food vendors from around the twin cities have rushed to the area and are selling unhygienic food and due to the sheer volume of vendors, it is difficult to conduct quality control on food and water.

"If one person gets infected with any communicable disease, he can infect many others around him," said a senior physician at Pakistan Institute of Medical Sciences (Pims) who wished not to be named.

He said around 50 police personnel and some marchers were treated at the Pims emergency ward for flu, sore throat, cough, fever, diarrhea and other such diseases.

He said marchers are living in unhygienic conditions as they lack proper garbage disposal, are sharing cutlery and water bottles, and lack proper places to wash their hands or food utensils.

"Many do not have soap to wash their hands after relieving themselves or before eating food. They are also exposed to air and water pollution and could easily fall victim to infectious diseases," he said.





Hygiene conditions are a cause of serious concern. PHOTOS: RIZWAN SHEHZAD/EXPRESS AND INP




The doctor further said that there are many who are taking bath in polluted streams nearby and also washing clothes in the same water, both of which are public health risks.

Pims spokesman Dr Waseem Khawaja, who is also a senior gastroenteritis specialist, said, "Most of the policemen and marchers who had come to Pims had consumed substandard food or contaminated water."

He said that food vendors at the sit-ins do not have proper arrangements to store food or wash dishes.

Talking to The Express Tribune, Dr Tahira, who is treating marchers at a medical camp set up by Pakistan Awami Tehreek (PAT), said every day, an average of 1,000 patients are getting treatment at the camp.

She said most have been diagnosed with flu, diarrhea, fatigue or headaches.

"They are catching the flu because of the weather and diarrhea because they are eating at odd times," she said.

Ghulam Shabbir, a fruit vendor has come to Aabpara Market from his usual sales point — Mandi Mor, Rawalpindi — to sell guavas.

Most of his remaining stock seemed to be rotten, but still he was making all-out efforts to sell them.





Hygiene conditions are a cause of serious concern. PHOTOS: RIZWAN SHEHZAD/EXPRESS AND INP




"My target is to earn Rs5,000 today by selling these before nightfall," he said.

When asked how he expected to sell rotten fruit, he said, "I am washing them after every hour to make them look fresh."

Mohammad Imran, 27 had come from Sheikhupura to sell coconuts. He was selling slices and had no place to store them at night or even cover them.

"I saw on TV that food sales are rising here so I decided to come to try and earn more profits," he said.

Biting issue

An epidemiologist working for Punjab Government on the condition of anonymity said that the peak season for the spread of dengue fever has started.

'Marchers are sitting under the open sky and can easily fall victim to the disease as they do not have mosquito nets or insect repellent.

He further said marchers are using water from tanks or taps which are leaking and creating puddles, which are potential breeding grounds for mosquitoes.

Cleaning Aabpara

The Capital Development Authority (CDA) started a clean up operation on Monday at Khayaban-e-Suharwardy where heaps of garbage has been lying since Friday. However, CDA's sanitation workers only fetched garbage that was visible but not one that was lying far from the main road.

Due to the shortage of dustbins and lack of a garbage disposal system, the area had been converted in to a dumping ground.

Pakistan Awami Tehreek leader Tahirul Qadri, during one of his speeches on Monday, requested supporters to clean the area and make proper arrangements for its disposal.

Afterwards, participants got together and cleaned the main Aabpara road and adjacent areas, to an extent.

Published in The Express Tribune, August 19th,2014.