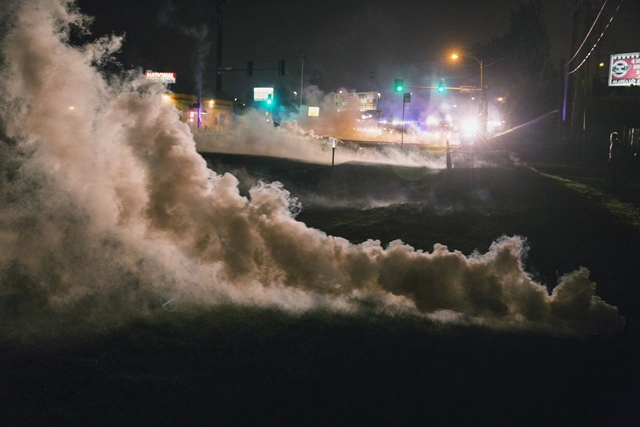 ---
FERGUSON: Missouri's governor on Monday ordered National Guard troops to help restore order in Ferguson, hours after police hurled tear gas to disperse violent protesters in the town wracked by race riots.

Ferguson has been engulfed in unrest since a white police officer on August 9 shot dead Michael Brown, an unarmed black 18-year-old.

The National Guard soldiers will respond to the unified police command in Ferguson, Governor Jay Nixon said in an executive order.

About three hours before the midnight Sunday (010am Pakistan time Monday) curfew, police in body armor and gas masks moved to disperse a peaceful protest that had deteriorated into mob violence.

Police, supported by armored vehicles, responded with tear gas and rubber bullets after "Molotov cocktails were thrown," said Ronald Johnson, the African-American state highway patrol captain charged with restoring local order.

"There were shootings, looting, vandalism and other acts of violence that clearly appear not to have been spontaneous but premeditated criminal acts designed to damage property, hurt people, and provoke a response," said Johnson, speaking at a press conference after the violence subsided.

Looters attacked at least four businesses, including a McDonald's restaurant and a Domino's Pizza.

Johnson described the violence as "disobedience, preplanned aggression."

At least two people were wounded by gunfire among the protesters, Johnson said. He did not say how many people had been arrested.

Just before 9:00 pm, hundreds of protesters marched toward the police command post, and people in the crowd threw "multiple" Molotov cocktails, bottles and rockets at police.

"Based on these conditions, I had no alternative but to elevate the level of our response," Johnson said.

Some of the marchers carried signs protesting police brutality. Many marched peacefully with their hands up in the air, but others taunted police and threw back tear gas canisters.

"We were walking up peacefully towards the command center to kneel in protest in front of the police, to say 'our hands are up,'" said Lisha Williams, who was in the march.

"They started firing tear gas at us out of the blue. I know what tear gas is, my face was burning," said Williams, who said she was an army veteran.

Governor Nixon said in a statement that he was directing the National Guard to "assist" police "in restoring peace and order to this community."

Separately, the local school district said that classes in Ferguson would be canceled Monday "due to continuing unrest in some areas ... and in the interest of the safety of students and families."

Brown was shot at least six times -- twice in the head and four times in the right arm -- the New York Times reported, citing a preliminary private autopsy.

All the shots were fired into his front, the Times reported, citing Michael Baden, a high-profile forensic pathologist and former New York City chief medical examiner who conducted an autopsy at the family's request.

"This information could have been released on Day One," Baden told The Times.

The Brown family attorney, Benjamin Crump, said on Twitter that he would hold a press conference Monday with Baden to discuss the autopsy.

Crump, who has called Brown's death an "execution," earlier represented the family of Trayvon Martin, the unarmed black 16-year-old shot dead in Florida in 2012.

Brown's family has accused authorities of a "devious" attempt to smear their son's character after police said he was suspected of robbing a convenience store, and released a surveillance video of the incident.

Police said that the officer who shot Brown was unaware of the robbery, and stopped the teen for walking in the middle of the street.

The late Sunday protest followed a much larger and peaceful event at the Greater Grace Church in Ferguson honoring Brown.

Captain Johnson, who grew up in the St Louis area, apologized for the shooting.

"I want to start off by talking to Mike Brown's family. I want you to know my heart goes out to you, and I say that I'm sorry," Johnson said to cheering and applause from a crowd of more than 1,000. Hundreds more stood outside.

Young people gathered outside the church held their hands in the air, paying homage to what witnesses said was Brown's last gesture before being shot.

Civil rights activist Jesse Jackson, who was at the morning event, was surprised later about the evening violence.

"I'm astonished at the reversal of the mood," he told CNN.

Another rally of about 150 people took place Sunday outside a local TV station to support police officer Darren Wilson, the man who shot Brown, local media reported.

The federal government increased its role in the investigation.

The US Justice Department said that a federal medical examiner would carry out an autopsy on Brown's body, citing the case's "extraordinary circumstances."

FBI agents are already in Ferguson interviewing witnesses to the shooting.

And Attorney General Eric Holder will brief President Barack Obama on the Ferguson violence on Monday, the White House said.

"Our immediate goal is to make sure that the residents of Ferguson are safe, that the looting stops, that the vandalism stops, that the people who are living in the community are confident that justice will be done," Obama senior advisor Valerie Jarrett told AURN radio.