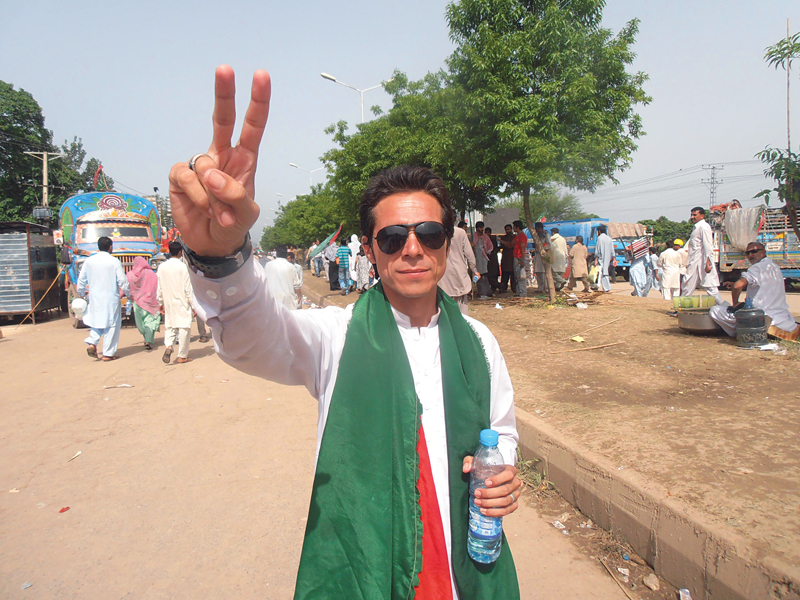 ---
ISLAMABAD: Ever since Imran Khan's catapulted on the national political stage, people throng Pakistan Tehreek-i-Insaf (PTI) rallies to catch a glimpse of former cricket captain.

However, at the party's sit-in on Kashmir Highway as part of the Azadi March, Taliamond Khan Comrade perplexes everyone for a moment owing to his strong resemblance to the PTI chief.

Khan breaks into a broad smile when people stop by to shake his hand or take a photo with him. "My face structure is like Imran's and I receive tons of love and affection because of it. Just imagine how much people love the real man," said Khan, clad in a white shalwar kameez with a PTI flag draped over his shoulders.

Presently, his biggest wish is to be invited on PTI's main stage and have his dream meeting with his 'charismatic leader'.

While revealing the secret behind 'comrade' in his name, Khan said he was so impressed by the ideology of Imran Khan and his party that he converted from being a communist to an 'Insafian.'

Khan, who hails from Buner district in Khyber-Pakhtunkhwa and holds a bachelors degree in arts, said he converted because Imran promised free healthcare, uniformed education system, equal opportunities, social justice, safety net for unemployed, an end of corruption, thana culture and much more. "Patwaris and policemen fear to take bribes in our area. How massive is this change," he asked.

Remembering his only encounter with Imran, he said the meeting took place during the 2013 election campaign in his district. "We looked at each other, smiled simultaneously and shook hands. That's all," he said, adding that the meeting could not be extended as Imran had to address a lot of rallies on that day.

A true fan

They say behind every successful man there is a woman and Imran is no exception in this case. Khan named his daughter, who is almost a year old, after Imran's ex-wife Jemima Khan, as he was impressed by her 'religious tolerance'.

Catching a glimpse of Imran at a public gathering is the prime objective of hundreds of thousands of people, he said, adding that I just wish to be with him on stage for a while.

"Oh my God! He is 100 per cent like Imran Khan. He even has similar wrinkles on his face," said Ayesha, a rally participant. All the passersby stand in amazement when they see Khan waving his hands like Imran and posing with people.

At present, Khan is the PTI general secretary in his district and vows to spread education in his area. He claimed that 70 vehicles brought around 2,000 people to participate in the Azadi March from his district, adding that he would stay as long as Imran wants, and maybe till he fulfils his dream.

Published in The Express Tribune, August 18th,2014.