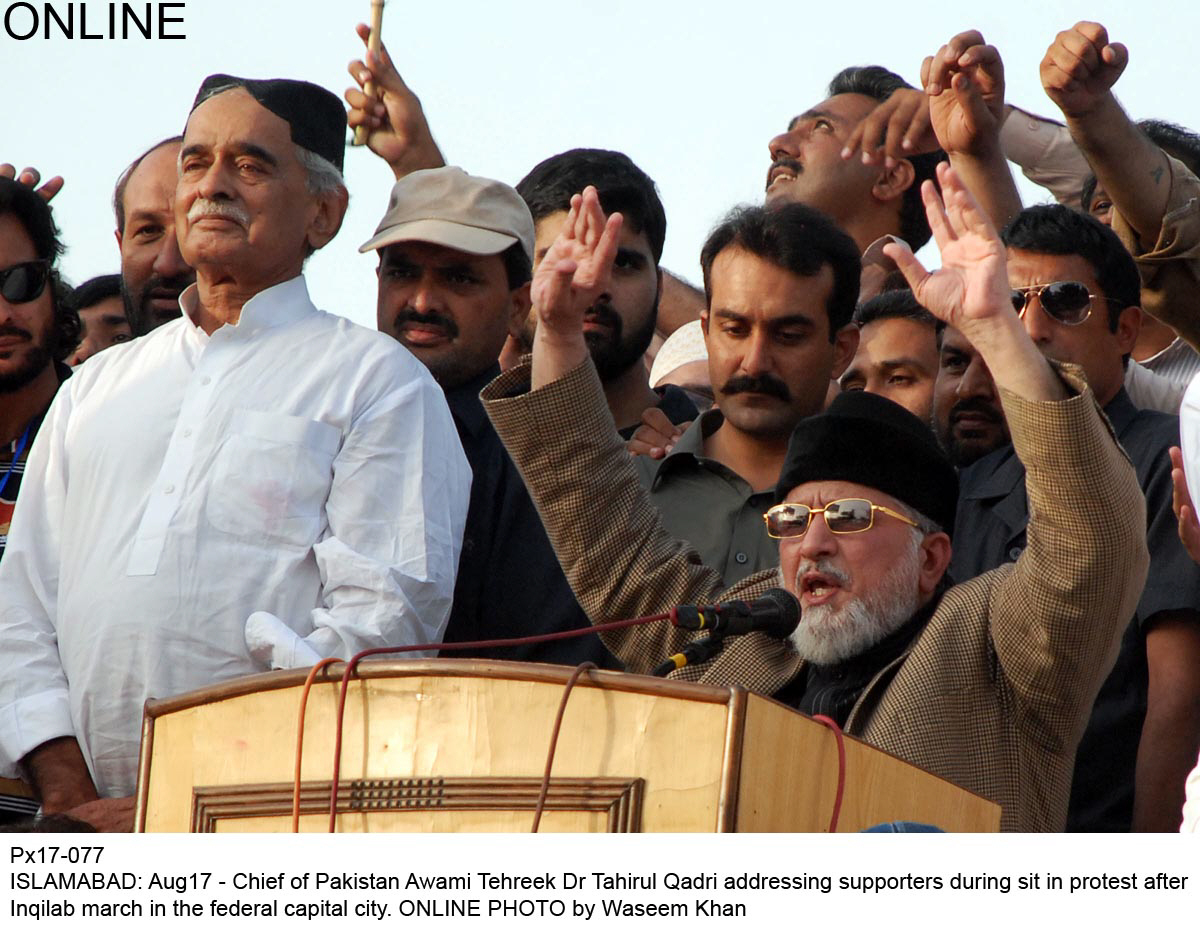 ---
MUZAFFARABAD: Azad Jammu and Kashmir (AJK) Prime Minister Chaudhry Abdul Majeed has taken strong exception to Pakistan Awami Tehreek (PAT) chief Dr Tahirul Qadri's demands wherein he stated that Gilgit-Balitistan (G-B) be declared a separate province.

Majeed condemned the PAT chief in a press conference on Sunday, saying Qadri "is ignorant about the history and facts of the Jammu and Kashmir dispute".

He said Qadri's plan would be a violation of UN resolutions on the dispute and may ultimately dent Pakistan's stand on the disputed region at the international level.

"I don't know what kind of revolution Qadri wants in Pakistan as he has no knowledge about the history of Jammu and Kashmir dispute. Such statements are unacceptable to the people of Jammu and Kashmir and G-B, and would serve nobody except our enemies," he added.

The AJK premier said both Imran Khan and Tahirul Qadri were working on a specific agenda to derail democracy in the country, adding that the people of Pakistan and AJK had sacrificed a lot for the present democratic set-up and nobody would be allowed to close this chapter.

Pakistan Muslim League-Nawaz AJK Secretary General Shah Ghulam Qadir, while giving his party's reaction on Qadri's statement, said when a territory is not constitutionally part of Pakistan, how could Qadri propose a provincial status for it.

"Such a statement is a bid to weaken Pakistan's principled stand on Jammu and Kashmir and G-B," said Qadir. He accused Qadri and Imran of weakening Pakistan Army by involving them in internal politics through their protests.

Former AJK prime minister and All Jammu and Kashmir Muslim Conference President Sardar Attiq Ahmad Khan said though he favours both Khan and Qadri's rallies to get rid of "family rule" in the country, he suggested the two to raise their issues under the guidelines of UN resolutions and not mix the dispute with the ongoing marches.

Jamaat-i-Islami AJK Naib Ameer Shaikh Aqeelur Rehman condemned Qadri's statement and termed it harmful for the liberation movement in Kashmir.

He said G-B was part of Jammu and Kashmir and when the Indian-held Kashmir was freed, the whole territory including G-B would become part of Pakistan.

Published in The Express Tribune, August 18th,2014.