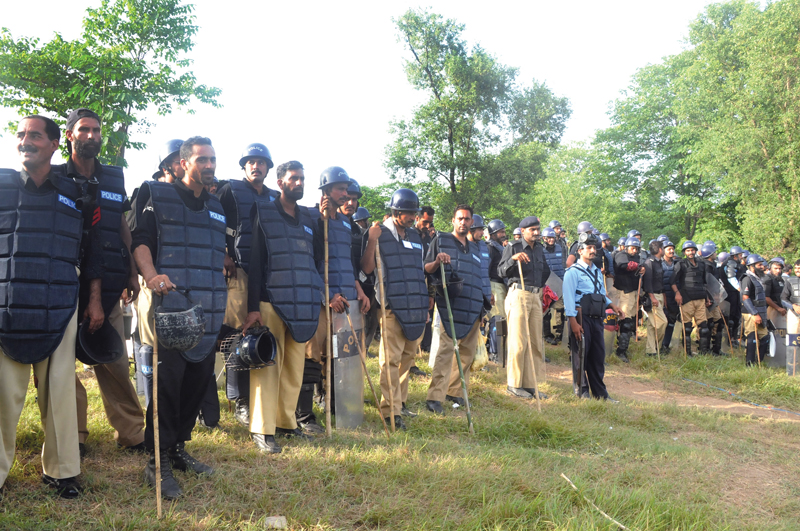 ---
ISLAMABAD: Around 50 Punjab police personnel have applied for medical certificates from Pakistan Institute of Medical Sciences (Pims) to get out of performing security duty at the twin marches in Islamabad.

Their requests, however, have been refused by the medical staff deployed at the emergency ward, said a senior Pims official who asked not to be named.

Talking to The Express Tribune, the official said so far 140 policemen have been treated at the emergency ward for flu, sore throats, fever, muscular pains and diarrhoea.





Sleepless nights and substandard lodging have left cops with various ailments. PHOTO: WASEEM NAZEER /EXPRESS




"Out of them, 50 Punjab policemen requested that medical staff in the emergency ward of the hospital give them medical certificates so they can go on leave," said the official.

However the medical staff refused their requests as "they all are suffering from minor illness and are physically fit to resume their duties," he said.

He admitted that the policemen were tired and under stress.

One of the Punjab Police officials, asking not to be named, said that they have not been provided with any proper arrangements.

"We are exhausted and have no idea how long we have to stay here," said the policeman. Pims spokesperson Dr Waseem Khawaja said the hospital cannot issue medical certificates to them on a whim.

He further said that hospital has put 10 ambulances on standby in case any untoward situation occurs.

He said that due to the present situation, the patient loads in the outpatient department are very low and scheduled surgeries are not being carried out.

On the other hand, Polyclinic treated 112 policemen who had the flu, sore throats, and diarrhoea.

Talking to The Express Tribune, Polyclinic Spokesman Dr Tanveer Malik said that considering the current situation, the hospital has increased its stocks of drugs and arranged more beds while directing the staff to stay on their toes.

He said two ambulances have been send to the Red Zone and will be on standby 24-hours a day.

Published in The Express Tribune, August 18th,2014.

 
COMMENTS
Comments are moderated and generally will be posted if they are on-topic and not abusive.
For more information, please see our Comments FAQ