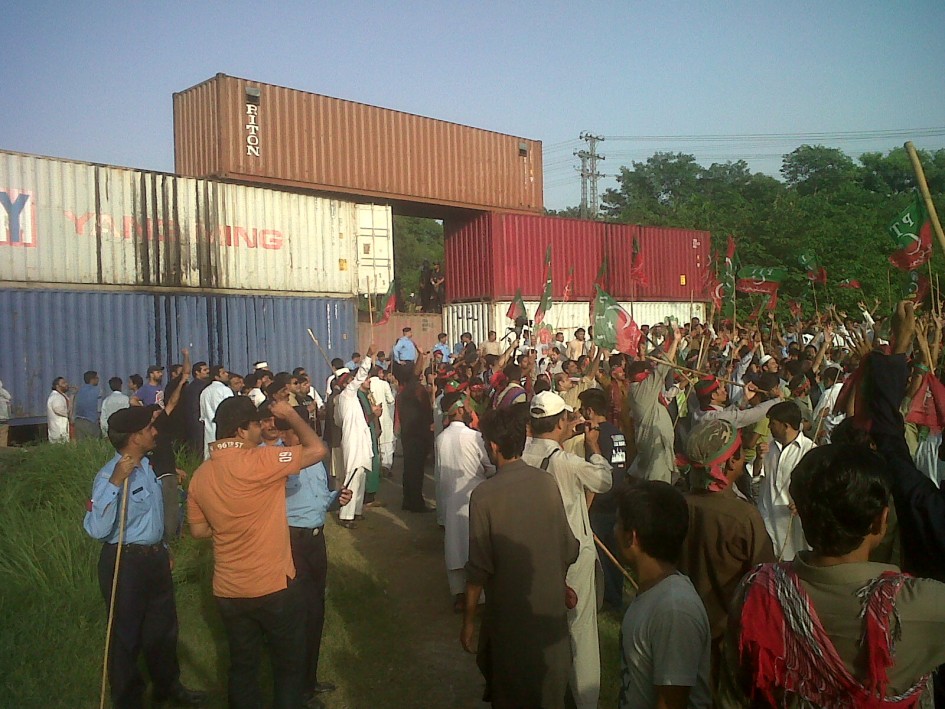 ---
ISLAMABAD: PTI chief Imran Khan had threatened in his speech on Saturday to take his 'Azadi' march to Serena Chowk if his demands were not considered immediately.

On Sunday, PTI workers began marching towards the Red Zone. They crossed the first layer of the security cordon outside Margala Hotel. "The district administration has divided Red Zone's security in three layers of which one has been crossed," said a senior police officer.

Further, district administration officials had informed the government that they would not use any kind of force unless authorised to do so in writing.

A barbed wire was the only hurdle between the police and PTI workers. The district administration ordered the policemen to show great restrain and remove the barbed wire.

"We won't hesitate to show use of force if they try to cross the drawn limits," said the official who directed the police personnel to remove the wire and let PTI workers reached the containers.

The clash was about to happen had PTI leader Naeemul Haq and other leadership not arrived in time to pacify his workers. Naeemul Haq and Dr Ismail urged the workers to remain peaceful and not cross limits.

Acting Chief Commissioner Mujahid Sherdil has written a letter to the PTI chief Imran Khan to not march towards the Red Zone. He reminded the PTI chief about the agreement between the two sides to not cross the Red Zone.

Earlier in the day, PTI workers marched towards Serena Chowck and the administration stopped them from reaching the Red Zone. However, after the intervention from the PTI leadership, the issue was resolved.