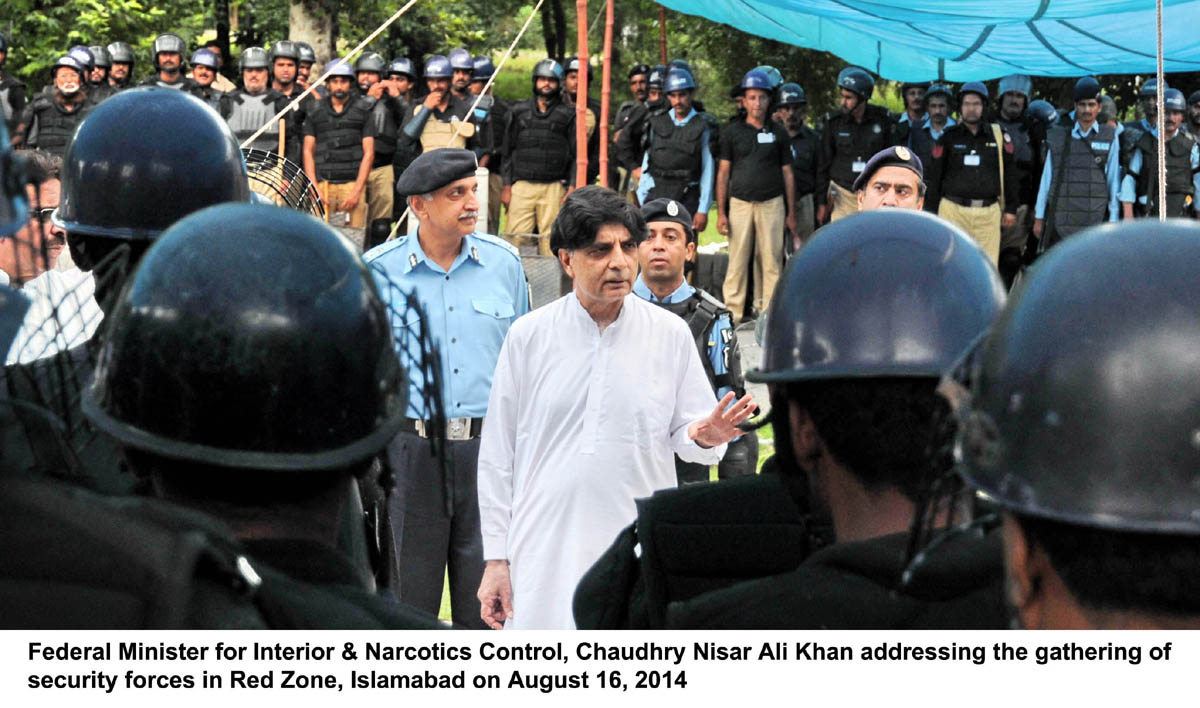 ---
ISLAMABAD:



Interior Minister Chaudhry Nisar Ali Khan on Saturday cautioned marchers of bothPakistan Tehreek-e-Insaf (PTI) and Pakistan Awami Tehreek (PAT) against entering Islamabad's Red Zone, a highly-fortified area which houses key government offices and foreign embassies.




"The Red Zone is a red line… anyone who tries to breach the prohibited zone will be sternly dealt with," he said at a news conference in the federal capital.

Talking to reporters, Nisar said any security breach could pose serious threats. "We have reports from military agencies stating two suicide bombers are in the federal capital and will try to target the [PTI and PAT] rallies," he said, adding that he was not trying to create a scare.

On the other hand, the minister admitted that both PTI and PAT had so far honoured the assurances they gave the district administration before being allowed to hold their rallies. He said he was satisfied with the cooperation between the district authorities and PAT workers in particular. Among the conditions the two parties agreed upon was a ban on carrying weapons and attempting to enter the Red Zone.

Answering a question, Nisar said PTI and PAT were responsible for maintaining cleanliness at the venues for their respective rallies. He said the marchers have not been allowed to stay at the venues indefinitely and joked that residents of the twin cities may be compelled to stage a sit-in of their own if workers of the PTI and PAT prolonged their stay.

The minister said the Pakistan Muslim League-Nawaz government could have opted to challenge orders passed by the Lahore High Court to allow the two marches, but chose not to do so since it respected citizens' rights to hold peaceful demonstrations.


Published in The Express Tribune, August 17th, 2014.