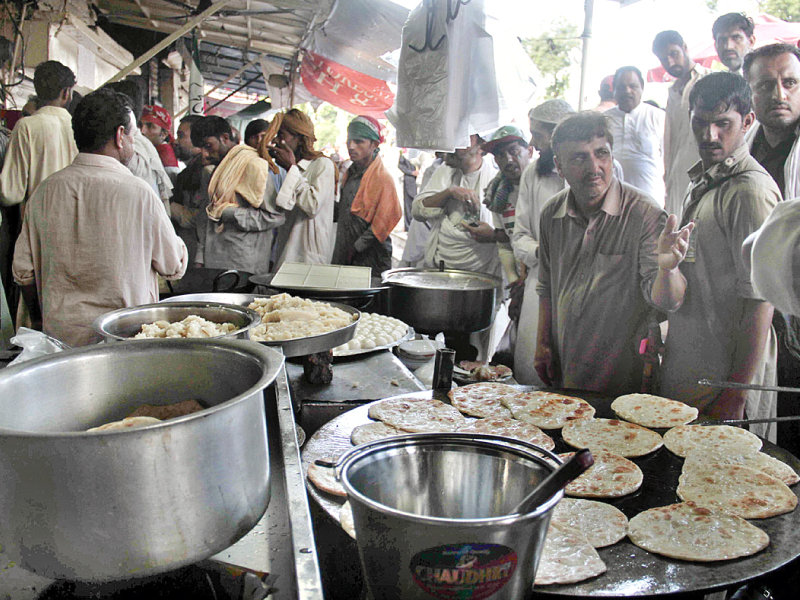 ---
ISLAMABAD:



Muhammad Afrahim, a resident of Islamabad, says he wishes rallies like the Azadi march and Inqilab march would take place more often in the city. "The marches have been a blessing for workers like me," he says, overjoyed. "I've earned nearly Rs2,500 since this afternoon alone from selling mixed fruits to the party workers. Before this, I would hope to make just Rs300 to Rs600 on an average day."




As the rain poured down on Friday and Saturday, those in the capital crying out for 'azadi' and 'inqilab' wanted one thing: hot tea. "I was sold out," says one man who set up a makeshift tea stall, who asked to remain anonymous. "I sold roughly 500 cups of tea in less than three hours on Saturday."

Afrahim's nephew Ibrahim has also done well for himself – his channa chaat kiosk, set up in Aabpara Market, has made Rs15,000 since August 14. Ibrahim says he has sold six times more in these days than he normally would. Ibrahim says he was compelled to hike his prices per plate of chaat as the cost of his ingredients has soared due to a shortage of food supplies caused by the barricades around the city. "The price of potatoes and tomatoes has jumped from Rs70 to Rs200 and Rs80 to Rs180, respectively," he said.

Street vendors offering everything from crackers to popcorn and drinks have been busy since Friday and restaurant owners – particularly those offering chicken karhais – haven't had a moments rest since the marchers entered the city. One man says his barbecue grills have scarcely been turned off over the last few days.

The distribution of free food for those soaked by the rain appears to be the only hitch in these vendors' fortunes. But even as the Pakistan Awami Tehreek is providing free breakfast, lunch and dinner to its supporters, vendors say they have not been able to keep pace with the demand. "I don't know if the party workers are being given free meals," said one biryani vendor. "I just know that I have sold six degs since this evening."

Published in The Express Tribune, August 17th, 2014.
COMMENTS (19)
Comments are moderated and generally will be posted if they are on-topic and not abusive.
For more information, please see our Comments FAQ