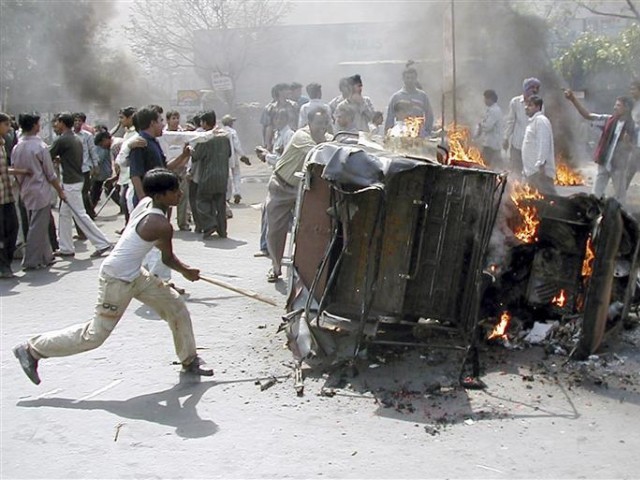 ---


Two Muslim men running a meat shop in Dundahera village, in Gurgaon district on the Delhi-Haryana border in India, were thrashed by a mob of 50 people, The Hindu reported on Saturday. Muhammad Israr, 25, and his 40-year-old friend Aftab were at their shop near Kapashera when a large mob armed with sticks confronted them, accusing them of selling beef.




"When I tried to reason with them and showed them the receipts to prove it was buffalo meat and not beef, they started raining blows on us. They punched me in the chest, abdomen and head. Aftab was also hit on the head and sustained injuries," recalled Israr from hospital.

The mob threw the meat in the shop into a dustbin and poured acid over it. "The meat was worth over Rs10,000," said Israr. The police have seized samples of the meat and sent them for examination.

Israr alleged that some traffic policemen present near his shop remained mute spectators and intervened only after he was badly thrashed. While Israr and his friend were being beaten, a couple of meat shop owners in the neighbourhood pulled down the shutters to their businesses. Israr said he was too scared to return to the village.

Deputy Commissioner of Police (West) Sangeeta Rani said it was a minor clash between the shop owner and customers over purchase of meat.

The attack comes barely a fortnight after several Muslim families, running small enterprises such as tailoring and barber shops in Basai village, were beaten up and forced to flee to their native places in Bihar and Uttar Pradesh.

Published in The Express Tribune, August 17th, 2014.