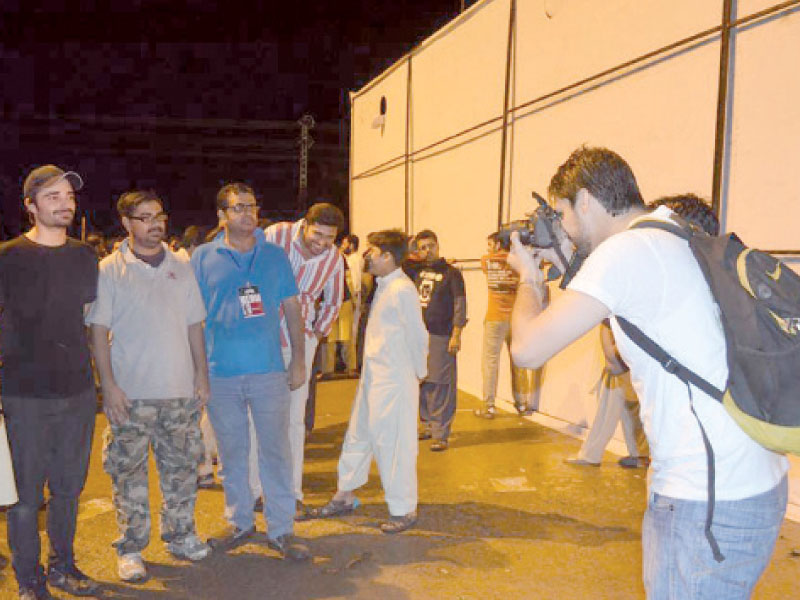 ---
ISLAMABAD:



Its 11pm and Pakistan Tehreek-e-Insaaf [PTI] 'Azadi march' had not yet completed its 296 km journey from Zaman Park, Lahore to Aabpara, Islamabad.




The rain is coming down on Kashmir Highway, where the stage is being set. Khyber-Pakhtunkhwa Chief Minister Pervez Khattak is sitting on the driver's seat of a trailer, trying to keep the spirits of participants from his province up. They have been in the town for last 24 hours, and as upbeat or engaged as they were, the constantly changing weather has exhausted them.

In the middle, several pickup trucks loaded with PTI flags have started distribution. "Each pickup is carrying around 7,000 flags and there are seven to eight more to come," says a driver.

To engaged marchers in the middle and in front of the stage, there is another pickup with a sound system on board, playing Pashto tunes.

Meanwhile, behind the stage are party office bearers, losing candidates from the 2013 general elections, and aticket aspirants hoping the government is toppled.

Suddenly, the backstage turns into a soaking wet red carpet zone.

In comes actor Hamza Ali Abbasi of 'Pyaray Afzal' fame.

"Can I have a picture with you?" asks a young woman, and Abbasi politely says yes and poses for the photo.

As the woman thanks Abbasi and leaves, a group of youngsters who had been acting as security wall come for a photo. The process continues

Amid all the photographs, Abbasi admits that his presence at a PTI rally may be unusual due to a famous relative — his mother.

Abbasi is the son of Nasim Chaudhry, a former Pakistan Peoples Party (PPP) Member of the National Assembly.

Chaudhry had been in the headlines throughout the previous government's term regime as she was head of NA standing committee on Law and Justice which discussed new accountability law for years. The law was not passed, and the government and then-opposition Pakistan Muslim League-Nawaz (PML-N) blamed each other for the inordinate delay.

"I have come here in the middle of night to support the cause of Imran Khan," Abbasi said while talking to The Express Tribune. "My mother might not be happy that I am here though," he added with a smile.

Khan got everything in his life but he is struggling for the people of Pakistan, Abassi said. I had been following him since the government was asked to verify votes in four constituencies of the National Assembly. After a wait of one year, he had come to streets and I support this, he added.

Talking about his recent TV serial Pyaray Afzal, Abbasi said that the end of the serial, in which his character is killed, "is my favorite".

In the meanwhile, PTI leaders Dr Shireen Mazari, Shafqat Mehmood and Asad Umer reached the area. Former interior secretary Tasneem Noorani, Malik Amin Aslam who lost general elections from Attock to PML-N leader Sheikh Aftab Ahmed, former Senator Azam Swati and several other local leaders were already present, having formed small groups with their respective constituents.

But it was quite clear that Abbasi was the star, as fans continued flocking towards him to take pictures or just to say hello.

Published in The Express Tribune, August 17th, 2014.