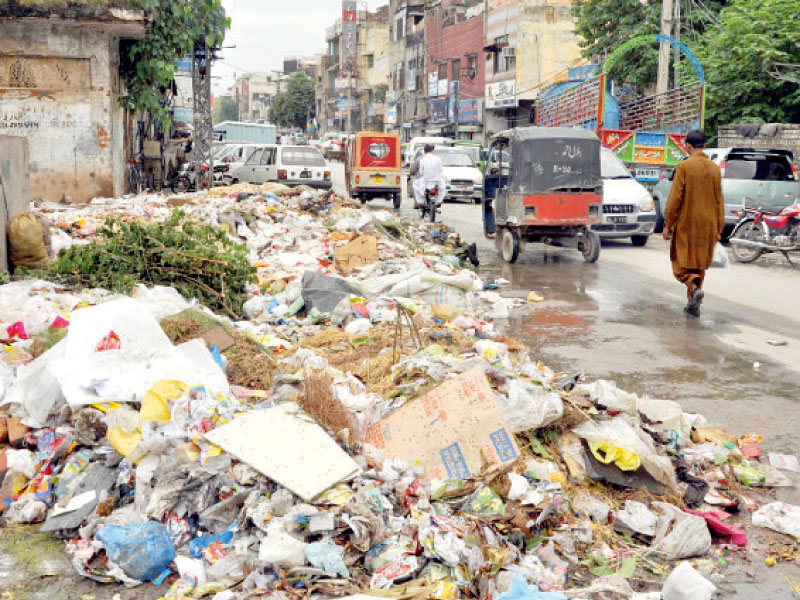 ---
RAWALPINDI:



Some areas of Saddar Cantt have become a virtual dump site for the Rawalpindi Cantonment Board (RCB) sanitation staff.




Heaps of garbage and trash could be seen strewn on roads and residential areas of Railway Road, Police Station Road, Nougaza Road and other adjacent areas, making roads in these areas virtually impassable besides leaving an unbearable stench in the air.

Locals said RCB workers lift garbage from areas with influential residents and dump them on roads and in residential areas where people with less political clout live.

The people have been asking the RCB authorities to designate a permanent dump site far from residential areas.

The authorities conceded that they have no permanent dump site, compelling them to dump the trash in residential areas.

The garbage heaps have also created public health risks.

Ahmad Rasheed, a resident of Railway Road, told The Express Tribune that the RCB was playing with the lives of the people. "It is quite strange that the sanitation workers are dumping trash in this part of town and the authorities have never taken note of it," he said. He asked if such negligence and apathy would be tolerated in developed countries. "Are we not human beings? Why are we being treated like second-class citizens?" he asked.

He said the RCB sanitary workers don't hesitate to dump the waste including plastic, paper, metal and other waste on roads and residential areas.

"There is a need to recycle the waste instead of dumping it in residential areas," he said.

Saddar Traders Association President Malik Jehangir said Police Station Road has become unbearable for the residents. He said that there were many workshops in the area but people have stopped visiting them due to the powerful smell of garbage. "Our businesses have gone to the dogs due to dumping of trash near our shops," he said.

He said that the authorities have time and again been asked to solve the issue but the complaints have fallen on deaf ears.

Muhammad Aslam, another resident of the area, said that a water of a filtration plant on the Police Station Road has become useless due to a dumping site nearby, but local residents are compelled to consume the contaminated water. He said that due to the water contamination, diseases such as diarrhoea, hepatitis and other water-and-air-borne diseases were spreading in the area.

RCB head Faheem Zafar told The Express Tribune that they were working to permanently resolve the issue. "We have planned to purchase land for a landfill site some 40 to 45 kilometres from the city. He admitted that the RCB was currently facing problems in purchasing land for the dump site, but reiterated, "We are working to arrange the new landfill site on an emergency basis".

Published in The Express Tribune, August 17th, 2014.
COMMENTS
Comments are moderated and generally will be posted if they are on-topic and not abusive.
For more information, please see our Comments FAQ