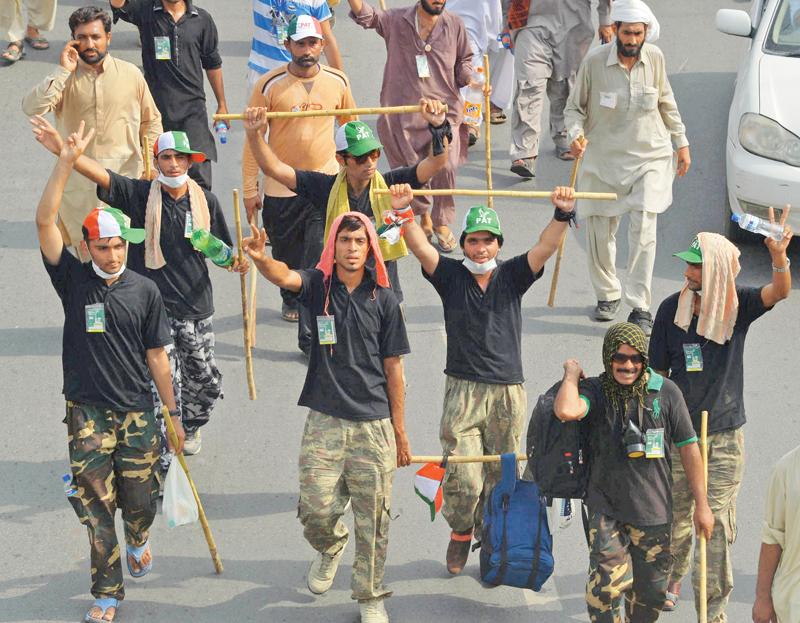 ---
LAHORE:



Up to 1,000 young Pakistan Awami Tehreek (PAT) members carrying slingshots and marbles have been deputed for the security of Dr Tahirul Qadri and respond to any possible clash with the police during the 'Inqilab march'.




These PAT workers have been organised in three tiers around the PAT chief and those in the second and third tier are armed with slingshots and marbles. The Express Tribune was told that one of the youth security units, consisting of 50 people, prepared the slingshots. On Thursday, more than 1,000 members of the security teams, including women, cordoned off Dr Qadri's vehicle, forming two long human chains along the route of the long march.





PAT members carrying slingshots and marbles have been deputed for the security of Dr Tahirul Qadri. PHOTOS: SHAFIQ MALIK/EXPRESS




Packets of salt, masks and handkerchiefs were distributed amongst these groups, to protect activists from any teargas attack. "We have no weapons with us, except for clubs and slingshots and we do not want to kill anyone as the police did when they gunned down our people in Model Town," members of the security team told The Express Tribune. They said they would only resort to using the slingshots if police tried to stop the march. "We are peaceful people and we want peace in the country," members of the security team said.

"We have strict orders not to attack police officials and to tolerate any resistance from them as much as possible," said Asim Shehzad, a member of the security team. "We will only strongly respond if the police cross a limit. We do not want confrontation but we are ready to fight if the Inqilab march is barred."




Another PAT member, Muhammad Shabir, claimed that more than 5,000 members have been deputed for security, and some of them have been given the names of 'rapid force members' who have clubs in order to remove any barbed wire placed on the road. Another group has been tasked with the removal of containers blocking the roads, while others are responsible for rescuing any PAT members injured or unconscious during any clash.

Published in The Express Tribune, August 15th,2014.