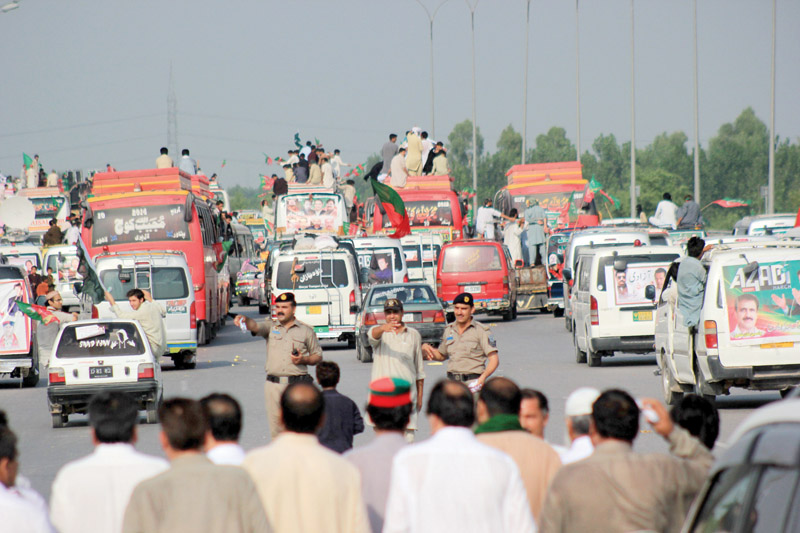 ---
PESHAWAR/CHARSADDA/HARIPUR:



Thousands of Pakistan Tehreek-e-Insaf (PTI) activists and supporters led by Chief Minister Pervez Khattak set out for the party's Azadi March to Islamabad from the city on Thursday afternoon. 




Even though it had been decided on Wednesday that PTI Additional General Secretary Saifullah Niazi, who is also the chief organiser, will lead the caravan, on Thursday morning the CM announced he would be participating in the march and lead the caravan taking activists to the federal capital.





PTI supporters atop trucks and buses. PHOTOS: MUHAMMAD IQBAL/EXPRESS




Since morning, people began gathering at the sites specified by the rally heads in different union councils. Vehicles arranged by the party had been parked across the city to take the participants to the Peshawar-Islamabad Motorway Toll Plaza, the assembly site.

Talking to The Express Tribune, Niazi said protesters had been asked to gather at the Motorway Interchange. "Keeping in view that the huge gathering might cause road blockade, we decided to move on soon," said Niazi.

He added people from other districts including Mardan, Swabi, Nowshera and Malakand joined them on the motorway.

"The Punjab police might resist but if they try to stop us we will remove the hurdles," said Niazi. According to Niazi, the caravan includes lifters which can remove containers placed in the procession's way.

PTI Khyber-Pakhtunkhwa Spokesperson Ayesha Gulalai said she has already reached Islamabad to welcome party supporters. She added the federal government told them to gather at Zero Point, but they would try to set up camp near Constitutional Avenue.

According to an intelligence report, a total of 742 vehicles carrying around 8,643 workers of PTI passed the motorway between 3-5pm.

Youth wing

The PTI Youth Wing had arranged hundreds of vehicles to transport the participants to the federal capital. Vehicles of the Peshawar General Bus Stand had been hired, decorated with PTI flags and posters of Chairman Imran Khan. These were then parked across the city with sound systems calling out to people to participate and blaring songs of change and revolution.





PTI supporters atop trucks and buses. PHOTOS: MUHAMMAD IQBAL/EXPRESS




Qasim Ali Khan, the central president of the Insaf Students Federation (ISF), told The Express Tribune that a total of 600 small and large vehicles had been hired and activists had been instructed to reach the motorway toll plaza till 3pm.

Khan added that not more than 50 people would be accommodated per bus so as to avoid any tragic accident.

MPAs gear up

MPA Arif Yousuf arranged 40 vehicles at Qayyum Stadium area and gathered a large crowd to join in the protest march. Similar scenes were witnessed at the Hayatabad Toll Plaza where several hundreds of PTI workers were also ready to leave for the trip.

From the MPA hostel, several buses and motor cars took 300 people led by MPA Soran Singh to the motorway toll plaza. Muhammad Imran, a local leader from Sarband, also brought 150 people to Ring Road where they joined protesters led by MPA Fazle Ilahi.




PTI workers from tribal agencies were directed to first come to Peshawar from where they could leave with the main procession. From Mohmand Agency, Rahim Shah Mohmand, a youth activist, brought 20 Hiace vehicles carrying about 200 people.

Charsadda adds to the march

According to ISF Charsadda President Kamran Khan Mohmand, 500 motorcycles and 500 other vehicles entered Peshawar-Islamabad Motorway at Nissata Interchange at 4:30pm. They were led by PTI Peshawar General Secretary Fazal Muhammad Khan.

The senior vice-president of PTI's K-P sports and culture wing, Jahanzeb Khan Dhaki told The Express Tribune, "Our march is to end the Sharif brothers' kingdom in Pakistan and we will remain there till the end of their regime."

PTI MPA Muhammad Arif Ahmadzai said they would cross all hurdles in their way. According to Ahmadzai, they were prepared to spend days in Islamabad and were carrying food supplies and water as instructed by the party chairman.

Haripur

Furthermore, by Thursday evening, hundreds of PTI workers from different parts of Hazara Division had left in a motorcade for Islamabad to participate in the Azadi March.

The motorcade consisting of cars, Suzuki vans, buses and coasters decorated with PTI flags left for Islamabad after 7pm although the time they had announced for departure was 3pm. Even though some of the vehicles were almost empty carrying four to five passengers, others were full of workers chanting slogans against the PML-N government and demanding Prime Minister Nawaz Sharif's resignation.

PTI K-P President Azam Khan Swati, Information Minister Mushtaq Ahmed Ghani, MNAs Dr Azhar Jadoon, provincial minister Qalandar Khan Lodhi, MPA and adviser to the CM Akbar Ayub Khan and several other prominent leaders led the caravan comprising people from Torghar, Battagram, Kohistan, Mansehra, Abbottabad, Ghazi, Khanpur and Haripur.

Published in The Express Tribune, August 15th,2014.
COMMENTS
Comments are moderated and generally will be posted if they are on-topic and not abusive.
For more information, please see our Comments FAQ