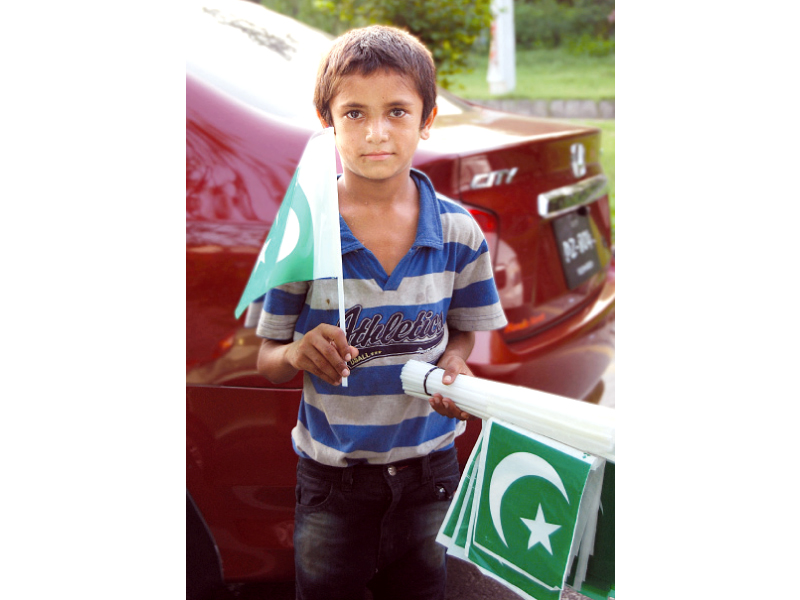 ---
ISLAMABAD:



Even though Independence Day was overshadowed by political activities in the country and the long march duo en route from Lahore, street vendors were still hopeful of completely selling their bag-full of buttons, pins and small flags.




Flashing a salute with a convincing smile, Mohammad Aslam was busy selling Pakistani flags at a traffic signal near a busy market in the capital on Wednesday.

A day before the 68th Independence Day, Aslam only had 24 hours to sell his merchandise. He rushed to cars that stopped at the traffic signal, requesting motorists to purchase flags and pins.

Travelling from his home in Zia Masjid to Raja Bazaar in Rawalpindi, Aslam bought a dozen flags for Rs300, which he now sells for Rs50 each. It takes him two hours to come to the capital everyday.

"I have been successful in selling some flags. But I have to make sure I sell them on time," he said.

Years ago, the capital would look very different just before Independence Day --- decorated with fairy lights, buntings, streamers and flags. The public display of patriotism this time around was comparatively thin.

As the capital has been sealed at a number of points with containers and barricades, residents have been discouraged to come out to celebrate Independence Day.

Festivities seem to be restricted to the invite-only parade organised by the Pakistan Army that took place on midnight at Parliament House.

The imposition of Section 144 and a high alert also discouraged residents and the independence enthusiasm seemed to have fizzled out.

Shaukat Ali, who belongs from Gujranwala, displayed items such as streamers, flags of various sizes, stickers and hats at a stall set up at one of the markets in the capital.

Buying fewer items for a high price in Lahore, Ali had been in the capital since the beginning of this month.

A regular stallholder in the capital for the past eight years, he is discouraged with the response this year and believes the decreasing demand might encourage him to look into another business. "I worry about breaking even," said Ali, adding that "The response has been really low this year as compared to previous years."

"How are we going to celebrate August 14, when we are trapped at home," said Sehrish Kausar a resident of the capital. "Independence Day celebrations are a part of our culture. Many young boys and girls used to go out. The security situation will not allow us to do anything this year" she added.

Published in The Express Tribune, August 15th, 2014.