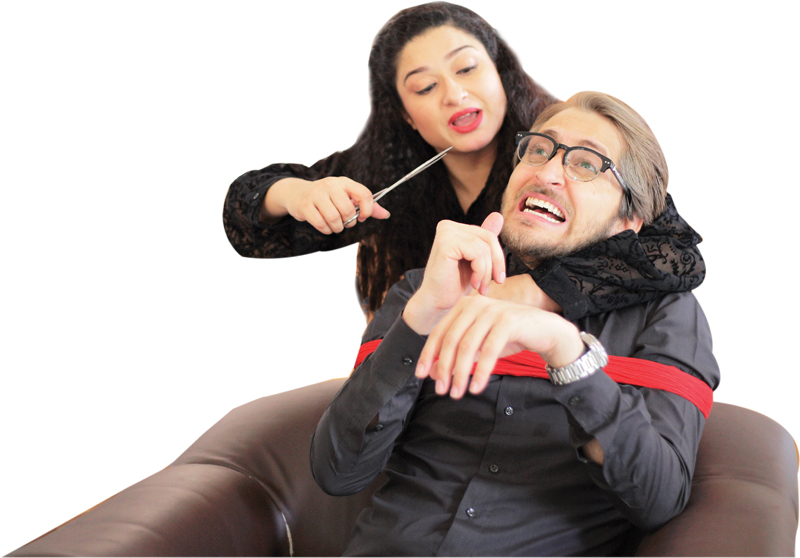 ---
KARACHI:



Mein adakara banungi! declares Sania Saeed quite the adept adakara in the Katha theatre group play that's just begun staging at Karachi's Arts Council, in collaboration with KopyKats Productions. Having proceeded to say this, she goes on to spearhead a theatrical act that is a barrel of laughs, interspersed with perceptive witticisms and a poignance that creeps on to you as the story unfolds. Acting opposite Sania is Abdullah Farhatullah, as the adakara's exasperated teacher. Fretting, fuming and painstakingly explaining the nuances of diction, he commendably holds his own against the veteran actress.






Together, Sania and Abdullah form the only two characters in the 90-minute performance and it is their seamless repartee that has the audience hooked. Katha's mainstay and Sania's husband, Shahid Shafaat, sits at the director's helm while Kopykats' enterprising young thespians take a backseat from the spotlight. Cleverly, they've moved from one veteran–Anwar Maqsood wrote the scripts for their earlier plays to the very accomplished Sania; but ultimately, this is a Katha play, enacted successfully six years ago for just four days.




It's now on stage for a longer running and Sania Saaed certainly has enough fans to have the crowds come rushing in. Sania is a treat to watch, shedding away her recent sobby TV avatars as the garrulous, incorrigible Naila Anjum. She plays the desperate aspiring actress to the hilt, the girl who works in a 'booty porlurr' (that means 'beauty parlour' the bawdy English jargon is one of the most entertaining highlights of the script), who's grown up entranced by Bollywood and has dared to dream for a life in the limelight. One of her well-connected clients at the parlour manages to get her through to the harried Zegham, renowned actor, self-satisfied intellectual snob, whisky-enthusiast and financially strained so that he begrudgingly accepts tutoring Naila.




Henceforth, the hilarity unfolds. To impress her reluctant teacher, Naila can impulsively grab a floor-wiper and enact Sultan Rahi and injure him in the process; she can break into a rabid Kamli Kamli ala Katrina Kaif because her siblings tell her she dances better than Madhuri and she can discuss her cinematic favourites: John Abraham in Jism and Kajol in DDLJ.




What Naila can't do is pronounce 'student' and 'hall' ('iss-student' and 'hole', she says), she can't fathom the importance of speaking lucid Urdu; she almost always forgets the usage of qaaf for qainchi and she certainly can't digest the literary subtleties of Saadat Hassan Manto's work. "Yeh dhang ka banda lagta hai, iss ke toh naam mein bhi Saadat hai," she comments, as she takes the author's book home because her teacher wants her to be well-read. She returns the next day, appalled by the bold plots, proclaiming Tauba, tauba.




The unexpected bond that forms between the two is touching, yo-yoing between occasional moments of friendship and annoyed banter. At one point, Zeegham asks Naila how someone as uneducated and bawdy as her could become an actress. She replies, Jub kaam denay wala hee jahil ho toh jahil ko kaam mil jaata hai.


This, then, is the essence of Mein Adakara Banoon gi. It's a parody of the immorality and low-standards that now exist in the acting career, a caricature of a lower middle-class girl who dares to dream, a character sketch of a man with an intellectual superiority-complex and the divergent moral values that exist within Pakistani society. One could have done without the musical score but this is just a minor crib. More than anything else, the play is a laugh-out-loud comedy that has you smiling long after the actors have taken their final bows. It's fabulous, riveting theatre we need much, much more of it.

Verdict: The acting prowess of the two leads blended with smooth direction and a funny script makes this play a winner. Its a must watch, suitable for all ages. 4/5 

Published in The Express Tribune, August 15th, 2014.

Like Life & Style on Facebook, follow @ETLifeandStyle on Twitter for the latest in fashion, gossip and entertainment.
COMMENTS (1)
Comments are moderated and generally will be posted if they are on-topic and not abusive.
For more information, please see our Comments FAQ