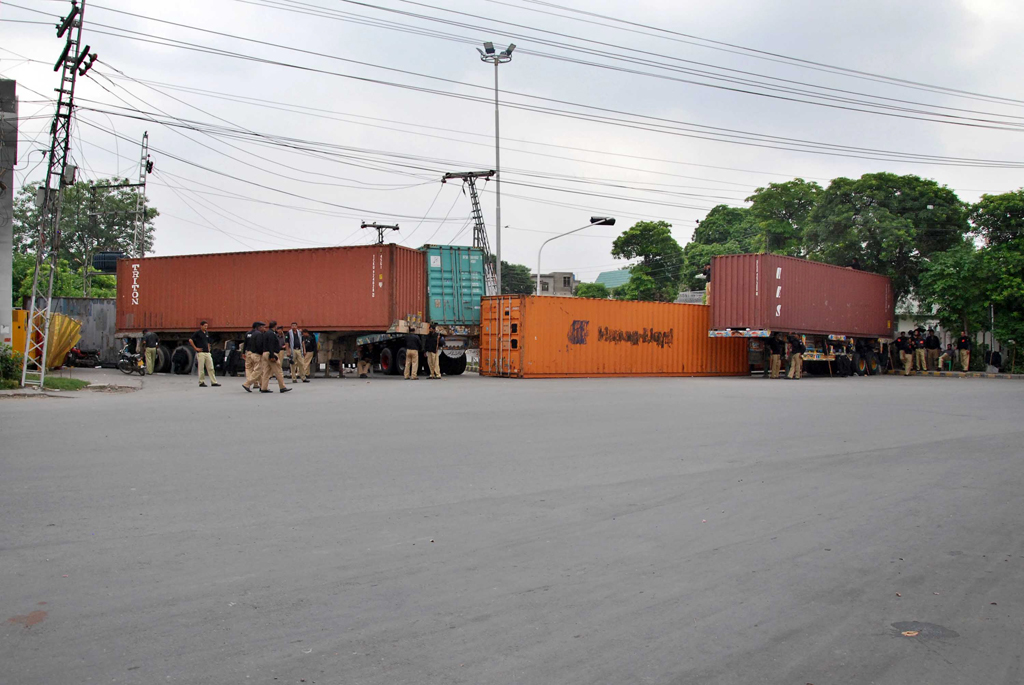 ---
LAHORE: Contrary to speculation, fuel stations in Lahore are open on the Independence Day.

Youngsters, like on any other public holiday, are playing cricket in the streets. However, streets in the Model Town and Faisal Town areas of the city remain deserted and the areas are besieged by provincial government to stop PAT's revolution March. No road has been kept open for residents of the aforesaid areas for any sort of emergency.

Containers upon containers have been placed at all main routes towards Model Town. They have also been filled with mud in order to stop PAT workers from pushing them aside.

A resident of Faisal Town, Umer Farooq has said that he wanted to leave for Islamabad for the Azadi march but dropped the plan given the volatile security situation in his area.

He states that his area has been turned into a no go area by the government, adding why the government is making his area a war zone.

He further says if Dr Tahirul Qadri is such a dangerous person, he should be arrested immediately.

Police around Model Town have geared up for an expected confrontation. Tear gas shells and rubber bullets have been provided to police personnel to deal in case of any untoward incident.
Workers at PAT secretariat, however, still remain unaware of the route plan strategy.

A helicopter is also monitoring the movement of PAT activists in Lahore, while police personnel can been seen deployed on containers used to block streets.

New containers have also been brought to block access of Barakat Market in Garden Town. Drivers of containers have claimed that their containers and trucks were impounded by police in different police stations at least 5 days ago. It is pertinent to mention here that these containers were packed with freshly imported merchandise.

All nearest routes to Jinnah hospital are also blocked with the only access route from Barakat Market Chowk, which is at least two kilometres away from the hospital.
COMMENTS
Comments are moderated and generally will be posted if they are on-topic and not abusive.
For more information, please see our Comments FAQ