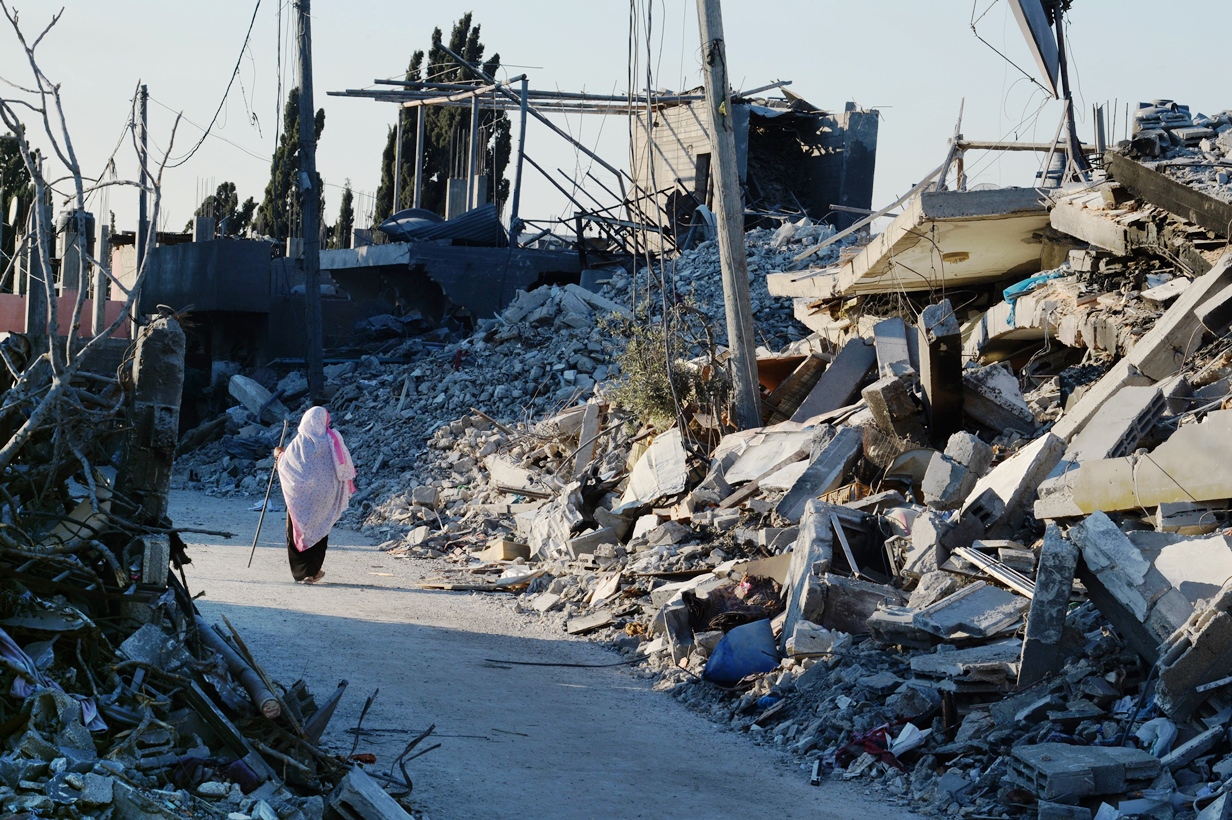 ---
GAZA: Israeli jets bombed targets across Gaza early Thursday in what they claimed was in retaliation to Palestinian rocket attacks in spiralling violence that threatened to scupper a truce extension.

The resumption of hostilities shattered nearly three days of calm over the skies of Gaza and southern Israel, raising fears that a new ceasefire announced in the Egyptian capital could quickly unravel.

More than 1,950 Palestinians and 67 people on the Israeli side have been killed since July 8, when Israel launched an offensive to destroy Hamas rockets and attack tunnels burrowing under the Jewish state.

After days of shuttle diplomacy, the agreement clinched by Egypt had appeared to secure the longest period of calm in the five-week conflict and allow more time for talks on the thorniest issues that separate the two sides, the Palestinians said.

An official at the Palestinian interior ministry reported four air strikes over open ground about 30 minutes into the extension of a new truce, from midnight.

Israel said it was targeting "terror sites across the Gaza Strip" in response to rocket fire.

The military "will immediately respond to any threat to Israel", it added.

A spokesperson for the Israeli army told AFP that Palestinian militants launched eight rockets towards Israel late Wednesday, six of which hit open areas and one of which was intercepted.

At least two of the rocket attacks were reported after midnight, the expiry of the previous truce and the continuation of the other.

Millions of people had banked on Egyptian mediators to avoid a resumption of the violence.

A previous three-day truce collapsed in a firestorm of violence last Friday.

"It will last for five days," senior Palestinian negotiator Azzam al-Ahmed had said in Cairo, adding that more time was needed to discuss "some" remaining disputes with Israel over a long-term truce.

An official told AFP that Israel was willing to extend the lull by three days, but also sounded a note of caution, saying that the Palestinians were digging their heels in.

"The way things stand now, it doesn't look like it's going to stay quiet," he said before an Egyptian official announced an agreement.

Hamas, Gaza's Islamist de facto rulers, denied its militants were responsible for firing any rockets on Wednesday. Israel said the attacks caused no damage or casualties.

Earlier Wednesday, an ordnance blast killed five Palestinians and an Italian journalist in the northern town of Beit Lahiya as a Palestinian bomb disposal squad was trying to disable an Israeli missile.

The Associated Press confirmed that one of its cameramen and a freelance Palestinian translator were killed, identifying them as Simone Camilli, 35, from Italy, and Ali Shehda Abu Afash, 36.

Besides his work as a translator, Abu Afash also worked part-time as an administrative assistant in AFP's Gaza bureau. He leaves behind a wife and two girls, aged seven and two.

Camilli, who is survived by a wife and three-year-old daughter, had worked for The Associated Press since 2005.

Both men were killed as they covered the story of experts dismantling unexploded ordnance.

One of AP's Palestinian photographers, Hatem Moussa, was also badly wounded along with another four people, medics said.

The Gaza interior ministry said its top bomb disposal expert in the north had been killed, naming him as Taysir Lahum.

There had been fears on both sides that hostilities could resume.

An AFP photographer reported seeing dozens of tanks and armoured personnel carriers approaching the border area with Gaza.

"We have already sacrified 64 men and it is possible we may have to sacrifice more," Israel's chief of staff Lieutenant General Benny Gantz said at a military ceremony, his remarks broadcast on army radio.

In Cairo, the chief Palestinian negotiator said there was an agreement "on many points regarding lifting the siege"- referring to the key Palestinian demand to end an eight-year Israeli blockade of Gaza.

The negotiators needed more time to settle "some" remaining disputes, he told reporters.

The joint Palestinian delegation, which includes Hamas and the Western-backed Palestinian Authority, will leave Cairo on Thursday to consult with their leaderships, he said.

Mediators proposed that talks on a seaport and airport in Gaza be delayed until a month after a permanent ceasefire takes effect, according to an Egyptian proposal contained in documents seen by AFP.

Negotiations about handing over the remains of two dead Israeli soldiers in exchange for the release of prisoners in Israeli jails would also be postponed, according to the document.

A buffer zone along Gaza's border with Israel would be gradually reduced and guarded by Palestinian Authority president Mahmud Abbas's security teams.

Israel has said it will facilitate Gaza's reconstruction only if the enclave is fully disarmed, a demand rejected by the Palestinians.

Prime Minister Benjamin Netanyahu lashed out at the UN Human Rights Council over a planned probe over alleged Israeli war crimes, charging that it granted "legitimacy to murderous terror organisations like Hamas" by overlooking "massacres" committed elsewhere in the Middle East.