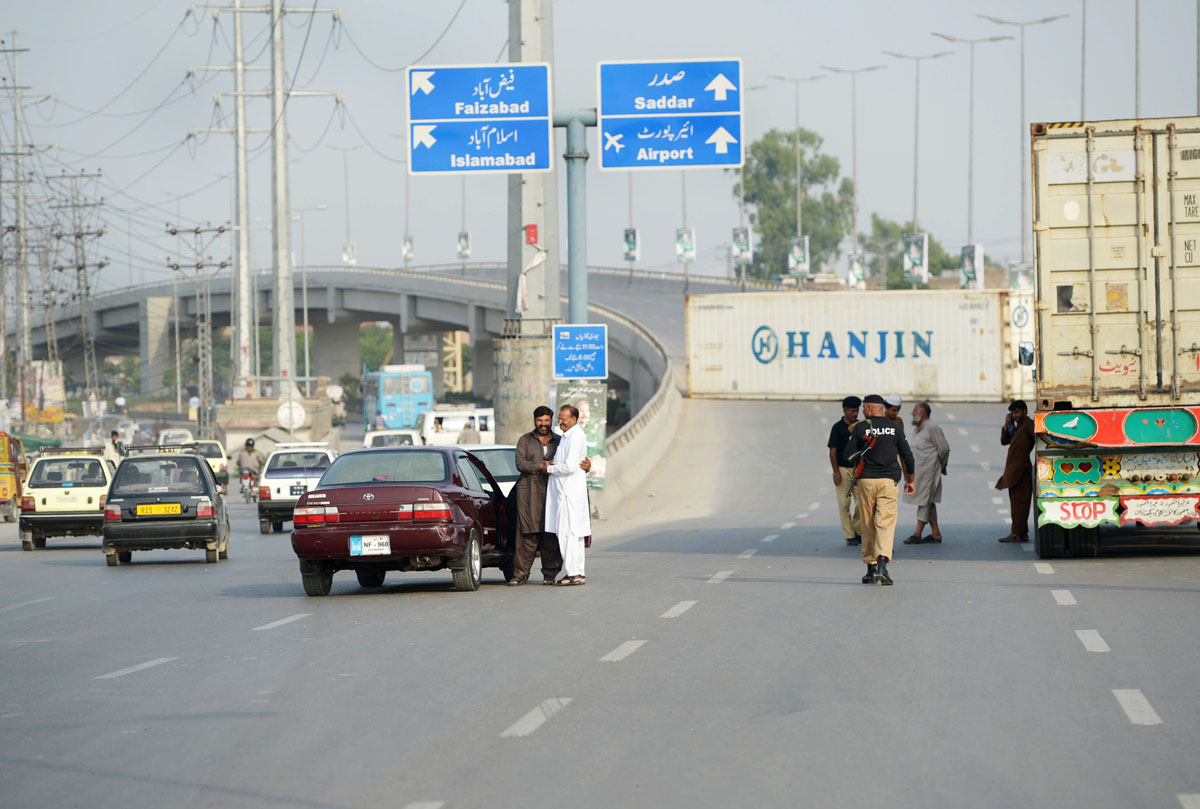 ---
LAHORE:



Pakistan Tehreek-e-Insaf (PTI) and Pakistan Awami Tehreek (PAT) are all set to begin their long marches towards the federal capital today (Thursday). PTI's Azadi march would start from Zaman Park, Imran Khan's residence, near The Mall from where they would reach Faisal Chowk to assemble. In the meantime, PAT's Inqilab march would proceed from Model Town.




The government, however, seems to be picking its battles: it is apparently giving way to the PTI but restricting the movement of PAT activists. There is no shipping container or any obstacle created in the way of the former's march while all the routes of the latter's Inqilab march have been blocked by shipping containers and a heavy deployment of police. Moreover, the city district government has enforced section 144 CrPC in the areas around Qadri's residence.

From Zaman Park to D-Chowk

Imran Khan will leave his residence at 10am in a rally after offering 'prayers for the success' of the rally and would address a gathering of around 100,000 participants at Faisal Chowk, PTI Punjab president Ejaz Chaudhary told The Express Tribune. He would use a bulletproof SUV to travel from Lahore to Islamabad. Shah Mehmood Qureshi, Javed Hashmi and Ejaz Chaudhary would accompany Imran in the vehicle.




Party workers, office bearers and participants would start gathering outside the PTI chief's residence in the early hours of the day. All participants would arrange food individually for themselves, such as grams, sweeteners and dates in addition to biryani, fruits, water and juices. They have also packed clothes for their next three days, informed a group of party workers from Kasur. "We are taking mats to sleep on at D-Chowk," said party worker Jawad Warraich.

As many as 25 trucks loaded with sound systems will also be part of the Azadi march caravan and songs, slogans and speeches will be played. The party had directed all participants to arrange for additional fuel and food, said Ejaz Chaudhary.

On their way to Islamabad, marchers would be received at 25 points at GT Road, he added. A 100,000-motorcycle squad would travel as the frontline squad from Lahore to Islamabad. Party workers would establish camps at every five kilometres.

After entering Islamabad, marchers from all areas of the country will first gather at Zero Point from where they would leave for D-Chowk and join the rally led by Imran Khan. At D-Chowk, the PTI chief would present a charter of demands to the government and the future party agenda for 'Naya Pakistan', said Chaudhary.

PAT, 25 other parties march as one

PAT's political coordinator Iftikhar Shah Bukhari told The Express Tribune that 25 political parties will join their Inqilab march at Model Town. Pakistan Muslim League-Quaid (PML-Q), Sunni Ittehad Council, Majlis Wahdat-e-Muslimeen, All Pakistan Muslim League, Sunni Tehreek and Tehreek Suba Hazara among parties will gather at the capital with Dr Tahirul Qadri's PAT.

He said members of the minority community, including Hindus and Christians, have already joined them. "We will try to join PTI's Azadi march at Nasir Bagh and proceed towards Islamabad through GT Road together," he added.

PAT workers who reached Model Town from different parts of the country started packing food, including water, milk, biscuits and snacks, for the rally. The enthusiasm and passion of the hundreds of workers and supporters was at its peak, one party worker claimed.

However, DIG Operation Lahore Dr Haider Ashraf told The Express Tribune that as the government have imposed Section 144 in Model Town and Cantonment areas, the police have been instructed to contain PAT activists within Model Town and Faisal Town at all costs. Talking about the police's strategy, Ashraf said, "The police will try to contain PAT activists within the area through the containers that have been placed in the area."

Published in The Express Tribune, August 14th, 2014.
COMMENTS (42)
Comments are moderated and generally will be posted if they are on-topic and not abusive.
For more information, please see our Comments FAQ