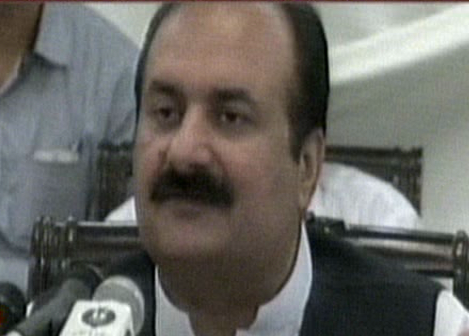 ---
LAHORE: Defending the placement of containers in parts of Lahore and Islamabad, Punjab Law Minister Rana Mashood said on Wednesday that there were terrorist threats to the country on August 13 and 14, and the government was doing its part to to ensure security,  Express News reported.

"Terrorists in sleeper cells are looking for reason to attack again," he said, while addressing a press conference in Lahore, and pointed out that they have so far managed to avoid a terrorist attack ever since Operation Zarb-e-Azb was launched.

He added that the government was in touch with Pakistan Tehreek-e-Inaf (PTI) leaders over the security concerns

The law minister said that the Lahore High Court ordered the removal of containers that were not necessary.

Furthermore, Mashood censured PTI chief Imran Khan, asking to stop being childish and calling him out for not presenting any proof of rigging during the May 2013 elections.

"Imran Khan's issue now is that the country does not want to vote for him anymore," he said.

The law minister also addressed Imran Khan's request to open the four constituencies in which rigging allegedly took place.

While stating that it was impossible to carry out recounting of polls in four constituencies as requested by Imran, the law minister called the PTI a "stubborn child".

During the conference, Mashood also commented on PAT's long march set to take place on Thursday.

"PAT's attitude depends on Tahirul Qadri's attitude. If he behaves like a 'well behaved child,' the government will react accordingly. However, if he behaves like a 'brat,' the government will tackle him consequently," he said.
COMMENTS (1)
Comments are moderated and generally will be posted if they are on-topic and not abusive.
For more information, please see our Comments FAQ