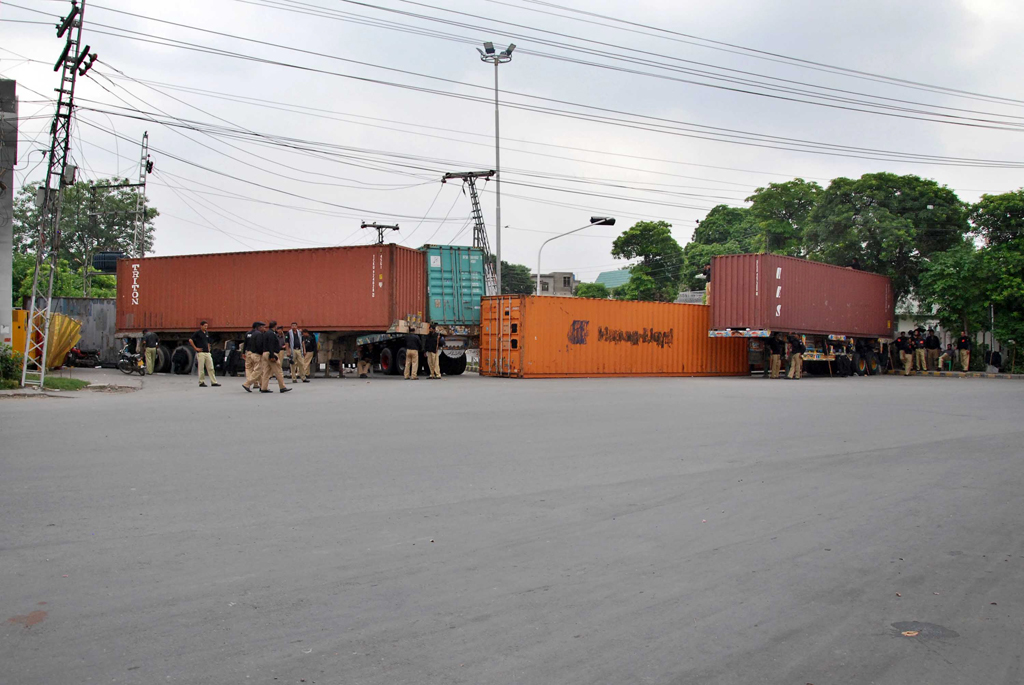 ---
LAHORE: Just a day before Pakistan Tehreek-e-Insaf (PTI) and Pakistan Awami Tehreek (PAT) supporters from across Pakistan are scheduled to gather in Islamabad for anti-government protests, the Lahore High Court (LHC) on Wednesday ordered the removal of containers throughout Punjab, Express News reported.

In a desperate move to stop protesters from reaching the federal capital, the Pakistan Muslim League - Nawaz (PML-N) government has blocked routes leading to Islamabad with shipping containers and other forms of barriers.

During a hearing of a case against the arrest of PTI and PAT supporters, a full bench of the high court - headed by Justice Mahmood Ahmad Bhatti - told the government it will not allow violation of anyone's rights in the name of security.

The bench also ordered the government to ensure provision of fuel across the province and not harass any PTI activist.

The order was issued after the court questioned the Inspector General of Police (IGP) Punjab if he passed any order for the placement of containers on roads.

When the IGP said that he did not issue any order as it was the decision of the district police to take such a decision, Justice Bhatti remarked how all district heads of the police in the province decided together to place the containers.

The court also asked the IGP to inform the court about the number of containers being used. After which, the IGP tried to seek one-hour to obtain information from across the province. To this, the judge stated that what was the use of an IGP who had no coordination with his subordinates.

The government can appoint some other person for this post, the IGP replied to the court.

PTI responds

Later during the day, another bench of the LHC heard a petition filed by the government to stop the Azadi March.

During the hearing, PTI lawyer Ahmed Awais said that the march will take place between Zero Point and Kashmir Point and explained that PTI workers are "peaceful people" and will not disrupt the peace of the city.
COMMENTS
Comments are moderated and generally will be posted if they are on-topic and not abusive.
For more information, please see our Comments FAQ