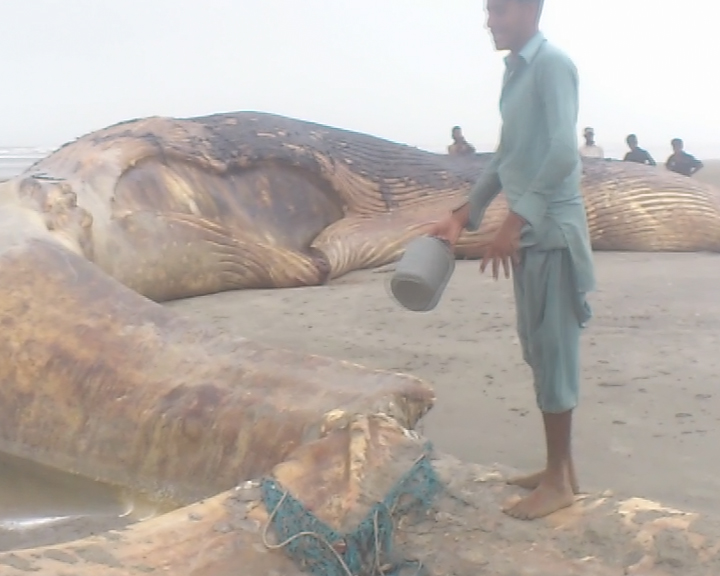 ---
KARACHI:



An Arabian Humpback Whale, 60-feet-long, was found dead offshore from Karachi. However, neither government officials nor any private organisations that work with such species have yet to find out the cause of its death.




The whale was found by Ibrahim Hyderi fishermen who were leaving on an expedition on Monday morning, around 50 kilometres away from Ibrahim Hyderi. "Our fishermen have found a dead whale," informed Kamal Shah of the Pakistan Fisherfolk Forum. "Most of the people in the area are saddened by the death of the animal."

It took 40 fishermen to bring the dead mammal to the shore, and one of them, Saddam Hussain Brohi, told The Express Tribune that the whale had visible injuries on various parts of its body. "The animal had a serious wound on its tail," said Brohi. "There are also wounds on its neck and face. However, I think the cause of its death was the fishing net that was wrapped around its tail."

The seafaring man claimed that he had never seen an animal so large and added that its sheer size left him humbled.

The fishermen brought the whale onto the creek on Tuesday, believing that its meat would fetch them a handsome price; hauled on four fishing boats. "We lost around Rs50,000 as well as a day for fishing," said Brohi.

Not many of Arabian Humpback remain as marine experts claim that the total population has diminished to a mere 400, most of whom can be found in this region.

"It is an endangered species and it is found in a particular area," said Moazzam Khan, the former director-general of the Marine Fisheries Department and the technical adviser of the World Wide Fund for Nature (WWF)-Pakistan. However, Khan believes that the situation may be even more alarming. "Certain experts estimate that only 80 of these animals remain," he said. "But neither of the figures can be verified."

According to Khan, who estimated that the humongous animal weighed somewhere between 14 and 16 tons, the cause of death could not have been the fishing net and added that the whale died recently; only a few hours before the fishermen found it.

Khan said that a three-member team of scientists will visit the site on Wednesday to get DNA samples from the mammal for testing. "The samples will be sent to America," he said.

A whale of almost the same size was found dead near Do Darya in 2002, while Baloch fishermen also caught a similarly large whale in October 2012 but later released it safely back into the water.

Khan said that the fishermen who capture or find these fish alive must release them back into the waters. "This isn't the first time that our fishermen have found whales in these waters," Khan explained. He said that a number of such species have been sighted in the region, both adults and their young.

Interestingly, marine experts claim that an Arabian Humpback whale can be identified by the spots on its body. "Each whale has different spots. The Arabian Humpback is different from other whale species," Khan explained.

There is a lack of research on this threatened species and WWF-Pakistan will launch a project at the end of the year to address that. "Pakistan will lead the study project that will help us determine the actual population of this special whale," said Khan.

Marine experts believe that it is hard for these animals to go back into deep waters once a whale of this size loses it way. Hence, it is doomed to die once it enters shallow waters. Though experts believe that the whale meat is not being used for any purpose, local fishermen say that they would extract its 'oil' and will use it on their fishing nets and boats.

Published in The Express Tribune, August 13th, 2014.
COMMENTS (5)
Comments are moderated and generally will be posted if they are on-topic and not abusive.
For more information, please see our Comments FAQ