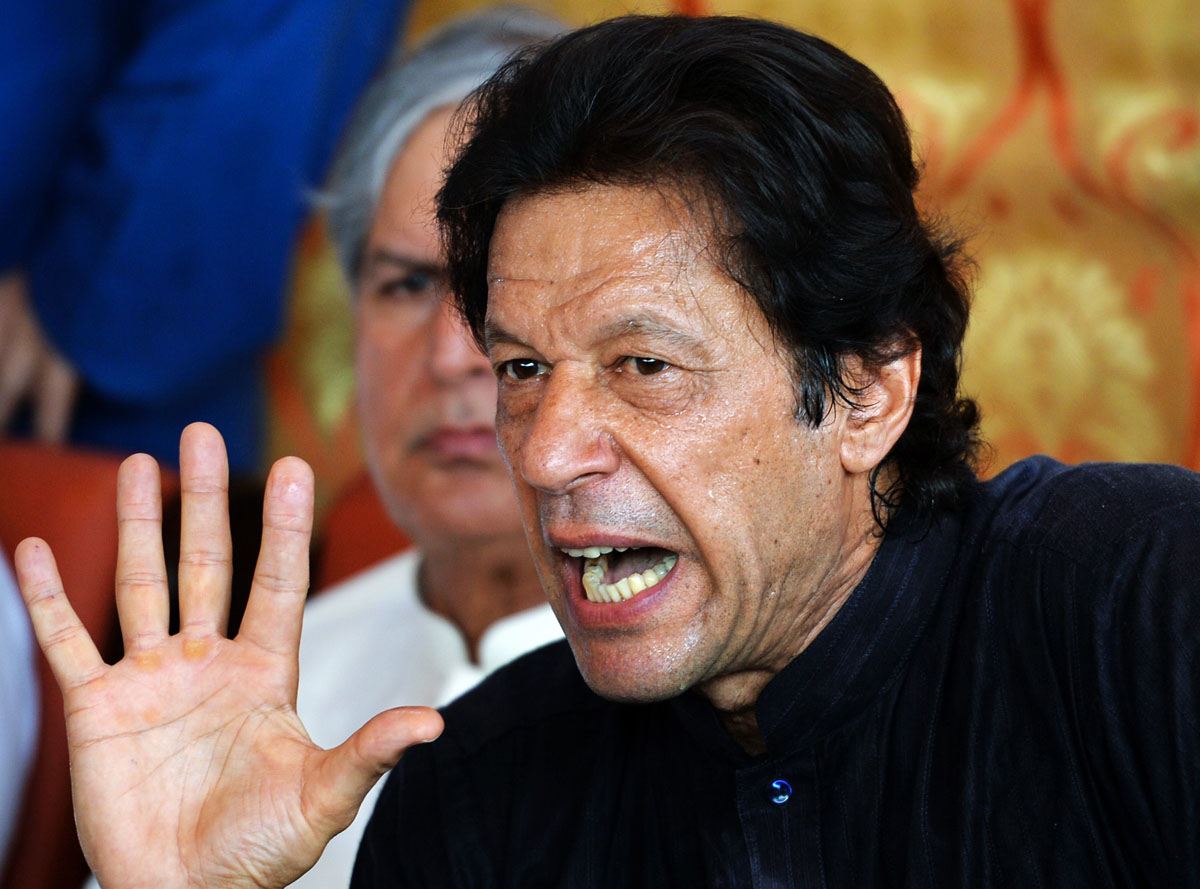 ---
LAHORE: Pakistan Tehreek-e-Insaaf chairman Imran Khan demanded that Prime Minsiter Nawaz Sharif should first resign from his high office before the proposal of a judicial commission to probe rigging allegations can be taken up, Express News reported.

Talking to the media in Lahore after visiting Data Darbar, Imran remarked that the government had agreed to a judicial commission only after coming under immense public pressure otherwise they had earlier refused to probe the four contentious constituencies.

However, the PTI chief said that transparent investigation were only possible once Nawaz resigns and Election Commission of Pakistan is dissolved and a new commission is formed.

Noting that this was the third tenure of Nawaz as premier, he was repeating the formula of rewarding his family while disregarding merit.

Claiming that he did not have a personal vendetta with Nawaz, rather he termed it a collision of ideologies.

The PTI chief further alleged that Nawaz only chose people who worked for him and that the premier had rewarded all those who helped him in rigging the elections. All those who opposed him were either transferred or threatened.

Referring to resignation of Nadra chairman Tariq Malik, Imran alleged that Malik had to flee the country as he and his family was threatened after he refused to give in to their demands.

Questioning the appointment of close relatives of Nawaz on important posts, the PTI chief said "what kind of democracy is this where one family rules the whole country?"

Commenting on the premier's claim that there is no allegation on his government regarding the corruption, Imran said they [PML-N] know the "art of corruption."

Referring to claims of infrastructure development, Imran said that they chose a person who was nominated in the Ephiderine scandal to head the Rawalpindi metro bus project.

"All the developments have been made on paper as PML-N have already spent Rs10 billion on advertising."

About the Azadi march, Imran said that they will carry on their plan and march on August 14. He advsied the government not to obstruct the march, and to allow them to peacefully protest and present their demands.

Talking about rigging in 2013 general elections, Imran asked Nawaz to listen to the statement made by his own government's interior minister at the floor of the parliament, wherein he confessed that there were 60,000-70,000 unverified votes in every constituency.

If someone had alleged that elections in Khyber-Pakhtunkhwa (K-P) were rigged, I would have held fresh elections in the province, said PTI chairman.

Imran further alleged that government is going to use its goons dressed in police uniforms to sabotage PTI's Azadi march.
COMMENTS (6)
Comments are moderated and generally will be posted if they are on-topic and not abusive.
For more information, please see our Comments FAQ