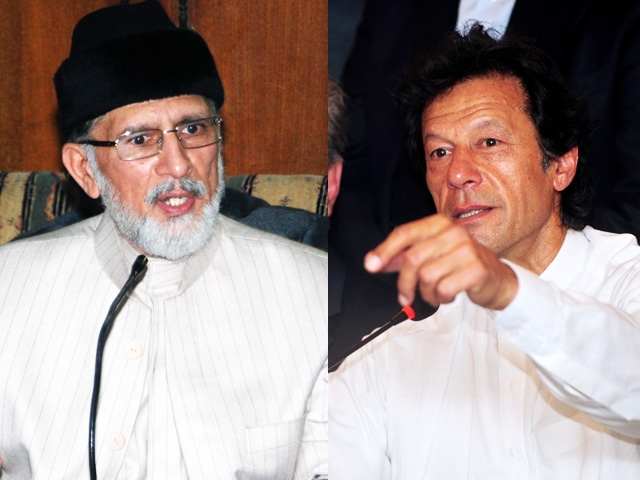 ---
ISLAMABAD:



Amid escalating political tensions, Pakistan Tehreek-e-Insaf and Pakistan Awami Tehreek as well as their allies are making a show of their power of oration. Some federal ministers have for the last few days been giving the impression as if a martial law is looming or there is a secret hand pulling the strings of twin anti-government campaigns.




PML-N Chairman Raja Zafarul Haq has said that the whole situation has been created to ensure a 'safe exit' for Pervez Musharraf. Federal Minister Ahsan Iqbal had issued a similar statement sometimes earlier, which is echoed by many other PML-N leaders.

However, at the time when speculations were rife about a possible disagreement between the government and the military over security issues, particularly over talks with the Taliban and Waziristan operation, these ministers had said the government and the military were on the same page and that such rumours were spread by troublemakers.

And when a columnist had commented that the military and the government were on opposite pages of the same book, Information Minister Pervaiz Rashid – in a briefing to newspaper editors – had clarified that they were 'on the same page'.

After this, everybody saw that Nawaz visited the GHQ, where he received a guard of honour. The ministers then started saying that they had already told the nation that there was no rift between the government and the army and that Operation Zarb-e-Azb was started on the instruction of civilian authorities.

Moreover, only recently the top military leadership briefed the civil leadership on the North Waziristan operation at a National Security Conference.

In this situation there is no reason to express apprehension of a possible military takeover.  However, such concerns are continually being aired. Today, Balochistan Chief Minister Dr Abdul Malik Baloch, while hinting at a possible derailing of democracy, said they will fight against dictatorship.

Now the question is why are government officials trying to give off the impression that someone, somewhere is conspiring to impose dictatorship? If the government fears this or has some inkling, then it can openly discuss it with the army chief.  Being 'on the same page', it should not hesitate in having such a discussion.

All the political parties, including Imran Khan's, are talk about the continuation of democracy and are openly opposed to dictatorship. In the present scenario, when the army is engaged in a big war in not just North Waziristan but also in the whole country, the propagation of such an impression can hardly serve anyone's purpose.

Published in The Express Tribune, August 12th,2014.
COMMENTS (4)
Comments are moderated and generally will be posted if they are on-topic and not abusive.
For more information, please see our Comments FAQ