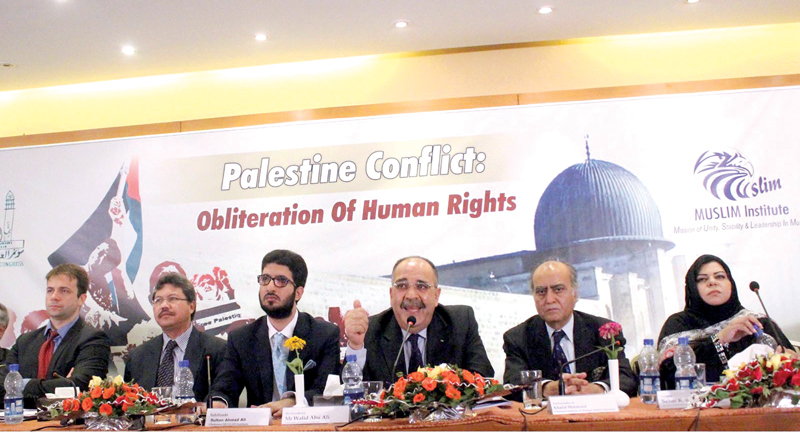 ---
ISLAMABAD: Speakers, while condemning Israeli aggression on Gaza, have said international organisations including the UN have failed to maintain peace and protect the rights and lives of Palestinians.

They were speaking at a seminar titled "Palestine Conflict: Obliteration of Human Rights" organised by the Muslim Institute (MI) in collaboration with The World Muslim Congress on Monday.

"The Israeli prime minister has openly said the offensive would continue and no one could stop them. Muslim leaders are silent on this issue even though the general public throughout the Muslim world has demonstrated against the barbarity," said Pakistan Muslim League-Nawaz Chairman Senator Raja Zafarul Haq.

Gen (retd) Mirza Aslam Beg said the killing of innocent people has created the conditions of a holocaust but it has failed to dent the fighting spirit of Gaza residents.

Ambassador (retd) Khalid Mehmood said that the UN Security Council's resolutions demand Israel to leave the occupied territories of Palestine which was the root cause of the conflict. "The Israeli aggression is against the Geneva Conventions and in the current conflict, more than 2,000 people have been killed and infrastructure destroyed," he said. Ambassador for Palestine Walid Abu Ali said they wanted a strong Pakistan to back up Palestine. "There already is no geographical link between West Bank and Gaza while Israel is intending to separate them and even to remove Palestine from the world map."

The ambassador of Bosnia, Nedim Mekarevic, said the UN has always played an ineffective role on the Palestine issue as it did during the Bosnian crisis so we shouldn't expect much from it. Malaysian High Commissioner Dr Hasrul Sani bin Mujtabar accused Israel of committing war crimes in Gaza.

In the end the participants issued a declaration stating, "We, the politicians, diplomats, scholars and human right activists strongly condemn the siege of Gaza, merciless, cruel and inhumane genocide of the innocent citizens of Palestine and illegal Israeli settlements in occupied Palestinian territories."

They also denounced the "double standards" of the world players with regards to crimes against humanity. "Infliction of collective punishment and disproportionate use of force by Israel against innocent civilians are clear violations of the 1949 Geneva Convention relating to the protection of civilians in war."

Published in The Express Tribune, August 12th,2014.