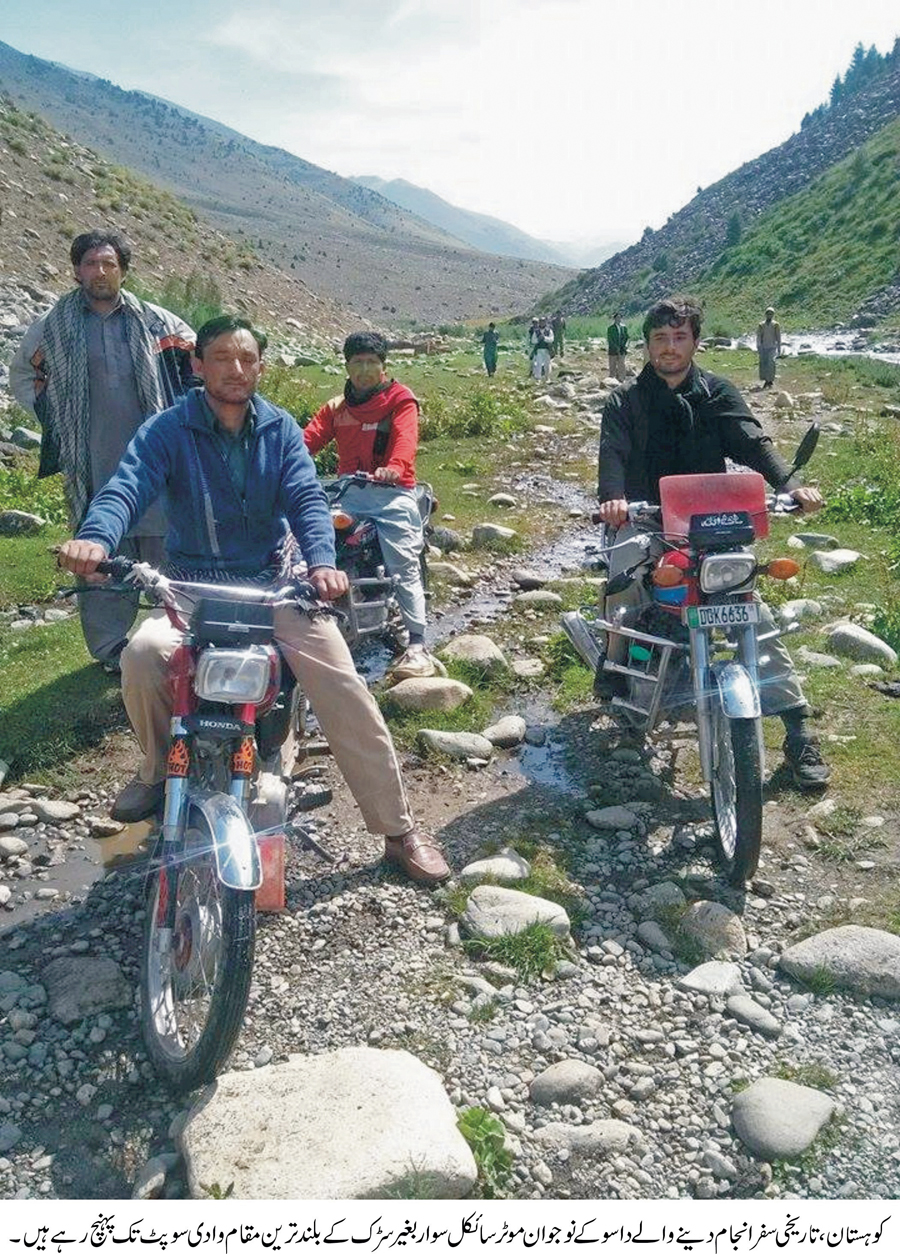 ---
KOHISTAN: Six young men from Kohistan claim to be the first to travel to the picturesque but virtually inaccessible Supat Valley on motorcycles, despite the absence of a paved road.

Addressing a news conference at Dasu, the district's headquarters, on Saturday, Ehsan Ayub, Sabbar Shah, Rehmat Nabi, Nazeerur Rehman, Khanzada and Habibur Rehman said they covered a distance of about 120 kilometres from Dasu to Supat in two days.

According to the bikers, since there is no paved road leading to the valley they had to traverse hilly and treacherous terrain. They claim they were the first motorcyclists to reach the valley.

Commenting on how the idea of the trip came about, Shah said he reached the valley on foot last year and was so inspired by its natural beauty that he decided he would visit with his friends.

"We decided to do something different and chose to go to the valley on bikes." Shah said initially the plan seemed difficult but "their passion to make history helped them in gaining courage and energy."

The way back

Commenting on the difficulties they had to face on the journey, Khanzada said the terrain was so difficult that they often felt like they would fall in one of the gorges—thousands of feet in depth—but "God helped them to reach Supat and return safely."

"Although we sustained minor injuries and bruises, it was a memorable journey," said Nazeerur Rehman.

According to Rehman, they would have covered the journey within a few hours had there been a road leading to the valley. A valley, which they said, has immense potential for tourism but is overlooked by the government.

"At one point, two of the bikes broke down and we nearly left the journey halfway through, but one of us managed to fix them and we continued on," said Rehman.

"We reached Supat by using the Chilas-Babusar route near Kaghan Valley. We became the first people to hoist the Pakistani flag in Supat," he claimed.

Rehman further said that upon their return locals welcomed them with garlands.

According to the website of The Khyber Pakhtunkhwa Tribune, an organisation seeking social transformation, Supat Valley is situated nearly 100 kilometres away from from Dasu, Kohistan on the eastern side of Jalkot. It is the largest plain at a high altitude in the district and remains covered with snow from September through April.

Because the valley remains impassable due to the absence of a proper road network, its potential as a tourist spot remains untapped.

Published in The Express Tribune, August 11th,2014.

 
COMMENTS (6)
Comments are moderated and generally will be posted if they are on-topic and not abusive.
For more information, please see our Comments FAQ