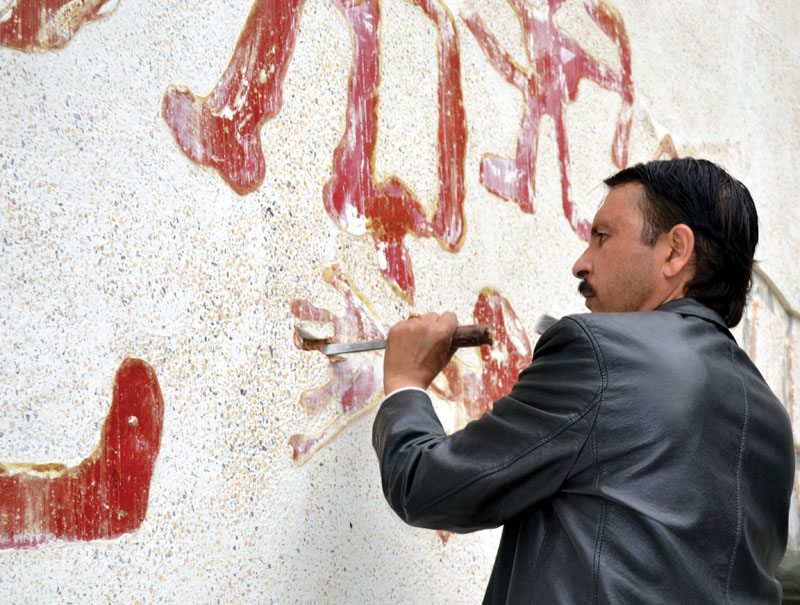 ---
MINGORA:



People usually think of prehistoric times when they come across cave art in Swat, but many would be surprised to learn that such forms of art live on today – albeit on a different canvas.




In fact, one man has decided to bring the ancient art form back to life in the modern day.




Murad Khan, a renowned artist, depicts the Gandharan civilization and has also produced a number of masterpieces related to Pakhtun culture. He worked closely with the Italian Archaeological Mission at various sites, where he said he had the opportunity to observe ancient rock art and paintings from pre-Buddhist times. Murad tells The Express Tribune that his inspiration comes from ancient rock paintings on maika stone and feels it is time to revive the form of art.

"Prehistoric people valued art a great deal," says Murad. "When I observed the art and paintings of Buddhist and pre-Buddhist times, I decided to replicate them on a modern canvas."




"Cave art in Swat has existed since before documented history," the artist said. "The valley had its own unique style which I am striving to revive. Motifs and patterns were very symbolic in ancient times."

Although the wooden sculptures and ancient embroidery exist to this day, Murad says both forms of art are sadly fading away.

"I started collecting ancient artefacts and put them on canvas using the same colours as the originals, making the paintings unique," he boasted.




Murad's art depicts interfaith harmony and the peaceful coexistence of cultures and traditions. One of his best known works is the painting of Punja Devi, a princess and daughter of Raja Gira, the last Hindu Shahi ruler of Uddiyana.




Murad is proud of his achievements and even won an award in 2005 for his artwork with natural colours on stones from Swat. "Six exhibitions in Islamabad, two in Lahore, Dubai and Bahrain, and one in New York have displayed my work," he said.




"Ancient paintings greatly inspire me and show that people of the time were very peace-loving. They appreciated the beauty in the world," said Murad. "All this is reflected in their art."

Published in The Express Tribune, August 11th,2014.