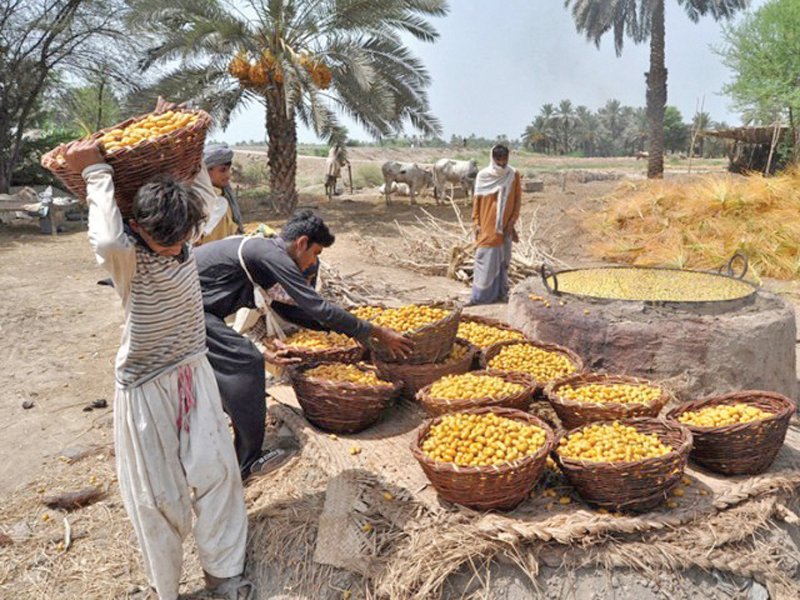 ---
KARACHI: Kharak is the Sindhi word for date, a fruit palm indigenous to the expanse. French-Swiss botanists of the 19th century stated that date cultivating regions, in prehistoric times, ranged from Senegal to the basin of the Indus River. Date seeds at least 5,000 years old have been found in storage sites at Mohenjo-Daro.

The fruit has become an integral part of the land's heritage and identity.

Total global yield of dates in 2012 was 7.69 million tons. Its production in Pakistan rose from 566,400 tonnes in 2008 to 600,000 in 2012, showing an increase of 5.9%. Pakistan represents around 8% of the world's date production.

The best-known local varieties are Aseel and Karbala'en of Sindh, Muzawati and Begum Jangi of Balochistan and Dhakki of Khyber-Pakhtunkhwa (K-P). Among these, Aseel is considered of the best in terms of quality.

Direct human consumption of the fruit reaches the highest level in Ramazan. In Sindh, date crops are fully harvested by August, while date harvesting in Balochistan and K-P commences in September.

As the month of fasting is over, the demand for dates decline considerably for the rest of the year. Thus, the entire date yield needs to be preserved for the next Ramazan. The following techniques may be applied:

Upon harvesting, while waiting for mid- or long-term storage or processing, dates should be stored in a clean place to avoid dust and dirt. As for other fruits, cooling also helps in preservation. For best results, refrigeration should start as soon as possible after harvest and maintained without interruption until the moment of consumption. Manufacturing value-added date products, for example date syrup and date paste, are profitable ways to ensure consumption of dates throughout the year.

The potential date products

A traditional product, date syrup is thick, dark and very sweet. It is similar to honey in terms of consistency; with a sugar concentration of over 70 degrees brix. It is an effective measure to valorise low-quality dates. At industrial level, clean whole or de-stoned dates are processed in a malaxer with warm water in order to dissolve the date's sugar contents into the solution.

Date paste is a simpler method of preserving medium quality dates without affecting its moisture and flavour. The paste can be consumed as it is used as a confectionary ingredient. It is made by removing the seeds and grinding the pulp of fully mature soft or semi-dry dates. De-stoning can be done manually while grinding is usually done with a meat mincer.

Fruit pulpers help in de-stoning dates for paste production, with beaters rotating inside a cylindrical sieve, or de-stoners based on a couple of counter-rotating rollers which crush the dates in lumps or coarse paste throughout the seed-removing process. The paste is pressed either manually or through the hydraulic process into blocks to increase durability and make packaging easier.

Pakistan imported dates worth $1.5 million in 2009. Import figure reached the highest point in 2012, when our international purchases of the fruit topped $3.5 million.

There is a need for analysis as to why the country requires imports of dates when there is an abundance of quantity available.

The writer is a former director of the Trade Development Authority of Pakistan



Published in The Express Tribune, August 11th, 2014.

Like Business on Facebook, follow @TribuneBiz on Twitter to stay informed and join in the conversation.