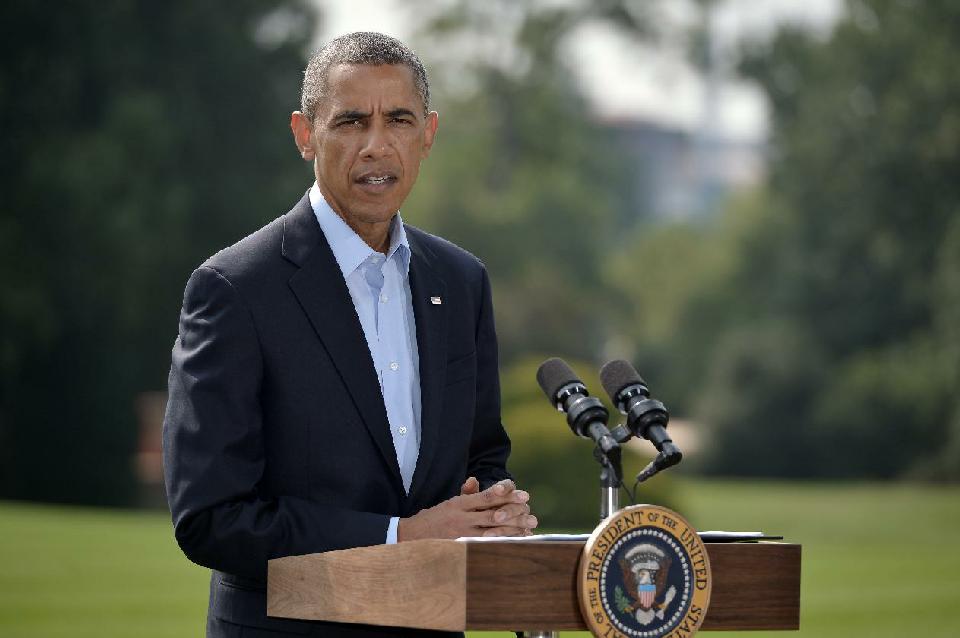 ---
WASHINGTON: President Barack Obama warned Saturday that the US offensive in Iraq was a "long-term project" to rout out militants and deliver aid to beleaguered civilians.

Recognising there was no US military solution to reverse Islamic State fighters' advances in Iraq, Obama called on Iraqi officials to urgently form a unity government.

While US air strikes have destroyed the militants' arms and equipment within striking distance of the autonomous region of Kurdistan, Obama said the operations that began this week could last "months."

He spoke as Iraqi forces prepared a US-backed counter-offensive.

"We feel confident we can prevent ISIL from going up the mountain and slaughtering the people who are there," Obama said, using the militant group's former name of Islamic State of Iraq and the Levant.

"But the next step, which is going to be complicated logistically, is how do we give safe passage for people down from the mountain and where can we ultimately relocate them so that they are safe."

In a significant boost to efforts to help the civilians stranded on Mount Sinjar, the Obama said British Prime Minister David Cameron and French President Francois Hollande have agreed to lend their support following telephone talks.

Risk of genocide

Obama has justified the US intervention by warning of the risk of genocide against the small Yazidi minority, many of whose members have been trapped on the mountain for a week in northern Iraq.

But the president repeated assurances that no US combat troops would be deployed to Iraq in the first American offensive since Washington pulled out its forces in 2011 after nearly a decade of a brutal war that proved costly in both blood and treasure.

"I'm not going to give a particular timetable, because as I've said from the start, wherever and whenever US personnel and facilities are threatened, it's my obligation, my responsibility as commander in chief, to make sure they are protected," Obama told reporters.

The Islamic State's march on Kurdistan is placing US diplomats - including at the American consulate - and business people at risk in a region that was relatively safe from the violence.

Calling for unity government

"The most important timetable I'm focused (on) now is the Iraqi government getting formed and finalised, because in the absence of an Iraqi government, it is very hard to get a unified effort by Iraqis against ISIL," the president said.

Stressing that Iraq's deep divisions along ethnic and religious lines were undermining the effort to combat IS, Obama said that it would be easier to mobilize Iraqis against the threat and obtain international support once an inclusive government is in place.

"Ultimately, only Iraqis can ensure the security and stability of Iraq, and the United States can't do it for them, but we can and will be partners in that effort," he said.

The United States aims to deny a safe haven to the "barbaric terrorists" and help provide a humanitarian corridor to provide aid to thousands of refugees -- most from religious minorities -- trapped on a mountaintop.

"We will continue to provide military assistance and advice to the Iraqi government and Kurdish forces as they battle these terrorists so that the terrorists cannot establish a permanent safe haven," Obama said.

He also acknowledged that the movement of the militants, who have captured swathes of the oil-rich country, was more rapid than intelligence estimates and the expectations of policymakers inside and outside Iraq.

"Part of that is, I think, not a full appreciation of the degree to which the Iraqi security forces, when they're far away from Baghdad, did not have the incentive or the capacity to hold ground against an aggressive adversary," Obama said.

Thousands of Yazidis, a Kurdish-speaking minority, fled their homes when militants attacked the town of Sinjar and many have since been stranded in the nearby mountain range with no food and water.

The first US bombings struck IS positions and at least one convoy of vehicles carrying militants west of Arbil.

Earlier Saturday, the US military air dropped food and water for the second day in a row on Mount Sinjar.

One C-17 and two C-130 cargo aircraft together dropped a total of 72 bundles of supplies, according to the Pentagon. They were escorted by two F/A-18 Hornet fighter jets launched from the USS George H.W. Bush aircraft carrier.