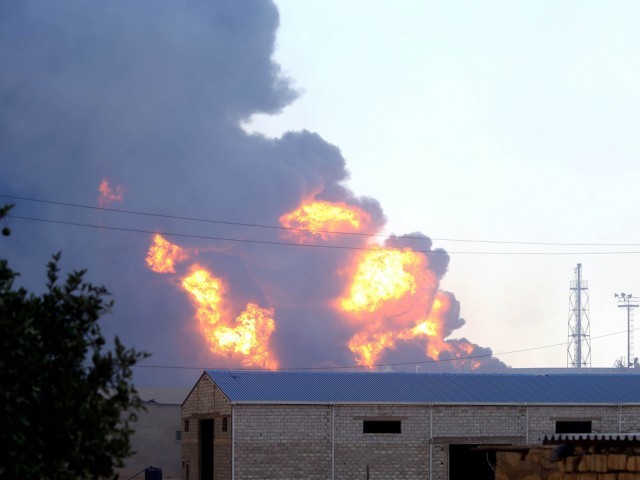 ---
KARACHI: The roar of heavy gunfire and the sound of rocket fire keep Malik Mumtaz, a Pakistani stranded in Benghazi, Libya, awake all night long.

An employee of the Barga Construction Company near Benghazi, Mumtaz is one of thousands of Pakistanis living in the civil war-torn country who are awaiting help to return home.

"The nights are scary here," he said, speaking with The Express Tribune by telephone. Just a few days ago, a fighter plane crashed near his home.

"The Pakistan Embassy has asked us to come to Tripoli but how will we get there? The routes are so dangerous and the militants can kill us. Why don't the officials come and rescue us?"

Mumtaz and 80 other Pakistani employees of the company refuse to leave their project site, fearing they will be mugged and killed by militia men.

There are an estimated 18,000 Pakistanis living in Libya, with 6,000 to 8,000 wanting to return to Pakistan, according to social activist Ansar Burney. "People who want to return are mostly those who went to Libya for work, and now they fear for their lives because of the violent and unstable situation there," he said.

Since the fall of Muammar Qaddafi in 2011, Libya's fragile government has been unable to impose authority on groups of former rebels who refuse to disband and are allied with competing political factions battling for post-war dominance. These groups have turned the Libyan capital and Benghazi into battlegrounds.

Families of the Pakistanis stranded in Libya have started approaching organisations for help while also requesting the government to take action to bring back their loved ones safely.




Jahan Afroz, a resident of Orangi, weeps as she speaks of her son Raja Hussain, 35, who is stuck in Tripoli and is trying to find shelter. "I spoke to my son three days ago and he said he can constantly hear men firing. I am so worried about him," Afroz said.

Hussain, a machine operator, has been jobless since his company closed down few days ago. Afroz says the banks in Tripoli are closed and there is no electricity there for a major part of the day. One of her sons died in the Baldia factory fire in Karachi nearly two years ago. "I don't want to lose another one," she said.

Another resident of Karachi, Mrs Rizwan, whose husband is a doctor in Libya, appealed to the government to provide transport to all those stranded men to reach relief camps being set up in the country by the Pakistani government. "My husband has no fuel. He is stuck at home with no transport," she said. Living in Libya for the past few years, Mrs Rizwan returned to Karachi after Qaddafi's death but her husband decided to return to Libya.

Foreign Office spokesperson Tasnim Aslam told The Express Tribune that the government is considering sending chartered planes to Libya to evacuate Pakistanis there. "Help lines have been set up where families have been asked to register so that their loved ones can be evacuated.  Relief centres have also been set up in Benghazi and Tripoli," she said. Those who can return to Pakistan on their own are being helped to reach neighbouring Tunisia.

With the major airports in Libya closed down, Burney said that those who are unable to afford the journey should be helped to return to Pakistan. "Our major concern is to save the 175 Pakistanis stuck in detention centres in Tripoli. They should be released as soon as possible," he said.

Published in The Express Tribune, August 10th, 2014.
COMMENTS (12)
Comments are moderated and generally will be posted if they are on-topic and not abusive.
For more information, please see our Comments FAQ