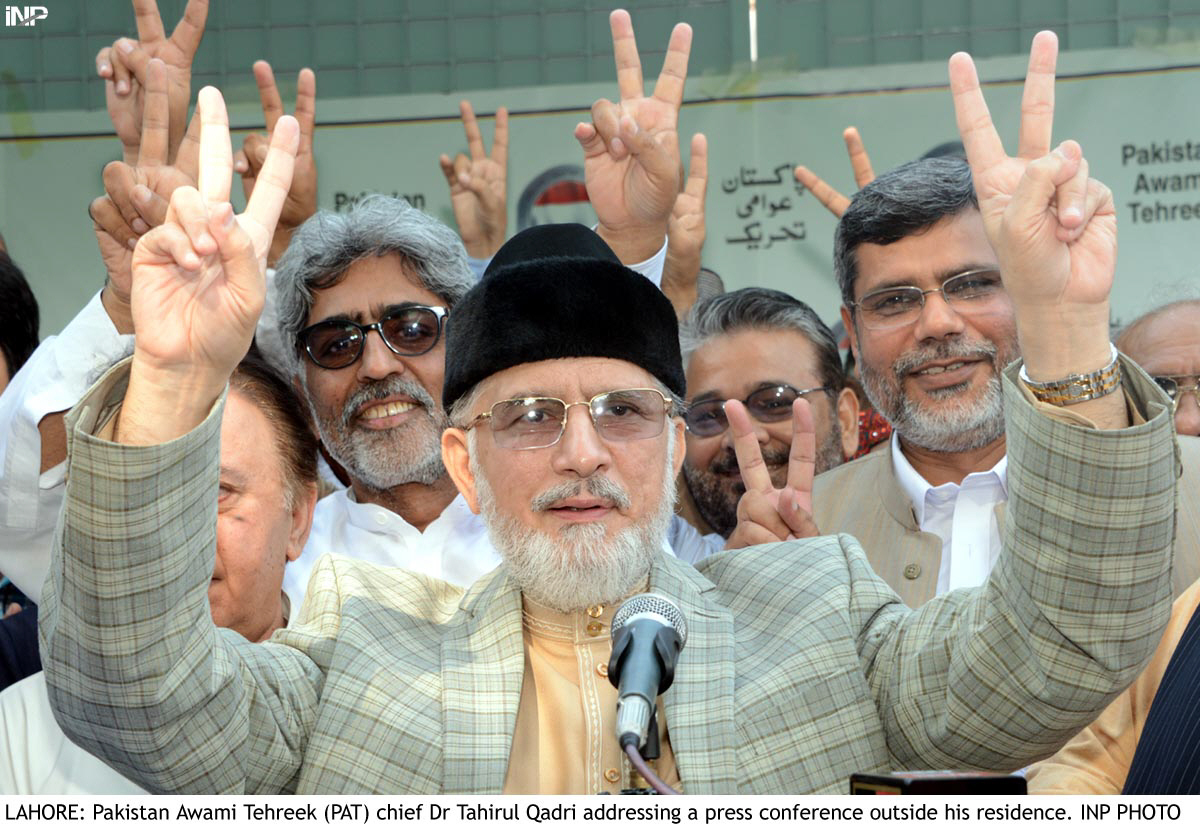 ---
LAHORE:



Law Minister Rana Mashhood Ahmad Khan said on Saturday the government would lodge a treason case against Pakistan Awami Tehreek (PAT) Chairman Tahirul Qadri for conspiring to destablise a democratic set up.




Addressing a press conference, Khan also said, however, that Tahirul Qadri's withdrawal of his call for Pakistan Awami Tehreek to reach Model Town on August 10 was welcome.

"The government will protect life and property of the citizens at all costs," he said.

He said protecting government installations was the prime responsibility of the police and containers had been placed in front of some sensitive places in Lahore for this purpose.

He said that no one could be allowed to break the law. Mashhood said nearly 300 police officials had been attacked in Model Town on Friday and some were kidnapped from four other places of the province.

He said video footage of those who had attacked police officials in Gujranwala was available with the government. The minister said the government would charge those involved with terrorism, attempted murder and creating disorder. He said weapons had been recovered from 17 caravans.

He said Qadri had created no-go areas in Lahore where law was being floated openly. He said there were 2,500 people at the Minhajul Quran secretariat, most of them were women and children.

He regretted that people had had to face difficulties due to containers.

"Please bear with us... these are for your own protection," he said.

He said he was grateful to the citizens who had supported the government in maintaining law and order.

He said the decision to suspend fuel supply had not been made by the government.

He said supply lines of oil tankers had temporarily suspended due to information received by intelligence agencies that terrorism activities had been planned in seven cities of the Punjab.

He said fuel tankers would soon start reaching petrol pumps under police escort.

'Some elements want to destabilise the country'

Chief Minister Shahbaz Sharif on Saturday said it was unfortunate that independence day celebrations had been marred by controversy and protests.

He was talking to various delegations of Pakistan Muslim League Nawaz (PML-N).

He said millions of people had lost their lives in the struggle for independence in 1947. He said after 67 years, Pakistan had managed to achieve some political stability which was threatened at every turn.

He said those who wanted to create chaos on the pretext of protesting on non-issues were enemies of development and prosperity.

He said the government had initiated a number of programmes to cope with various problems. He said the government should be given a chance to implement its policies.

"Calling for a new government every few months will not help the common man," he said.

He said political stability was essential for national development.

Published in The Express Tribune, August 10th, 2014.