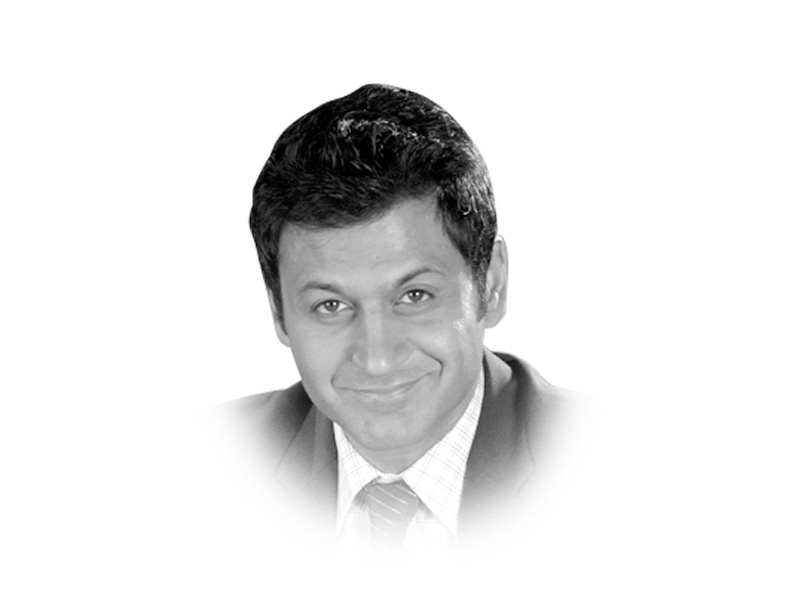 ---
Sometime evolution needs to be speeded up.

Here's why: Chaos is trending in Pakistan. 'Tis the season to be wild and angry and smash icons. Confrontational mirth has permeated the air. The system as we know it is bracing for uber shocks and mega tumults. Stormtroopers are ready to storm fortified fortresses as party shock-jocks dig in to defend their turf. Marchers are ready for the drumbeat and political trumpeteers fill their lungs for the final call. Anarchy, it seems, is the new infectious disease.

Status quo today — it seems — is for sissies. And ninnies. And girly men.

And this is why one can look at this powder keg of a situation in two ways: Either the fragile democratic project is about to go for a towering six; or, we are going to see a display of political evolution on steroids. Both ways, it makes for a helluva story.

For the House Sharif this is as bad as it could get. Well, that's not entirely true because it could actually get much worse if the Brothers Sharif successfully cut the branch they are sitting on. And that's something they specialise in. But the way they have handled this gathering storm is shockingly incompetent. First, they allowed their arrogance to blind them to the gravity of the threat. Second, they lashed out in Maula Jatt style instead being deft and nimble in their approach. Third, they miserably failed to grasp a very hard reality: their brand of Mughal-style governance is fast going out of fashion. Now their minions are running around like plucked chickens trying to salvage an impossible situation.

The wrath of Khan — their nemesis — is now ascending like Jupiter. For good or bad, he is now the man who controls the initiative, and to a great extent, the narrative too. Through sheer perseverance, he has succeeded in mainstreaming his electoral grievances, and dragging his agenda bang into the centre of Pakistani politics. Imran the mercurial and temperamental outsider has transmuted into Imran the nihilistic crusading reformer. He can huff, and he can puff and he can blow the house away. But then what?

And then there's Qadri, the Demagogue-in-Chief, who doesn't just want to blow the house away, he wants to grind it, shred it and burn it. In this he has made some impressive progress if the rampage on the streets of Lahore and other cities of Punjab is an indicator. He may be a political lightweight in electoral terms, but he has proved a right royal master of mayhem.

Mayhem is what was promised, and mayhem is what is being delivered. By all and sundry. As reports pour in, Qadri's flock is clashing with the Punjab police across the province and providing plenty of fodder to TV channels. In a coldly calculated move, Qadri has declared his planned Youme Shuhuda will be held not just in Lahore but across all major cities on Sunday. So if mayhem has to happen, it will have a vast geographical expanse for proper magnification. Religious symbolism is being cleverly mixed with temporal agendas so emotions find a place on the political chessboards next to Knights, Rooks, and yes plenty of Pawns.

What matters of course is the end game. And the larger question is whether there is a streak of nobility hidden within the folds of this brutal game of thrones. If it is indeed a naked power grab, then numerous options present themselves: Some last minute compromise could be struck and House Sharif will survive, though severely chastened and humbled. Or, streets will erupt in massive protest, violence will rain down, lives will be snuffed out, and like the game of Ring a Ring a Roses, we all will fall down. Or, there may be some unspecified non-violent political upheaval which may see some changes on the top that would satisfy key players to claim victory and walk away. Or, the khakis just walk in with a new and improved Staff Solution under their arm.

What then can be considered evolution, and what would constitute regression?  The grand arc of history can sometimes fold into a single defining moment. Pakistan still awaits this moment which will signify the death of the Old Order, the ancient regime so to speak, and the dawn of the brave new world. The contours of this New Order are the worst kept secret in the world. In this era, Pakistani society would be led not by men, but by laws. Here meritocracy will be the norm and not the exception; where all citizens will be equal in their rights and privileges; where wrongdoing will have consequences and institutions will trump personal agendas and interests. In this era, politics will not be the monopoly of a few families and the system will not be held hostage to the dictates of kinship and nepotism. Strangely enough, there is actually a name for such an order:

It's called Democracy.

They say good things come to those who wait. But waiting is clearly nothing without action. Old Orders don't just die, they are usually dragged to the guillotine — figuratively and often literally. Could this be our moment? Could this be our evolution on steroids? Could this be the storming of the Bastille? Or will it once again turn out to be a clash of power hungry men for the spoils of the State?

Bet if you dare.

Published in The Express Tribune, August 10th, 2014.

Like Opinion & Editorial on Facebook, follow @ETOpEd on Twitter to receive all updates on all our daily pieces.