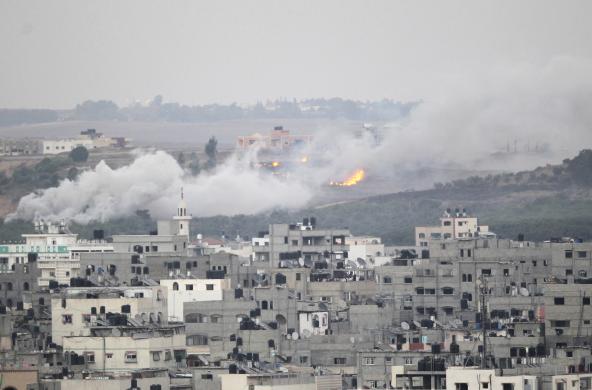 ---
PESHAWAR/ KARACHI/ LAHORE/ISLAMABAD: Jamatud Dawa (JuD) held protests in all major cities across the country on Friday against Israeli aggression in Palestine.

The main rally of their Palestine Unity Caravan campaign was organised in Lahore from al Chuburji Chowk to Lahore Press Club by al Muhammadia Students, a wing of the JuD. Hundreds of students and representatives of civil society and political parties participated in the protest rally and shouted slogans against Israel and America.

JuD Ameer Hafiz Muhammad Saeed, addressing the protest rally, said that Israel was an illegal state and it could not deceive the Muslim world by just announcing a 72-hour ceasefire. The UN was doing nothing to stop the killing of Muslims in Gaza, he added.

Like other parts of the country, JuD also organised a rally and seminar in Islamabad. Naib Ameer Hafiz Abdur Rahman Makki and Jamaat-e-Islami's Chaudhry Kashif among others addressed the participants, who had arrived in the capital from Rawalpindi, Murree and surrounding areas. Condemning the attacks on Palestinians, Hafiz Makki said that mere condemnation is not enough and jihad should be announced against the Zionist state. He also criticised human rights organisations for their alleged silence. He urged Prime Minister Nawaz Sharif to invite leaders of Muslim countries and organise a conference in Pakistan and take tangible steps for the protection of Palestinians.

Jamiat Ulema-e-Pakistan along with JuD organised rallies in Hyderabad where the latter's provincial Ameer Faisal Nadeem said the UN and Organisation of Islamic Conference have failed the people. Meanwhile, the organisation's Karachi Ameer Dr Muzamil Hashmi said the OIC should form a joint security policy and trade markets to strengthen Muslim nations.

In Peshawar, over a 100 JuD workers offered funeral prayers in absentia for more then 1,800 Palestinians who have died in Israel's bombing and later held a demonstration. District leader Ghazi Inamullah said the conflict in Gaza was not about race or religion, but simply about humanity and barbarity.

Published in The Express Tribune, August 9th,2014.