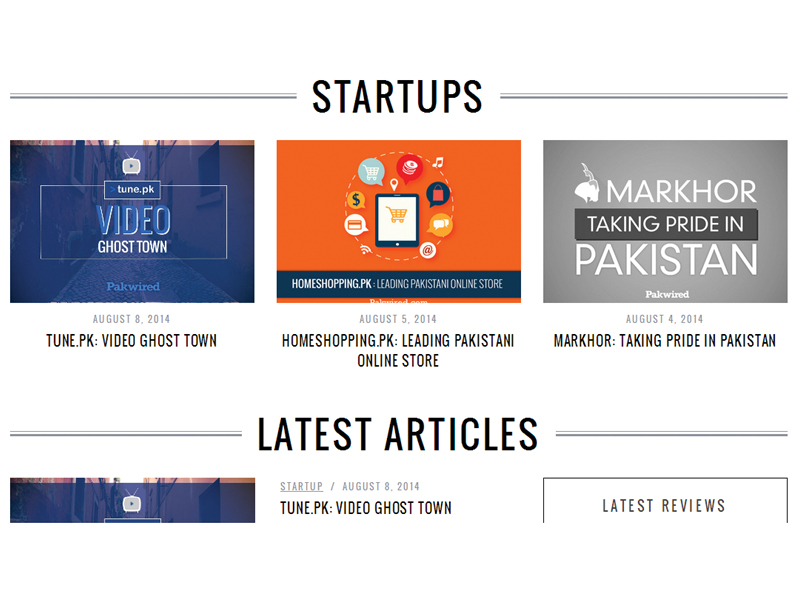 ---
KARACHI:



Amid a culture of only violence, politics and terrorism making it to the top news, local startups and businesses in their growing stage hardly make it to mainstream media. If they do, their coverage remains limited.




But parallel to this trend, is a growing culture — the emergence of blogs providing an insight into the country's startup culture.

"Pakistani startups are making their name in the world but there is no authentic website to cover them and that's where we come in," said Hasan Saleem, a Pakistani entrepreneur and founder of Pakwired.com, a recent entry in this arena.

A 2014 startup, Pakwired is a business news internet portal with a special focus on technology and the startup culture in Pakistan. "It was formed to fill an existing void in the coverage of the country's fast-growing startup industries," Saleem, the founder, said.

A quick glance on the blog's main page reflects its potential to do well in the future but it has a long way to go before it can pose any threat to the country's leading telecom and IT blog: the Islamabad-based ProPakistani.pk.

The number of visitors is a key measure to evaluate the popularity of any blog. But the traffic at Pakwired is currently inconsistent, Saleem acknowledged. The blog currently attracts an average 1,000 unique hits a day. However, a collection of some well-written articles are present on the website, as opposed to the promotional content uploaded by most blogs including some established ones.

The quality of content seems to be one of Pakwired's main distinguishing features. Its team includes local and international writers who also contribute to authoritative websites, such as lifehack.org and huffintonpost.com. This is perhaps why some of its articles attracted over 10,000 hits when shared on the world's leading blogs, such as Reddit and Stumbleupon.com – certainly a good start for a young blog.

"Our focus is both local and international audience. We are targeting international audience so that we may help the cash-strapped local startups find investors and advice from influencers," Saleem said.

The blog's easy-to-navigate pages and an eye-catching layout is an added advantage when compared with most of the existing blogs. Moreover, it is covering a wide-range of business topics instead of focusing only on technology.

"We offer advice through how-to guides for new businesses and offer guidelines for new and mid-phased startups," Saleem said.

Explaining, the founder said, "Pakwired.com exists to promote exciting new startups emerging out of Pakistan; offer fair reports and open discussions about business and technology news and inspirational stories from expert life coaches." Another purpose, he says, is to educate business owners and other professionals about how they can make the most of new technological developments in their own businesses.

While it looks promising, Pakwired will certainly have to improve its traffic to monetise what appears to be a high-quality content – something that is already on Saleem's radar. "We are not making money as of now but we will charge for reviewing startups moving forward and sell banner ads when we have at least 10,000 hits per day," he said.

With the existing competition and presence of dominant players, Saleem's skills will certainly be tested as he has big plans for its venture.

"I just recently came to know about techjuice.pk that's doing what we do. ProPakistani.pk is another site we will compete with moving forward."

Published in The Express Tribune, August 9th, 2014.

Like Business on Facebook, follow @TribuneBiz on Twitter to stay informed and join in the conversation.