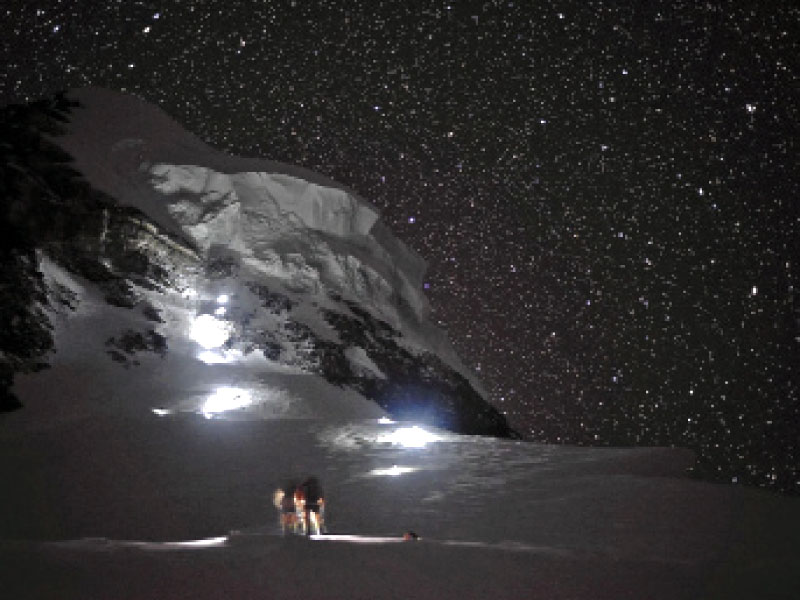 ---
GILGIT: Sixty years ago the world's second highest peak, located in Gilgit-Baltistan, was a "mountain of the Italians", but K2 is now also "the mountain of Pakistanis," says famous mountaineer Agostino Da Polenza.

He was referring to 'K2, 60 years later', a recent expedition to the 'savage mountain' which marked the 60th anniversary of the first successful ascent.

Italians Achille Compagnoni and Lino Lacedelli became the first men to conquer the mighty K2 in 1954. They were the first to reach the mountain's 28,251-feet-high summit. In an email sent to The Express Tribune on Thursday night, Polenza, the president of Ev-K2CNR, a non-profit association which promotes scientific and technological research in mountain areas, wrote: "It is with huge pride that I wish to report that seven members of the 'K2, 60 years later' have climbed the summit."

Polanza, who conquered the perilous peak in 1983 to join a list of other Italians who had achieved this feat, further wrote, "We are just returning from the expedition to K2 which has been a great success from both scientific and mountaineering point of views."

On July 26, Michele Cucchi, an alpine guide from Alagna Valsesia, a village in Italy, and six G-B mountaineers — Hassan Jan, Ali Durrani, Muhammad Sadiq, Ghulam Mehdi, Ali, Rehmatullah Baig — planted the Italian and Pakistani flags at a height of 28,251 feet.

"The mountain of the Italians 60 years ago has become even more Italian but from now on it is also the mountain of the Pakistanis," stated Polenza's email.

According to Polenza, the expedition was entirely supported by private sponsors.

Scientific achievements

Polenza explained new important data was collected with the help of high precision GPS to define the elevation profile of K2's Abruzzi Spur ridge.

Moreover, an automated weather station, set up with the help of Ev-K2CNR's High Altitude for Research on the Environment (SHARE) project, was installed at 4,970 metres on the glacier near the K2 base camp. From this position, the station has been sending real-time data to Italian researchers, allowing them to measure parameters like wind speed and direction, temperature and humidity, as well as snow levels and net solar radiation.

"This completes the deeper meaning of this expedition," said Polenza, who supervised the celebrations for the successful ascent with the help of his wife Stephania. The couple was in Skardu earlier but trekked to the base camp to join others.

Activities such as the expedition or the SHARE weather station symbolise the link between the countries, said Polenza. "A bond since the past 25 years, which Ev-K2-CNR interprets through research and supportive activities such as the Central Karakorum National Park where we have worked very hard in recent years with the Government of Italy and the Government of Gilgit-Baltistan, Pakistan."

Published in The Express Tribune, August 9th, 2014.