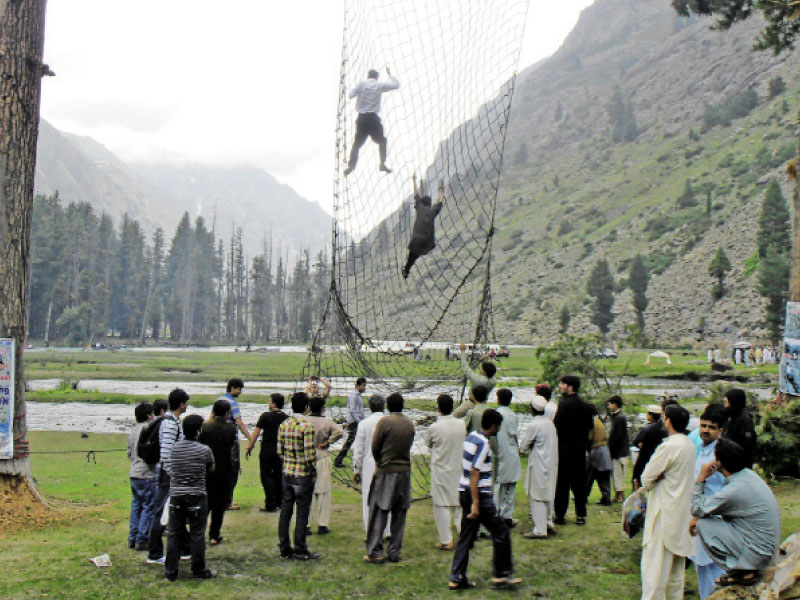 ---
KALAM:



The Pakistan Army has been organising summer festivals in Swat since their last military offensive against the Taliban, and the road to the venue has been broken since at least 2010, when floods ravaged the region.




A good estimate of how entertainment deprived the country is that thousands of people still braved the broken, battered roads to Kalam to reach the Swat Tourist Gala 2014.

At the inauguration ceremony on Thursday, even the governor commented on the condition of the infrastructure. "I stress the National Highway chairman and the Prime Minister will reconstruct the road to Kalam because without proper roads tourism cannot be revived," Mehtab Abbasi had said.

Nonetheless, the one hundred thousand attendees (as reported by the organisers of the event) who rained down on the valley were more than happy to be there.

"This is truly paradise on Earth—stuff we have only read or heard about but wasn't truly believable till we laid eyes on it," said Zainab Abdullah from Rawalpindi. "The lush green mountains, cerulean rivers and lakes just welcome tourists."

"We can't believe that such scenic and natural beauty exists in Pakistan," said Iftikhar Ahmad from Lahore. "We are truly sorry that the government has neglected this area to this extent."

Ahmad added, "The road is one of the worst [I've seen] and there is no mobile connectivity with the exception of just one network."

Tourists also complained about the lack of arrangements made to accommodate the expected crowds.

"When we arrived here, we could not find space at any hotel so we had to rent a tent to live in," Zarif Khan, a tourist from Peshawar told, The Express Tribune.

Published in The Express Tribune, August 9th, 2014.
COMMENTS (2)
Comments are moderated and generally will be posted if they are on-topic and not abusive.
For more information, please see our Comments FAQ