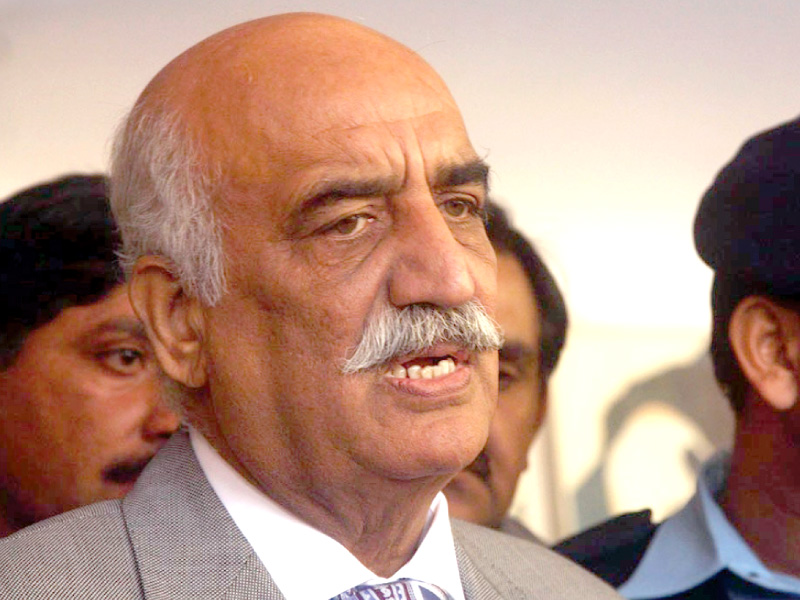 ---
ISLAMABAD: Opposition Leader in the National Assembly Khursheed Shah demanded to be shown the documents that were used by Interior Minister Chaudhry Nisar Ali Khan, during his speech in the lower house on Monday, on the history of Article 245 of the Constitution.

During Friday's session, Shah said that as per the rules, if a document is shown in the assembly, it cannot be kept a secret. "I sought that document, but so far the interior ministry has not responded to my request," he complained to NA Speaker Sardar Ayaz Sadiq.

In his speech, Nisar had claimed that Article 245 was imposed in Pakistan 24 times. According to a source in the Pakistan Peoples Party (PPP), however, Article 245 was imposed only twice in the country and Nisar presented distorted facts in the national assembly.

Govt will be responsible for any untoward incident on Aug 14: Qureshi

While referring to the opposition leader's concerns regarding the Punjab government's conduct, Pakistan Tehreek-e-Insaf's Shah Mehmood Qureshi said that the government would be responsible for any untoward situation on August 14.

"Who is derailing the democratic system?" he questioned.

He alleged that Punjab government is conspiring against the federal government and has become a 'real danger' to the democratic system.

Qureshi accused the government of not bothering about those who want reconciliation, and while pointing towards Shah, questioned why the government failed to withdraw Article 245 despite their concerns.

He went on to claim that the government was arresting party workers in the lead up to his party's 'Azadi' march. "Our phone calls are bugged. You are committing the same atrocities that you had faced earlier during Musharraf's era. We are still facing a dictatorial regime," he said.

Qureshi added that the government should not restrict Tahirul Qadri's workers either, while terming the blockade of the twin cities ahead of Independence unacceptable. This undemocratic face of the government is the real danger to democracy, he added.

Saeeda Warsi

During the session, MNA Marium Aurungzeb paid rich tribute to former UK minister Saeeda Warsi for putting her political career at stake due to the Gaza issue.

She said that whenever the country faced dictatorial regimes, it was the women who played the role of front-runners. Fatima Jinnah faced the Ayub regime, Benazir Bhutto faced Ziaul Haq's atrocities and Begum Kalsoom Nawaz challenged the dictatorial rule of Pervez Musharraf, she said. "Now a daughter of Pakistan --Saeeda Warsi -- raised her voice against Israeli atrocities on innocent Palestinians," she added.


COMMENTS (4)
Comments are moderated and generally will be posted if they are on-topic and not abusive.
For more information, please see our Comments FAQ