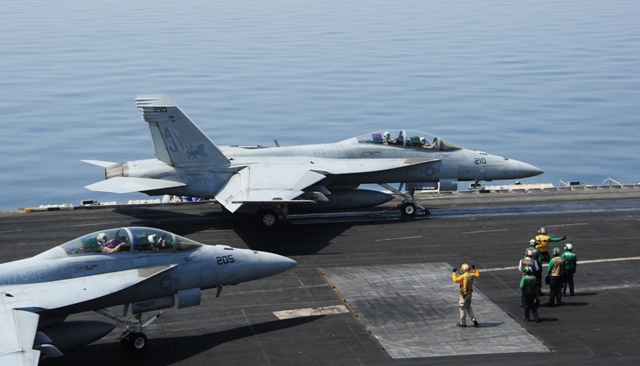 ---
WASHINGTON: US military aircraft conducted an airstrike on Friday on Islamic State artillery used against Kurdish forces defending the city of Arbil, Iraq, near US personnel, a Pentagon spokespersom said.

Two F/A-18 fighter jets dropped 500-pound laser-guided bombs on a mobile artillery piece near Arbil, Pentagon press secretary Rear Admiral John Kirby said in a statement.

He said the Islamic rebels had been using the artillery to shell Kurdish forces defending Arbil, the capital of Iraq's semi-autonomous Kurdish region. The United States has a consulate and, since Iraq's latest security crisis erupted in June, a joint military operations center in Arbil.

"The decision to strike was made by the US Central Command commander under authorization granted him by the commander in chief," Kirby said. He said the strike occurred at 1:45 pm in Arbil (1045 GMT).

According to military officials, the strike was launched from the US aircraft carrier the USS George H W Bush.

In June, the Pentagon ordered the ship to the Gulf in preparation for any possible military action in Iraq.

The strike came only hours after US President Barack Obama authorised airstrikes on Iraq late on Thursday to protect Christians and avert "a potential act of genocide" of tens of thousands of members of the ancient Yazidi sect who have taken refuge on a desert mountaintop from Islamic State forces.

The United States has also begun dropping relief supplies to the refugees.

Sunni fighters from the Islamic State, an al Qaeda offshoot bent on establishing a caliphate and eradicating non-believers,  have swept through northern Iraq since June. They are now encroaching on Arbil, a major city that is the seat of the Kurdish region's government, its parliament and, now, temporary home to scores of refugees who have fled other parts of Iraq.

The renewed military action in Iraq is a striking turn 2-1/2 years after Obama pulled all US troops out of Iraq in December 2011, ending the long and bloody US war that began in 2003.

While Obama has insisted the United States would not commit ground troops again, since June he has ordered some 700 soldiers into Iraq to protect diplomatic personnel and facilities and to assess the strengths and weaknesses of Iraq's military, much of which melted away in the face of the Islamic State advance.

Also in June, the United States relocated some of its staff from the US Embassy in Baghdad to Arbil, Basra and Amman, Jordan due to fears the Islamic State forces could directly attack the Iraqi capital.