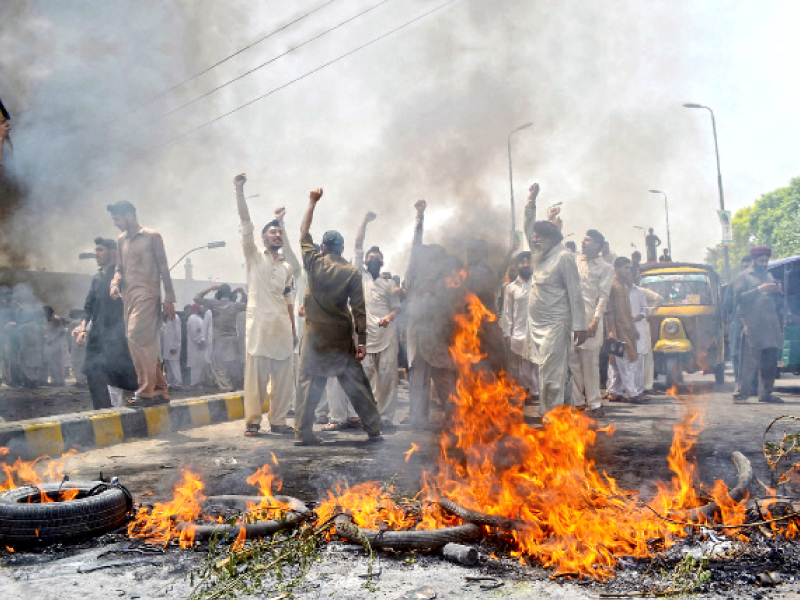 ---
PESHAWAR:



After a targeted attack in Shabab Market left 19-year-old Jagmohan Singh dead and Parim Jit Singh and Manmit Singh injured on Wednesday, the five stages of grief unfolded on the streets of Peshawar.




Jagmohan was one of several brothers who all run shops in Shabab Market in Khushal Bazaar. Shabab Market has around 50 shops owned and managed by Sikhs. An estimated 300 to 500 Sikh families live in Peshawar—and have done so since before Partition.

Enraged family members and other fellow shopkeepers first blocked GT Road just before noon.

Jagmohan's remains were placed on the road in a sign of protest, stalling traffic for over an hour. The ambulance carrying Jagmohan's body was parked near the Frontier Corps Headquarters at Balahisar Fort.

From passive to active

In March, when a Sikh hakeem from Peshawar, Paramjeet Singh, was shot dead in Charsadda, the protests held in Charsadda and Peshawar were silent. Sikhs carried black flags and banners which demanded the government protect them and other minorities. Before Paramjeet, there was Baghwan Singh, another hakeem shot dead by 'unidentified' men in Charsadda.

However, the sorrow over Jagmohan's death quickly turned to palpable rage as angry protesters set tyres on fire, their grief and frustration expressed louder and clearer over a situation which has been inconclusively played out before.

What started off with roughly 150 people, ended up gaining strength over the hour, with bystanders and policemen adding to the numbers. Eyewitness accounts put the crowd at 800 strong if not more.

"We want peace and protection for our community. We are a peaceful people," said 60-year-old Kashnat Singh to The Express Tribune. "This boy was barely 19; he did not harm anyone in his life but he was put to death in such a cruel manner."

Failing your citizens

Even as Special Assistant to CM on minority affairs Soran Singh, tried to console the protesters in a bid to clear the road for traffic, they criticised the government for its continuous failure to protect religious minorities in the city and the province.

"It is only natural that these people are enraged; they are being kidnapped, attacked and killed—unabated—at regular intervals," said Soran Singh. The crowd is only demanding the government provide them protection, he said, adding that he strongly supported them.

"Our demand is to arrest those responsible and bring them to justice," he said. "These innocent boys had no enmity with any one; this was a target killing, possibly aiming to trigger anarchy in the city."

With nowhere to go

Around 1:30pm, the protesters agreed to move from GT Road to provide commuters access and proceeded to march towards the provincial assembly building where they were not allowed to hold a sit-in.

However, soon the crowd moved from the second stage of grief—anger—to the third: Bargaining.

The mourners set off towards the Chief Minister's House where the protest continued till a meeting with CM Pervez Khattak was held between Soran Singh, Sardar Makhan Singh, Sardar Sahib Singh and Sardar Charanjit Singh.

More than money

Charanjit Singh told The Express Tribune the meeting with Khattak was not particularly fruitful and they had no option but to call off the protest as Jagmohan's remains needed to be cremated according to their religious rituals. At the meeting, the CM announced Rs500,000 as compensation for Jagmohan's family and Rs200,000 each for the two injured.

"We don't need money; we need security," said Charanjit Singh. But, during the meeting with the CM, it was clearly stated that the government cannot provide security to any individual, added Charanjit Singh.

"CM sahab told us that he, and even the police, is not safe in the city or the province and the Sikh community should also arrange for their own security." The protest which started around 11:45pm from GT Road, ended quietly around 3:40pm after the brief meeting with Khattak. After sorrow, anger and bargaining do not get you anywhere, depression and acceptance are bound to follow.

Equal rights: Condemnations pour in




Chief Minister Pervez Khattak issued a statement on Wednesday evening, condemning the attack.




Expressing his sorrow over the incident, Khattak termed it a "terror attempt and conspiracy of anti-state elements [under] the pretext of the Waziristan operation." He said a "tit-for-tat response will be given and terrorist elements will be eliminated from their hideouts."

According to the handout, Khattak said, "The Sikh community is part and parcel of our entity and their services for the nation are an open secret."

Meanwhile, the Coalition for Rights of Minorities (CRM) also issued a statement on Wednesday to condemn the targeted attack on the three Sikh men. In the statement, CRM National Coordinator Sameena Imtiaz called on the government to act immediately to identify and convict the culprits. Both the federal and provincial governments must follow the orders of the Supreme Court in letter and spirit to ensure the safety of minorities, it stated.

"This situation is creating a sense of insecurity and will make things worse with interfaith harmony in the country," the statement quoted Imtiaz as saying.

Published in The Express Tribune, August 7th, 2014.
COMMENTS (2)
Comments are moderated and generally will be posted if they are on-topic and not abusive.
For more information, please see our Comments FAQ