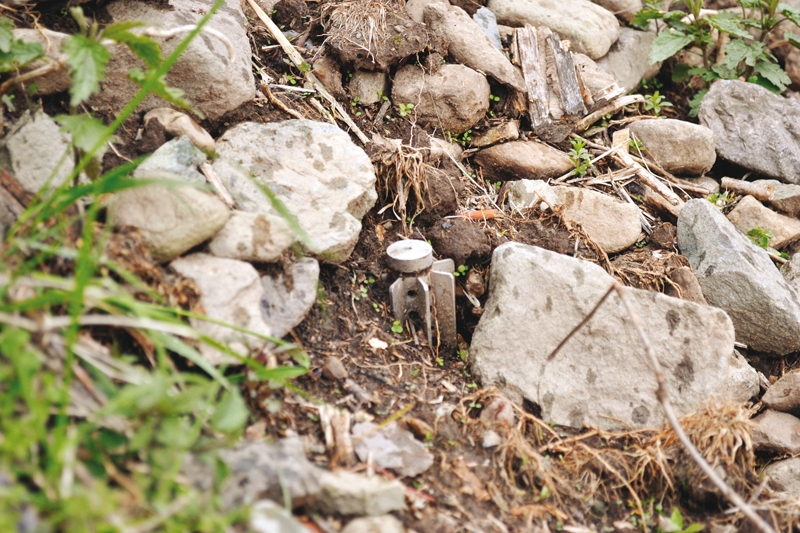 ---
Tosa Maidan, a bowl-shaped lush meadow on the hem of the Pir Panjal mountain range in Indian administered Kashmir, has been used by the Indian Army and Air Force as a field firing range since it was leased to them in 1964. The firing ranges in the area have put life in the adjoining villages at great risk as countless unexploded shells litter the open fields.



Abdul Ahad, 36, lost the fingers on his left hand when he stumbled upon an unexploded shell in Tosa Maidan while cutting grass. Since then Ahad is solely dependent on his right hand for a living. PHOTO: HAZIQ QADRI




Official figures maintain that 65 people have lost their lives due to unexploded shells in the area since 1964 but locals claim the numbers to be much higher. On May 19 this year, 12-year-old Simran Riyaz was killed when a shell exploded on the veranda of her house, making her the 170th victim of littered shells in the Tosa Maidan area, locals claim.





Farooq Ahmad Lone, 30, a resident of Shunglipora, was playing in fields when he accidentally stepped on an unexploded shell and lost his right arm. PHOTO: HAZIQ QADRI




For years, people living cheek by jowl to Tosa Maidan remained silent about the danger they were exposed to, for they believed that the meadow was bought off by the Indian Army who thus had carte blanche in the area. But as the casualties increased over time, they decided to reclaim what was rightfully theirs. When the army's lease ended on April 19 this year, the ruling government in the Indian administered valley rejected its extension after pressure from locals and the civil society. The army however, has not vacated the area yet, and the shells that cover the sprawling meadow continue to pose a threat.





Farooq Ahmad Lone, counts his age not in years but by the time that has passed since he lost his arm to an unexploded shell. PHOTOS : HAZIQ QADRI




And it is people like Raja begum's husband who end up paying the price for the authorities' callousness. "My husband was grazing the flock in Tosa Maidan in the summer two years ago when he accidentally walked over an unexploded shell and died outright," recalls the widowed mother of three. Her neighbour, Nazir Ahmad, who washed and buried her husband, says that the body had been blown to smithereens and they collected and buried whatever they could find. But this was not unusual for Ahmad who has buried many victims of unexploded shells over the years. "Some have their legs missing, some are armless, and some are without their torso. Sometimes all we bury is some flesh," he says. According to Mohammad Akram, the sarpanch for Shunglipora, a village adjoining Tosa Maidan, even livestock has been killed in certain instances when shells landed at unintended spots.





Abdullah Malik, 65, was cutting wood in Tosa Maidan when he was critically wounded by a shell. Malik lost his right hand and was left handicapped for the rest of his life. PHOTO: HAZIQ QADRI




The fatalities are not the only cost for those living in Tosa Maidan. There are people, beyond count, who have been maimed in the explosions caused by littered shells. In Shunglipora, more than half of the families have at least one member who has been disabled by the shells. While some have lost limbs, arms and fingers, others have serious injuries on various parts of their body. The shell that claimed Simran's life also injured her brother, whose legs had to be amputated to save his life.

Farooq Ahmad Lone, a resident of the same village, lost his arm 15 years ago when he accidentally stepped on an unexploded shell while playing in the fields. The accident incapacitated Farooq and his family. "We married him off to a poor girl from Bihar [since] nobody here was ready to marry him," shares his father who is now the sole breadwinner for the entire family.





Mother of Simran Riyaz, who died when a littered shell exploded while she was playing outside her house. PHOTO: HAZIQ QADRI




Indian officials have often tried to redirect the blame to the residents, accusing them of not following safety measures and venturing out into the fields out of greed to collect scrap metal for resale during firing. The claim is strongly refuted by the locals and incidents like those of Simran are proof that the shells can land up anywhere without warning.





Raja begum, who lost her husband two years ago, poses for a photograph while displaying her husband's portrait. According to her neighbours, Raja's husband was blown to smithereens when he accidentally stepped on an unexploded shell in Tosa Maidan. PHOTO: HAZIQ QADRI




The current situation has not left many options for the residents of Shunglipora who are dependent on Tosa Maidan for procuring herbs and wood and rearing cattle. Along with livelihood, even day-to-day things like education have been affected as parents are reluctant to let children wander too far in fear of stray unexploded shells. Similarly, the meadow's potential to generate revenue through tourism cannot be tapped into either unless the place is safe enough for residents and outsiders to set foot on.

Haziq Qadri is a Kashmir-based photojournalist. He tweets @haziq_qadri 

Published in The Express Tribune, Sunday Magazine, August 10th,  2014.